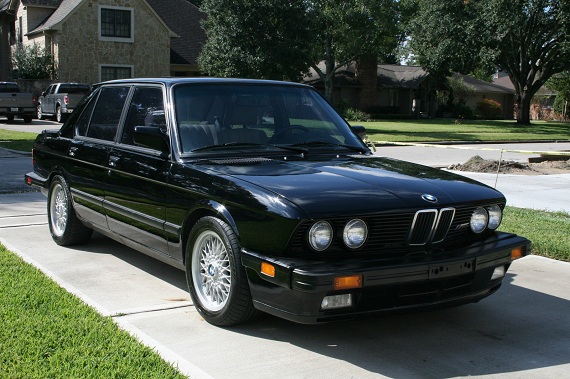 Well, this one has been brewing for a bit in my head. As I've watched E28 and E34 M5 prices climbing and the plateau after falling of E39 prices, the two are in general available for about the same amount of money. One is a well-acknowledged classic – the original super sedan, a well balanced combination of 4-door versatility with a race-bred high-revving inline-6. The second nearly never happened, and seemingly was an afterthought compared to the earlier examples – but that doesn't mean it wasn't well thought out. The E39 is one of the best performance bargains going not only amongst BMWs, but in cars in general – with 400 horsepower from a thundering V8, it took the M5 to a new level of performance and demanded the same of its competitors. So, here we have M5 v. M5; a generation gap, a performance gap, but both as performance icons of their respective times and generally accepted as collectable going forward. Which is the one you'd choose? Let's start with the original: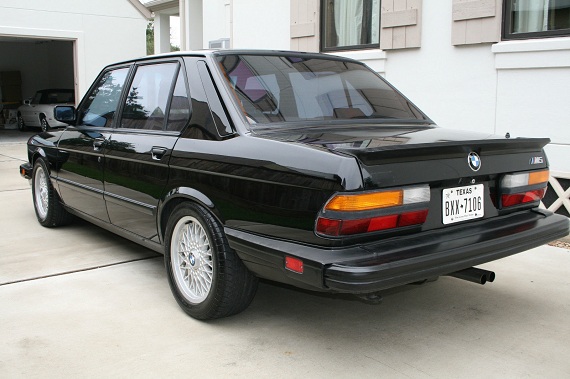 Year: 1988
Model: M5
Engine: 3.5 liter inline-6
Transmission: 5-speed manual
Mileage: 108,000 mi
Price: No Reserve Auction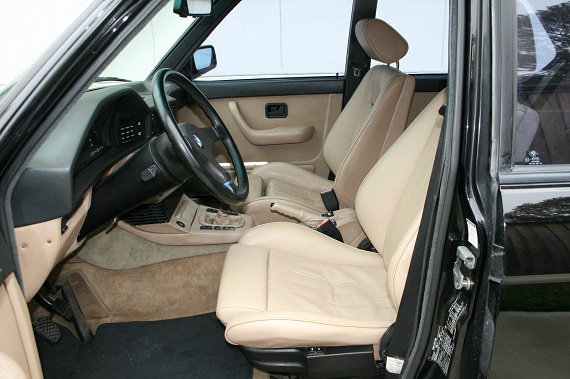 1988 M5 (E28)

Original one-owner car thru 2013. Excellent rust-free condition with complete service history, manuals and spare keys.

Documented one owner BMW M5 from Nov. 1988 to March 2013. Vehicle was purchased by original owner in Lafayette, LA and only sold after he passed away in 2013. Only one owner since then. Car comes with all manuals, keys and extensive service history. Vehicle is fully serviced and 100% original. No rust. Everything works and can be driven anywhere. 108k original miles. Stored in a climate controlled area. Documentation includes all invoices between 1987 and 2013 (please see description below). Comes with functioning original radio and tools. Tires and wheels in perfect condition.

VIN: WBSDC9305J2791536

Production Date: 6/6/1987

US Delivery Date: 11/11/1987

Date of first Registration: 11/11/1988

Original Documentation

1. Original Dealer Sales Invoice

2. Original Window Sitcker (partial)

3. BMW Owners Manual

4. BMW Anti-theft Radio Owner's Manual

5. BMW Service Booklet (first stamp on 11/11/1988)

6. BMW Roadside Assistance Credit Card (11/11/88)

7. BMW Accessories Booklet

8. BMW Roadside Assistance Booklet – 1987/88

9. BMW Anti-theft Radio Installation Instruction

10. 1988 BMW Models – "Consumer Warranty Information"

Service History File

Jan 1990 – BMW Dealer Service Invoice – 13,099 Miles – $ 433.84

Jul 1991 – BMW Dealer Service Invoice – 28,649 Miles

Mar 1993 – BMW M5 E28 Class Action Lawsuit Settlement Papers

Jul 1996 – BMW Dealer Service Invoice (6 pgs.) –40,600 miles – $ 1,807.31

Aug 1998 – BMW Dealer Service Invoice –51,048 miles – $103.52

Sept 2005 – BMW Dealer Service Invoice (7 pgs.) – 53,176 miles – $ 11,517.54

Oct 2005 – BMW Dealer Service Invoice – 53,176 miles – $759.54 – INSTALLED new odometer at dealership

Sept 2008 – Oil Change – 24,337 miles – $97,20

Dec 2009 – Oil Change – 34,337 miles – $104.76

Feb 2011 – Complete Service Maintenance (8 pgs) – 53,051 miles – $ 3,177.36

Feb 2011 – New Alternator (2 pgs.) -53,054 miles – $490.67

Jan 2013 – Original Owner Estate Papers – "Letters Testamentary"

March 2013 – BMW Dealer Invoice (4 pgs.)- Original Parts purchased– $512.18

May 2013 – Suspension work – 53,903 miles – $871.56

July 2013 New AC Compressor, Evaporator, Dryer, etc.. – 54,113 miles – $ 1,399.68

July 2013 New New PS Pump & Pitman Arms (Lemforder) – $ 820.00

August 2013 – BMW Dealer Invoice – $33.38

August 2013 – Alignment & BMW Invoice for Door Dent remover and paint polish

PPI inspection welcome and encourage BID WITH CONFIDENCE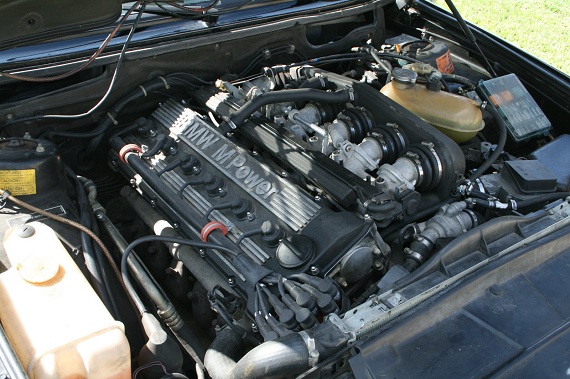 Outwardly, this car certainly looks like one of the better original examples we've seen come across these pages. Of note is the claimed "one owner" status, along with the $11,000 maintenance bill (gasp!) in 2005. It reminds me a bit of the Top Gear episode with the Mercedes-Benz 600 when Clarkson pulls out his multi-page refit bill from the dealer. It's also a reminder that this is now an older car and will require regular maintenance to keep running in top shape; and unfortunately that maintenance doesn't come cheap on the old lady. Still, as a classic driver this car looks like it could be a borderline show car and excellent driver candidate. I love the documentation of the class action lawsuit; a reminder that owners of these M cars have been looking at them as collector-status since the early 1990s. Finally, we're seeing that status come true and this looks like a great example to both enjoy and collect. But for around the same money, what else could you buy?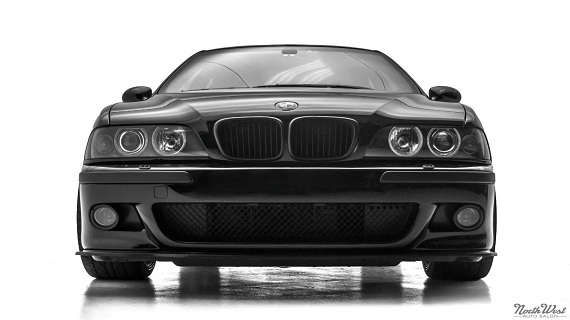 It turns out you can buy about double the horsepower of the U.S. spec E28, that's what. It's not that the E39 M5 was particularly a slouch out of the gate; indeed, it was one of the fastest sedans ever produced at that point, and it's still mighty quick today. However, fit a supercharger into the mix and you're suddenly looking at a claimed 500 rear-wheel horsepower and a supercar-slaying stealth machine: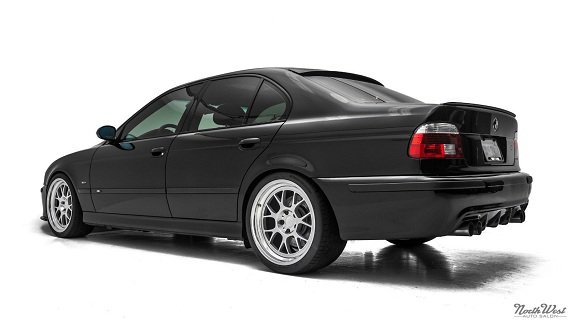 Year: 2001
Model: M5
Engine: 5.0 liter supercharged V8
Transmission: 6-speed manual
Mileage: 86,700 mi
Price: $30,000 Buy It Now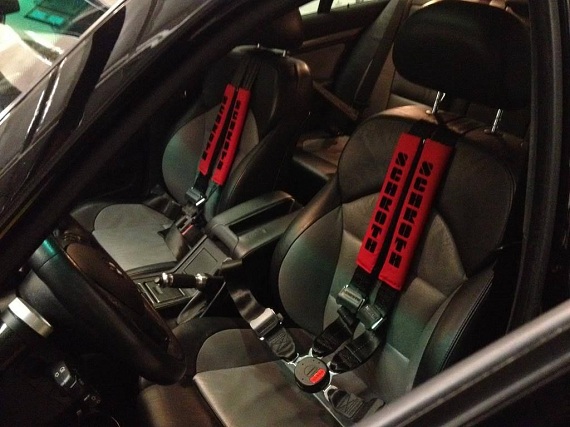 Specifications:
· 2001 BMW E39 M5
· 86,000 miles
· Jet Black exterior with Silverstone Interior (Black/Grey leather with brushed aluminum trim)
· Alcantara suede headliner
· Rear fold down seats with ski pass
· Fully optioned minus PDC (Park Distance Control)
· 501rwhp and 430ft lbs. (Dyno verified)

Modifications:

· Performance
o RK Autowerks Carbon Stage 1 Supercharger Kit
o Aquamist HFS-3 Water/Methanol Injection
§ 1 gallon fuel cell ghost mounted in the trunk, totally invisible
o Muffler delete with custom, hand machined "Timmy Tips"
o Supersprint 4-1 Headers
o UUC V12 Clutch and Lightweight Flywheel
o UUC Evo3 Short shift kit with DSSR link
o Dinan 3-way adjustable rear sway bar
o Dinan front strut bar (Custom black powder coat)
o Bilstein PSS height adjustable coil overs
o Brembo 4 piston 355mm BBK (Red) (Fronts only)
o Formula 43 RAD14 custom wheels (19×9.5" front, 19×10.5" rear)
o Brand new Michelin Pilot Super Sport tires

· Interior
o UUC shift knob and e-brake handle in stitched leather and brushed aluminum
o Hard wired Passport 9500ix Radar/Laser detection
o Custom mounted AEM failsafe boost/AFR gauge
o Custom mounted Aquamist Flow meter gauge
o Otherwise untouched interior with no leather fade, scratches, or imperfections. Interior is immaculate!

· Exterior
o Full frontal clear bra installed by North West Auto Salon
§ Bumper, headlights, mirrors, full hood, full front fenders, and door jams
o 35% window tint
o Custom 'Slimmbones' front splitter
o Custom 'Slimmbones' rear diffuser
o Carbon/white BMW badge emblems

About the car…
Purchased this car with about 1,000 miles on the odometer back in 2001 and although well cared for, it was primarily a garage queen for most of its early life. The car has been very well maintained and I have a nearly complete service history. There is a well documented "progression" on M5board.com as well. It's had all major intervals completed as well as a number of preventative measures taken. It's driven with equal care and has never been abused or left for neglect. There are well over $20,000 of aftermarket and performance modifications done. All modifications are quality parts and absolutely no corner cutting has been made in any of the work done on this car. A small handful of highly experienced and well reputed people have helped me build it over the years. This car has been my love affair for a very long time, it still gets compliments on a regular basis, and more important than anything else it is so, so much fun to drive. Unfortunately, age and new priorities mean that it simply doesn't have the space in my life that it used to. Very difficult to let it go but the time has come. I will be fully transparent in divulging the history and current condition of the car to all prospective buyers and as such, the few flaws are listed below…

· Minor paint defects as any thirteen year old car would have

o Some rock chips on the hood, small scratches on the cars roof and rear bumper. Overall paint quality is good with the exception of a few small details. From 10feet or 10mph it looks perfect

· Rear window spoiler needs to be re-painted. It is a genuine ACS part (very rare) that I purchased second hand in 2011 and it was originally silver. The previous owner painted it Jet Black before sending it to me, but did not prime it before painting and overtime the paint has bubbled and began to crack. I've had this job quoted out to just a couple hundred dollars

· Very minor curb rash on front passenger wheel – repairable

· Interior rear-view mirror has the very common "tint bubble", but is not currently, and has never leaked. It's been this way for almost 7 years now and has never bothered me. In any event, this can be repaired for $100

*Note*
o For those not interested in the louder exhaust, I still have my stock mufflers and can include them in the sale of the vehicle.
o OEM set of style 65 wheels included if desired. They are not perfect, and have some residual plasti-dip on them.

I will not part anything out. Some negotiations can be made in terms of whether or not buyer would prefer the above items were addressed prior to purchase, or if the car was taken as-is. Serious offers only, would prefer local sale (pacific north west). Photos below – I'll add some interior pics soon.

Any and all costs and logistical needs related to transport of vehicle are at buyers additional responsibility and expense.
If nothing else, this car certainly is very photogenic and looks the part; it's an overall impressive build and looks to be well kept. Miles are reasonable for a 2001 M5, and I think most people would enjoy the upgrades. Long term, do they hurt the value of the car? Probably – I think in another 13 years, we'll be looking for clean original versions of the E39 just like we are the E28 today. But in the next 13 years, could you enjoy yourself with this M5? Undoubtedly, and that's a large part of the appeal of the M5. They were never intended to be garage queens, so it's best to accept that there will be a few nicks and dings in exchange for the massive smiles indulging in the loud pedal will produce.
Which would I choose? A friend of mine who owned an E28 and I had this discussion just the other day; if you have the means to keep one of the E28s going regularly, they're great cars – but the newer cars do everything better than the E28, so if you really want to enjoy a kick-in-the-pants ride and a bit more comfort in your drive, the E29 is probably the solution for you. Of these two, The E39 sure looks like a much better performance bargain, but I'd probably choose the E28. It's not that I don't like the appeal of the newer car, but were it up to me I'd rather have the simplicity of a stock one, preferably in Le Mans Blue. But it's undeniable that it's a tough choice between these two superb BMWs, so which would your choice be?
-Carter