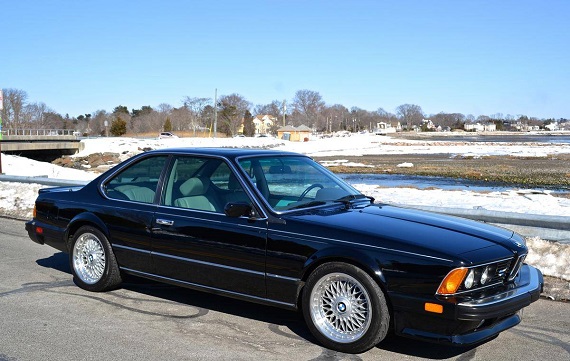 The BMW M6 is quickly becoming the M bargain of the 1980s, replacing the M5 as the go-to Motorsports product from the company. There's some irony in that, considering that in the period it was the premier product from Munich and until quite recently was considered the most valuable. However, as the M3 prices have soared and recognition that finding a clean E28 M5 is becoming quite difficult, the slightly more plentiful M6 is suddenly a more reasonable proposition. That said, prices on M6s are all over the map – from the low teens to well over the $30,000 mark. Today I have two similar looking 1987 models to look at; I usually focus on the updated and better looking (in my opinion) '88s, so this is a slight departure for me. Besides the shining exteriors, where does the difference in these two models lie and are the asking prices in line?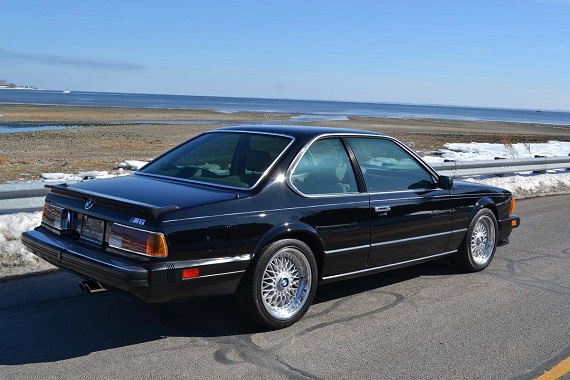 Year: 1987
Model: M6
Engine: 3.5 liter inline-6
Transmission: 5-speed manual
Mileage: 86,000 mi
Price: $27,900 Buy It Now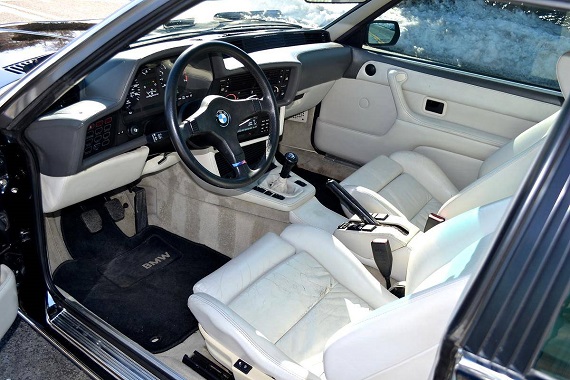 The Classic Car Gallery is proud to offer this beautiful 1988 BMW M6. The car has 86,000 miles but looks as if it has much less. The car was originally a CALIFORNIA CAR, The SCHWARZ (BLACK) PAINT is excellent and shines with deep luster. These cars are among the most iconic cars of the 1980s and still look amazing today. The 5-speed transmission is tight and shifts well, the syncros work well in all gears. The chassis is very clean with no rust. The shock towers are in excellent condition both front and rear. The interior is a particular strong point and stands as testament to the pampering this car has received throughout its life. The LOTUS WHITE NAPPA leather interior is excellent, and shows only shows wear on the drivers seat cushion and bolster. The rear seats look as if they have never been sat in. As this car originated in sunny California, the dash has shrunk slightly but is in acceptable condition; the upside to that, is that the underside is immaculate!!! All of the electronic seat adjustments work as they should with typical headrest motor issues. The front and rear A/C blows cold, and all of the climate controls work well; she retains her original R12 refrigerant. The carpets are excellent as is the rest of the interior trim. All of the mechanicals work as they should, and the car drives straight and true. She currently rides on a set of rare BBS RC090 "Style 5" 17×8.5 wheels and newer Michelin Pilot Sport tires (we do not have the originals). Recent work includes a cooling system overhaul (thermostat and water pump), suspension overhaul (shocks, springs and struts), fluids and ignition system overhaul (plugs, wires, distributor). She currently rides on BILSTIEN SPORT DAMPERS paired to EIBACH pro-kit springs for a stock like ride and approximately an inch lower. INSPECTION II SERVICE INCLUDING VALVE ADJUSTMENT was completed 6,000 miles ago and a compression test shows readings 170-175psi in all cylinders. To improve exhaust note a B&B high flow performance exhaust was installed; the car sounds great!!! This iconic car comes with a CLEAN CARFAX, EXTENSIVE DOCUMENTATION from new, full tool kit, unused spare tire and needs nothing except an enthusiastic new owner.

Price: $27,900 negotiable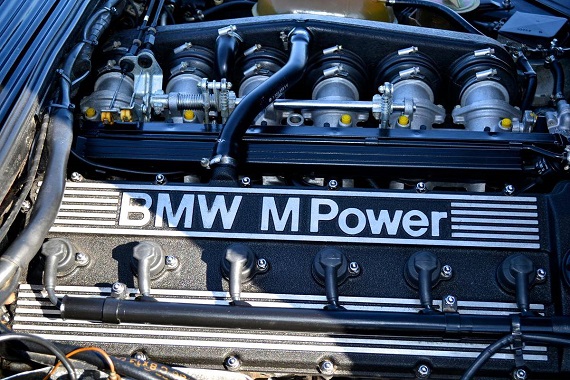 We've seen a few cars from The Classic Car Gallery and they always seem to present nice examples overall. This 1987 M6 is no exception; below average miles and a shining exterior look make this car appear to be one of the better examples out there for sale. Of note is one of the 1987 options that was unavailable later and caused many issues for BMW; the "Highline" Nappa leather covers the entire dash. While there is some documented shrinking, overall it looks neat and is rare to find. There does appear to be some damage to the Lotus White driver's seat but overall the condition of the interior matches the shining exterior. The car is not stock; the self-leveling rear suspension has been replaced by lower Eibach springs and Bilstein shocks. The TRX wheels are gone, having been replaced by BBS RC Style 5s that have been well polished. Additionally, the B&B exhaust wakes up the noise from the venerable S38 which seems to have a clean bill of health with recent servicing. Overall, the look and presentation are quite good – but not perfect and not completely original, something that seems to be hurting values on these cars slightly. I think the ask is slightly strong on this example, but it should likely fall in line with a condition 2-3 car, meaning Hagerty would place value around $23,000 – $25,000. That's slightly above what we've seen many M6s sell for, but you could easily spend more than that amount trying to make a lesser example be very nice and mechanically perfect and this one looks to be turn-key with no stories.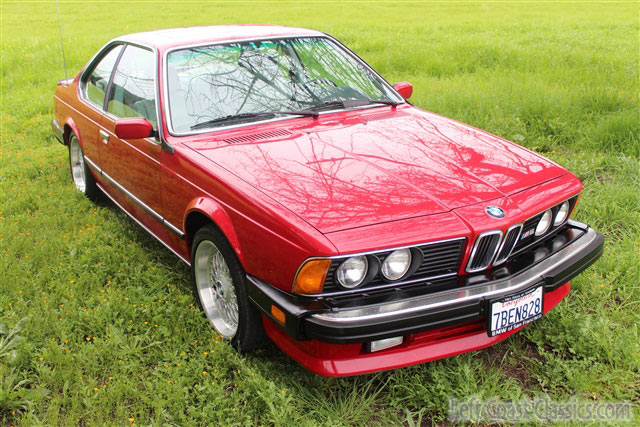 Year: 1987
Model: M6
Engine: 3.5 liter inline-6
Transmission: 5-speed manual
Mileage: 180,900 mi
Price: No Reserve Auction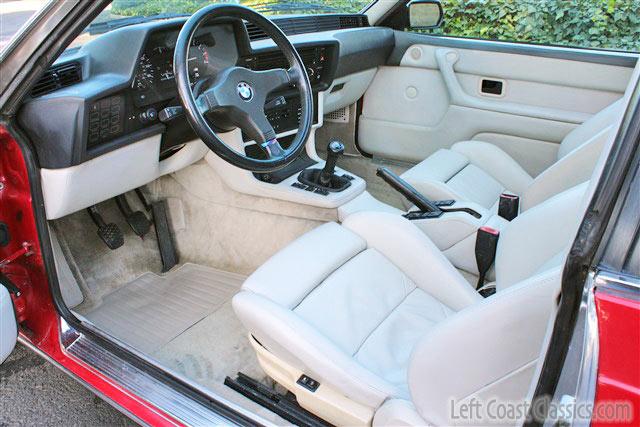 California 2-owner 1987 BMW E24 M6 Shark for sale. Current owner since 1997. Zimmeroot Red over Gray leather. Lightly used over the last several years. I purchased this E24 from an estate, it comes with a clean vehicle history report showing 2-owners and a clear, California title.

Starts; runs and drives beautifully with compression at 150-170 across all cylinders. Newer brakes front and rear with 90% left, good tires, nice suspension and exhaust. Passes strict California smog with no issues. Shifting is smooth. Just over 180k original miles. The car is highly functional with all accessories and options in working order including heater, computer (no pixelation), cruise, lighting, power seats, radio, with the only exceptions being the driver-side power bolster switch is inoperable and the AC does not blow cold.

Owner lived in remote area of Northern California and mainly put highway miles on the car getting in and out of town as well as to commute to his other home in South Carolina periodically. Appears to have been well looked after and maintained.

Body is straight with some areas touched up and a few small blemishes and imperfections as might be expected after 180k miles over its 28 year lifespan, though it presents well and looks tidy and clean. The right rear quarter area was damaged and repaired though it appears to have been minor with no signs of any infrastructural damage when probing deep into the undercarriage as well as in the area behind the battery and below the C-pillar. Everything lines up and shuts properly. (See extensive undercarriage photos in the slide-show area). The lower portion of the car was repainted from the doors back at the time. It was indicated that at the time of the quarter repair this was done to clean up various chips and door dings on the drivers side. The interior is in nice shape with no rips or tears, good carpet, door panels and the dash is immaculate with no cracking or warping of any kind. In the trunk, the tool kit, spare, first aid kit, chock and cap knock-off wrench are all present. The trunk panels are clean and tidy. Under the hood is immaculate, original with factory stickers present.

This is a super nice driving, presentable M6 in good working order with a clean vehicle history report available upon request.

Asking price listed on our site. Subject to sale at any time. Reasonable offers will be considered. Available only at Left Coast Classics! Direct your inquiries to Donn 707-332-8331 …..because life's too short to drive the wrong car….

Click here if you need assistance importing and shipping this car to Netherlands, Germany, France
or anywhere in Europe (opens in new window)

Also, if you have one car or an entire collection to consign or sell and are anywhere in California,
please consider Left Coast Classics.
Thank you for visiting!
VIN# WBAEE1407H2560022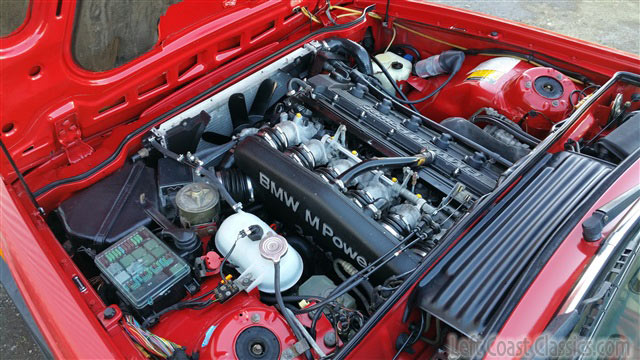 I got a few chuckles out of searching this VIN on Google; the repeating of "Zimmerroot" on each listing of the car is worth a small laugh. I'm not sure what "Room Root Red" would look like, but thankfully we see from the engine bay that this is indeed Zinnoberrot as we expected and not some unusual BMW color no one had heard of with Silvergrey Nappa leather. This car shares some of the characteristics with the Schwarz example; it's a 1987 and also wears the updated BBS RC Style 5s, though not as highly polished. Though it also came from California and is reported to have a clean title, the seller does disclose that there was work done to the rear quarters. Perhaps rust struck this car instead of another vehicle? Careful eyes will note as well that the passenger fog light doesn't look quite right; I believe it's a non-original replacement from another car. The compression on the motor is slightly down but not shocking probably in line with the 100,000 additional miles the car has covered compared to the other. Inside, we find grey leather but not the Highline option; the switchover occurred mid-1987 but some early cars were replaced, and it's hard to say without further probing which this car was. Overall, though, the car isn't quite as clean as the lower-mile example; to be expected, for sure. That said, the seller looks like they were hoping to get around $16,500 – towards the bottom of the market for these cars and likely close to what the car should be selling for. Bidding on this no reserve auction is currently sitting at $15,500 with two days remaining.
Which is the car to get? To me, the Schwarz example has a justified higher price. Condition appears to be better, it's got the cool all-leather dash, and some nice modifications that don't spoil the car. I'd negotiate that one down a bit and save some money on potential repairs and updates from the higher-mile example.
-Carter