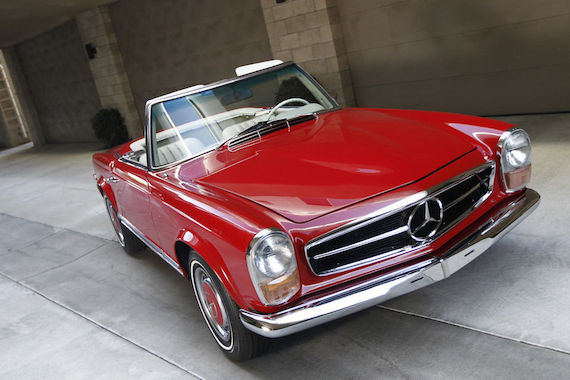 Walking around Manhattan a few weeks ago, I came across a W113 Mercedes-Benz SL. In style conscious New York, this is quite possibly the ultimate accessory. More petite than its predecessor, the 300SL Roadster yet a bit more classic than the R107 SL that ended production at the end of the 1980s, this is a great way to make a statement while not having something too huge to haul around the streets of the Big Apple. These SLs aren't exactly what you would consider an affordable classic, but then again, you are getting a lot of advanced technology for the day wrapped in a decidedly vintage yet timeless skin. This restored example in Los Angeles represents the final evolution of the W113, the 280SL, mated to a four-speed automatic gearbox.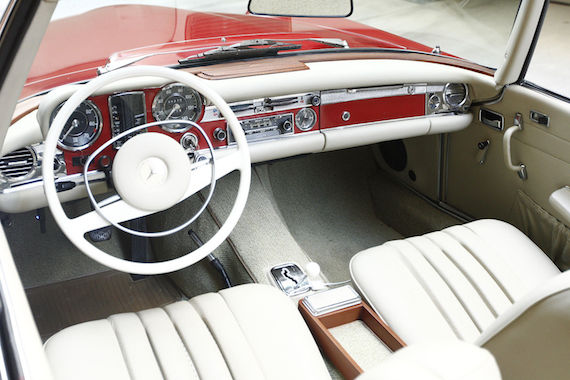 Year: 1969
Model: 280SL
Engine: 2.8 liter inline-6
Transmission: 4-speed automatic
Mileage: 30,001 mi
Price: $90,000 Buy It Now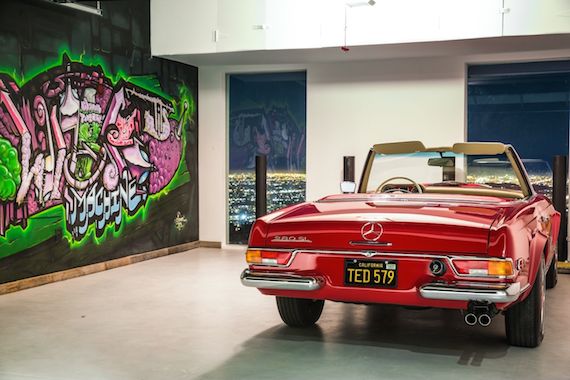 1969 280SL in IMMACULATE condition. Car was fully restored over three years. I bought it restored from Aventura Motors in 2010, but I wanted it perfect, so I redid everything basically. Car has brand new interior, all metal (chrome) is brand new (not re-chromed/or re-finished), paint is brand new (car was stripped down to bare metal and done right), new $5k sound system (very inconspicuous) and everything else is redone. Car comes with 2 tops, new black soft-top and off-white/ivory hard top with matching new ivory wheel caps (2 sets of wheel caps, ivory and red). Undercarriage, trunk and hood have been re-coated, they look brand new; zero rust. I'm only selling because I have other cars and need space in my garage. I have personally spent over $130k on this project (including the car), this doesn't include the restoration previously done by Aventura Motors.

All body work was done by Paulee in LA – they're an MBZ factory certified facility, licensed to spray Glaserit and they invented the Jig system. They brought it down to bare metal, undercarriage was also refinished, although there was no rust, and all parts are OEM (almost $40k spent here alone and 10 months of work). Interior and Top was done by German Tops in Burbank ($15k). Mechanical was done by German Motoring (santa monica), Boulevard Auto and Kavenaugh Motors – the owner/head mechanic at German Motors worked in the same facilities in Germany where these cars were produced. Engine and trans were rebuilt before I bought it 4 years ago, they are sound and work perfectly. I had the steering box rebuilt, new oil pump, new injection pump, new fuel lines, new fuel pump, new pan, new fluids, new brakes, etc just done last month ($5k). I just got the car wrapped in clearbra paint protection also ($1500). I have receipts for most of the work, still looking for the entire interior, top, sound system, alarm, and a couple more mechanical receipts.

New – all OEM, no replicas:

All new interior (parchment)
seats (German leather, not MB-tex)

carpet (correct loop for this year car)

all wood (original production new/dead-stock)

glass (windshield, door window)

door panels (both leather and panel)

dash (upper and lower)

soft top

wheel caps (2 sets)

mirrors (interior and exterior)

New ash tray

Oem original radio

2 steering wheels (Nardi and OEM ivory)

Oem new/dead stock front grill

new bumpers

new door handles

new Window rollers

new emblems

new battery

new headlights

new windshield

new taillights

new tires

new visors

new armrests

new wipers

new shifter and shift gate

new full exhaust and pipes

original kangol seatbelts

all window, trunk, door and hood rubber is new

sound system:
JL audio 13″ woofer

focal components

JL audio 900 watt amplifier

custom fiberglass enclosures for sub and kick panels for components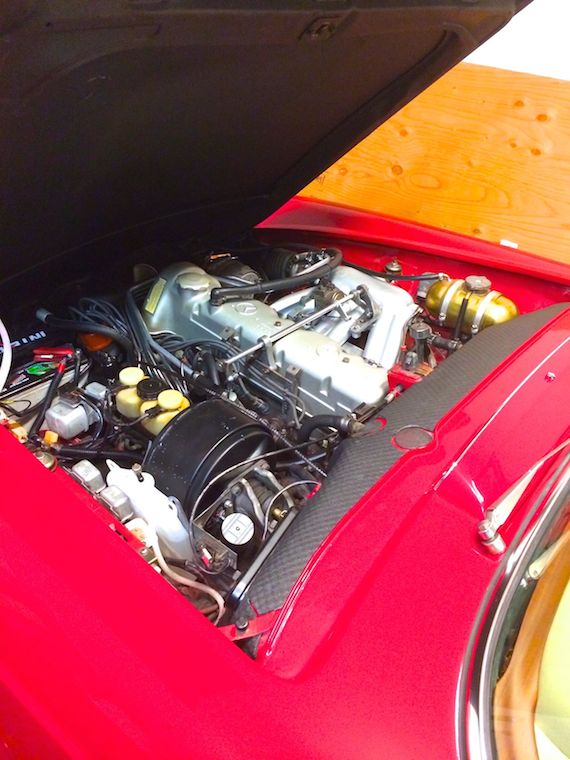 The first thing that caught my eye was the stunning pictures in the ad. Against a backdrop of modern architecture in combination with the red hue, this SL looks stunning. I feel as if these W113s were a German counterpart to the first Buick Rivieras. Styling that wasn't over the top, rather, an exercise in restraint at a time when manufacturers were just getting over tailfins but still going crazy with chrome. Unless it's a basket case in need of a full restoration, you won't be getting a W113 SL for a bargain anytime soon. For a good driver quality vehicle, be prepared to spend at least $50,000 to $60,000 at a minimum, with nicely restored or good originals commanding closer to $100,000.
-Paul