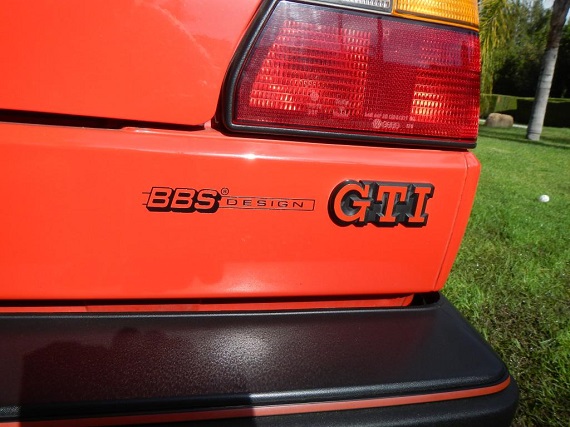 As Paul said, "It's back!" The awesome BBS and Callaway modded GTi is back just in time to fulfill your Christmas wishes! I know I'd certainly love to have it under my tree. Bidding reached into the $20,000 range with the reserve still on last time around, failing to sell. It's already hit $10,000 this time with 4 days to go. What will it take to buy this incredible Mk.2?
Merry Christmas to all, and to all a turbocharged night!
The below post originally appeared on our site December 9, 2014:
Very recently, Hagerty ran an article in which it declared the Mk.2 GTi an endangered car. It is undeniable that the amount of clean and original second generation GTis is dwindling. For years, they were just like the E30 BMW – a popular tuning platform, with lots modified to inches of their life and even more wrecked or neglected by owners. Funnily, when you speak to people that owned them, nearly all wish they had them back – but unlike the budding E30 market that is fulfilling those dreams, it seems hard to come by a Mk.2 GTi for sale that isn't a wreck. This is especially true of the very early 8V models; in my comment on the Hagerty article posted on our Facebook page, I asked when the last time someone had seen a clean and original '85 or '86 GTi around. The answer, unsurprisingly, was that there just weren't many left.
As if to answer my question, though, mere weeks after that post the market is delighted to welcome this gem. True, this is not an original 1985 GTi – it's better. It's a lot better. Why? Well, not only was this a joint adventure between Volkswagen and BBS, but turbo wizard Callaway joined the party as well. The creation has left this Mars Red GTi better than original, and with only 48,000 miles on the clock is probably also one of the cleanest early Mk.2s out there: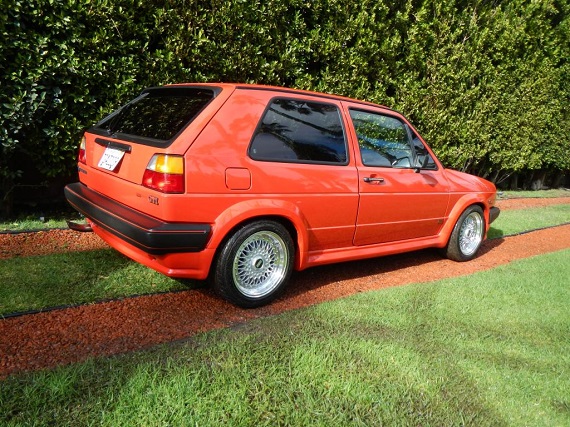 Year: 1985
Model: GTi
Engine: 1.8 liter turbocharged inline-4
Transmission: 5-speed manual
Mileage: 48,000 mi
Price: Reserve Auction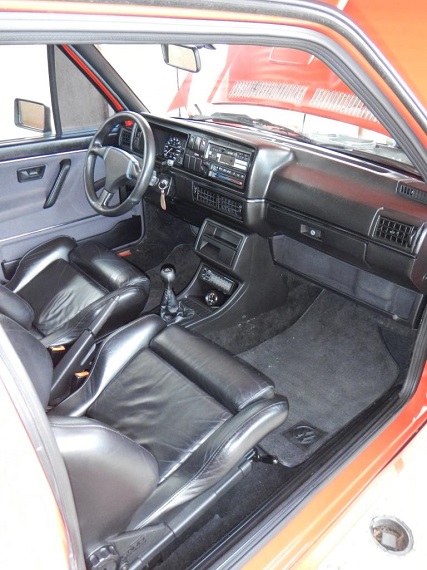 THE LITTLE RED ROCKET

1985 VW Golf GTI this is an original paint, no excuses example that was used to promote the new (1985) GTI, it was a venture with Volkswagen America- Callway- and BBS. I have a large folder that pertains to this car in depth with letters (remember its 1985 no emails yet) from VW- calloway ,BBS and the PR firm that represented the Advertising and placement of display advertising on this car. I have the original window sticker, deal jacket when the car was sold original manuals etc. This is a 48000 original mile car. Featured in VW_Porsche magazine and many other publications including the cover of Autoweek ,I have all the original magazines that will come with the car.

The exterior of the car stands up, the paint is original and has been properly stored inside over the years, the paint is shinny and still retains that original factory orange peel, the BBS body kit matches and fits very well, the car now sits on silver wheels that were on the car when I acquired it, the right front wheel does rub a little when there is a passenger and the wheel is turned, the tires are new. New yokahama tires are on all four corners. All jams are perfect and the car still carries all of the factory stickers.

Interior is stock and in excellent condition. Leather recaro seats hold you in place, the leather is soft and not marked up. The Alpine head unit with cassette is the original one from 1985 and still works, those 6 green push buttons really bring you back when there lit up at night, period correct Alpine door speakers and rear speakers as well as two period correct amplifiers in the rear cargo area and one under the seat. There is a boost gauge and an Oetinger period correct steering wheel, everything else is stock. Dash, door panels and carpet are excellent.

The original motor is in the car, it was given to Calloway and received there turbo system with intercooler, the GTI makes 185 Horsepower, 3rd gear this car pulls very nice and gets to 120MPH pretty quick. Remember it was done by Calloway not someone in their garage at home. The transmission shifts well through all the gears and no grinding inany of the syncros, clutch is great, brakes work well and the suspension feels good, there are Yellow Bilstiens on the car the front and rear struts and springs are are BBS designed . A blast too drive… and getting harder to find these original MK2 cars in this condition let alone the history and tuners that worked on this car.

This was the original description of the car prior to my ownership

The Volkswagen being offered here is far more than just a car…it truly is a time capsule. The car was built in 1985 sixty feet from where I am writing this description…..in the shop at Marketing Corporation of America in Royal Oak, Michigan. In the 80's my company was retained by Volkswagen of America to help create a performance image for Volkswagen in the United States. My counterpart at Volkswagen was Mike Kaptuch who headed up VW Sport at the time and it was this business relationship that lead to Mike becoming my best friend until he died suddenly one year ago. This car was purchased by Mike directly from Volkswagen in 1987 and he has had it ever since. I am now selling it for his widow.

Back in the 80's Mike and I had some of most fun anyone could have in business doing great performance programs that often got us in trouble with the VW legal department. Mike was told what he could do and what he couldn't do. The two most important issues were never to mess with emissions and don't do anything to the suspension. And Mike didn't……my company did. So when our projects attracted national press I was always the fall-guy out of the reach of VW legal.

Our ideas would come out of nowhere. One day we read about the Calloway Corvette and thought "wouldn't that be a great story for a small four cylinder car like a VW GTi?" So we contacted Calloway and they agreed. Mike arranged to get them a crush car with no vin for development. The car I am selling was the first production car although it was really a prototype as they weren't officially being offered by Calloway then.. We were very tight with BBS so we used their trim package and wheels. Then we added the Recaro interior and a competition suspension and we had a little red rocket!

AutoWeek heard what we were doing and the editor then, Richard Hinson, contacted me and asked if they could have the car first for a cover story. We said yes and thus began a great adventure with this car. We used the car in the VW Sport program for two years and in 1987 Mike bought the car from Volkswagen and has kept it ever since.

All this prompted me to go into my company achieves to see what we had kept and sure enough, I came up with the issue of AutoWeek that featured this car on its cover. Then I found the consumer brochure we created that was handed out at all motorsport events where the car was featured. Of course once again it was my company doing all this and not Volkswagen.

For the fun of it I called Richard Hinson who doesn't live far from me and invited him over to the shop. When he saw the car he just smiled and said…."did you ever fix first gear/" It was always hard (you just had to know the trick) to get into first gear and sure enough….no we never did fix it. So when he drove the car once again he just laughed and said "that's the way it should be."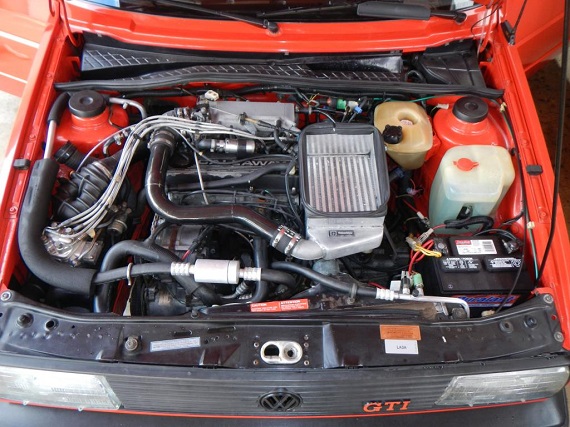 The development story, documentation and magazine articles are almost icing on the cake for what is a spectacularly presented car. The RS wheels have been added and are welcome, though to be proper the future buyer should source some of the GLi RA model wheels and paint them gold. The BBS body kit integrates well and is very rare to see, especially given that this was the press car. Inside, the Recaro seats look spectacular paired with the Oettinger wheel. As an interesting bit of 1980s Volkswagen history, I'm not sure it gets much more appealing than this car – it just checks all the right boxes. The entire car – even the engine bay – is eat-off-of clean, and the neat Callaway turbo setup retained one of the few options this car had with the factory air conditioning. There are a few minor trim issues; there's a spot of rust, the door doesn't fit quite right on the driver's side and the aftermarket radio seems slightly out of place in this package to me – but all in all it's very impressive. The market seems to agree, too – as of writing, this car has already topped $16,000 with the reserve still on and active bidding not expected to slow for the next 3 days. I'm not sure that we've seen any Mk.2 GTis crest into the $20,000 range – even most of sought after Rallye Golfs and Golf Country models don't bring that amount. There are some very special Mk.2s out there and a lot of enthusiasts who loved them but this one might just be one of the brightest stars. And while this special example may be out of the reach of many of our readers, it does spark the hope that more of these awesome drivers will be out there waiting to surface – just as good, clean examples of the Mk.1 have.
Thanks to Lance and John who also noted this car and alerted us to make sure we wrote it up!
-Carter