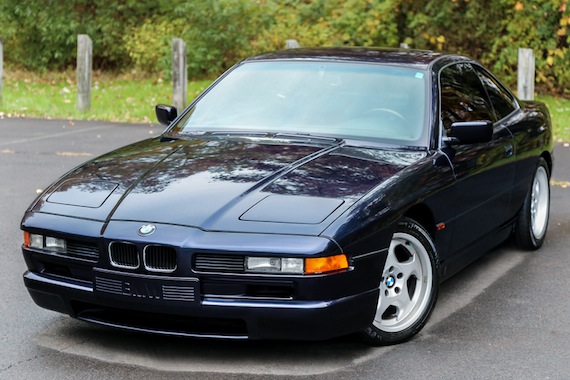 For there only being 225 in the country, 850CSis come across the eBay auction block fairly regularly. I'd much rather have a low-mileage one of these over any modern BMW coupe, and they're trading hands for less than the gargantuan modern 6-series. You can go white with about 30k miles or black with about 70k miles. Whether price, color, or mileage guides your choice, you can rest assured knowing you will look – and be – way cooler in this than any E63 or F12 BMW big-coupe.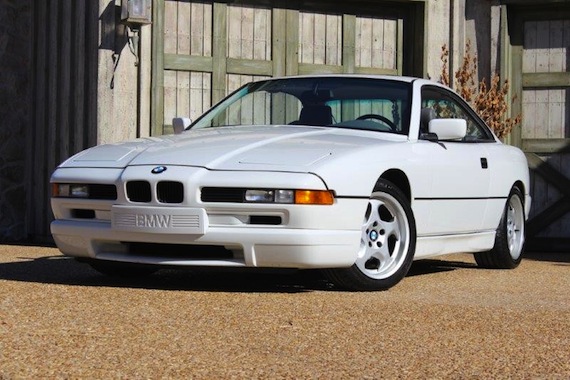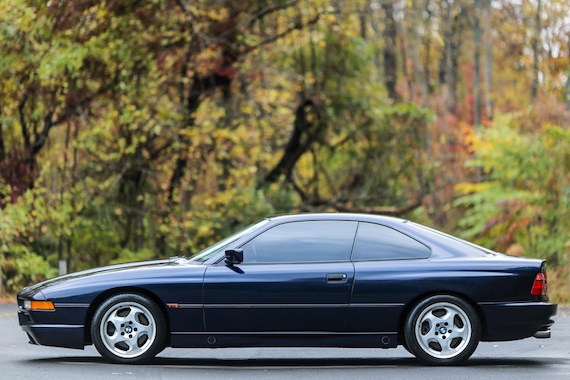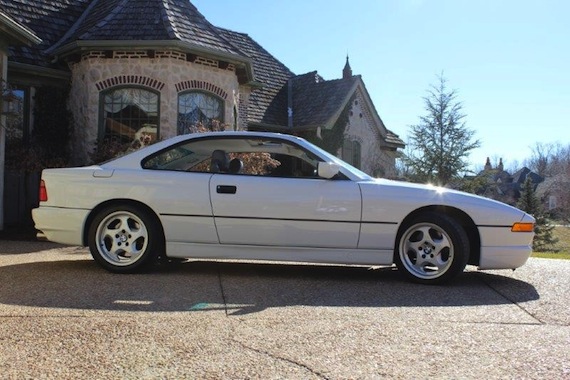 Year: 1994
Model: 850CSi
Engine: 5.6L V12
Transmission: 6-speed manual
Mileage: 28,224 and 69,935
Price: $59,950 – $79,999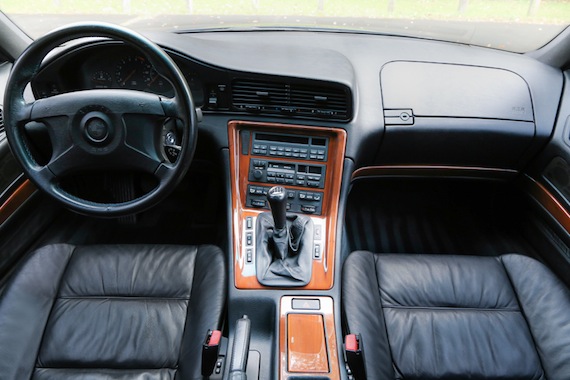 1 of 255 units ever produced for the US market!

6-speed manual!

Final drive ratio 2.93:1
Stiffer suspension!
Chassis lowered 15mm
Servotronic, motorsport specific
Limited slip differential
Automatic Stability Control + Traction (ASC+T)
Aluminium wheels with brake ventilation
Electric steering wheel adjustment
Stronger brakes
Upgraded front and rear spoiler
Dashboard with red pointers and different looks
850CSi-badge
Folding rear seat backs and ski bag
Leather seats
'BMW Motorsport' written on doorhandles
///M emblem embossed in lower door frame
CARFAX CERTIFIED!
ALL BOOKS, MANUALS AND RECEIPTS!
As a top-of-the-range sports tourer, the 850CSi took over from the prototype M8. The 850CSi used the same engine as the 850i, which was tuned so significantly that BMW assigned it a new engine code: S70B56. The modifications included a capacity increase to 5.6 liters and power increase to 380 PS (279 kW; 375 hp).

The 850CSi's modified suspension included stiffer springs and dampers and reduced the car's ride height. The recirculating ball steering ratio was dropped 15% over the stock E31 setup. The model also sported wider wheels, with the option of forged alloys. The front and rear bumpers were reshaped for improved aerodynamic performance. Four round stainless steel exhaust tips replaced the square tips found on other models. The 6-speed manual gearbox was the only transmission option.

As expected, the 850CSi makes no exception in having several names. In this case, the term M8 is mentionned on and on again. And it's correct. The 850CSi is a real M-car. It does not only have an M-bred engine (type S70, the S indicates M-origin) but has been manufactured by BMW M as well, according to the VIN which starts with WBS (BMW Motorsport) instead of WBA (BMW AG). This is mentionned in the papers as well. But although the papers say that the correct model name is BMW M8, the car has been enhanced only moderately by the M-Division, compared to the real M8, which remained a prototype only.

THIS VIHICLE HAS SPENT ITS WHOLE LIFE IN SOUTHERN STATES!
It has been serviced by bmw dealers and it is in great shape.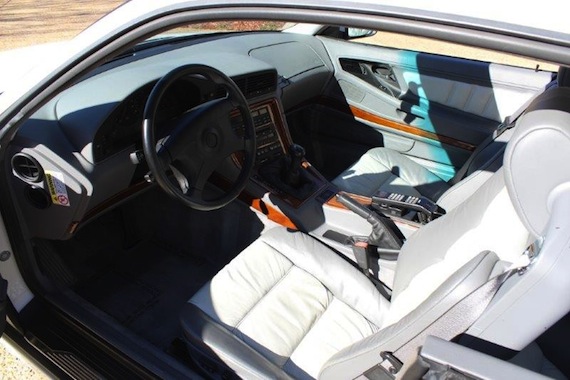 1994 BMW 850 CSi
ONE OF ONLY 225
PRODUCED FOR THE US!!
PRISTINE CONDITION
WITH ONLY 28,224 MILES!! ALPINE WHITE WITH
TWO TONE GRAY GLOVE LEATHER!!
THIS IS A TOP OF THE LINE
SPORTS TOURER
TAKEN FROM THE PROTOTYPE M-8!!!
THE ENGINE WAS TUNED
SO SIGNIFICANTLY
THAT BMW ASSIGNED IT
A "NEW" ENGINE CODE OF "S70356"!!
THE EXTREME MODIFICATIONS INCLUDED
A CAPACITY INCREASE TO 5.4 LITERS
WITH A POWER INCREASE
OF UP TO 375 HP!!
THE CSi's MODIFIED SUSPENSION
INCLUDED STIFFER SPRINGS AND DAMPERS
WHILE REDUCING THIS "MONSTER'S" RIDE HEIGHT
THE RECIRCULATING BALL STEERING RATIO
WAS DROPPED 15% OVER THE STOCK E-31 SET UP!!
THIS MODEL ALSO SPORTED WIDER WHEELS
AND A 6 SPEED ONLY TRANSMISSION
THIS "CSi" WAS MEANT TO DO BUSINESS
AT AN EXTREME LEVEL!!
ACTUALLY A REAL M-8 TO ALL BMW ENTHUSIASTS!!!
BUMPERS WERE RESHAPED FOR IMPROVED
AERODYNAMIC PERFORMANCE AS WELL!!
FOUR ROUNDED,STAINLESS STEEL EXHAUST TIPS
REPLACE THE SQUARE TIPS ON OTHER MODELS
TIMELESS STYLING WITH SUPERB HANDLING
AND "SEAT OF THE PANTS"
THRILLING ACCELERATION!!
THIS WAS AND ISSSSSSSSSSSS
THE "AFFORDABLE SUPERCAR"!!
FLAWLESS,ORIGINAL EXAMPLE
WITH A JUST COMPLETED
MAJOR BMW INSPECTION
30K SERVICE 10 MILES AGO!!
YOU WILL LOVE IT!!
WILL TRAD!!
BUY IT!!!!!
MONEY ISN'T WORTH ANYTHING
UNLESS YOU INVEST IT!!!
Awesome megaBimmers. I think it looks meaner in black, but no complaints for a 30k-mile example either. Which would you take?
-NR