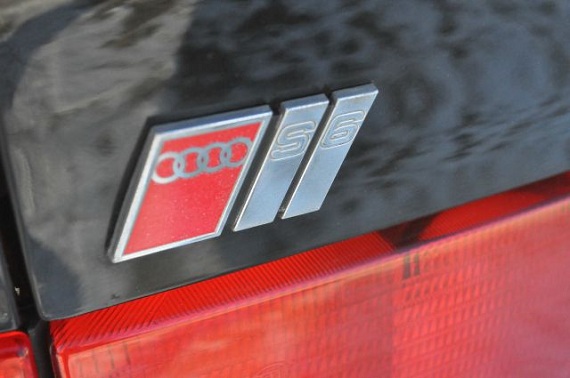 The Audi S6. Long considered the weakest of the super-sedans of the early to mid 1990s, the quattro has since created a legend of its own for the way it can shrug off miles that would bury other cars, the way it can handle supercar levels of power from a seemingly too-small displacement turbo motor, and the subdued fury with which it rolls down the road. Like the M5 and 500E, the S6 and it's older brother S4 have presence that few other cars can achieve. Long one of our favorites at GCFSB, the S6 is also one of the best values currently in classic German motoring with most available for well under $10,000. Today, thanks to our reader John, we have a roundup of S6s in various states of tune and condition as well as color – which would be your choice?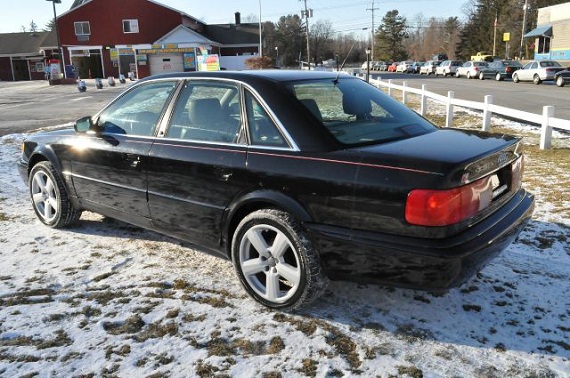 Year: 1995
Model: S6 quattro
Engine: 2.2 liter turbocharged inline-5
Transmission: 5-speed manual
Mileage: 249,271 mi
Price: $3,995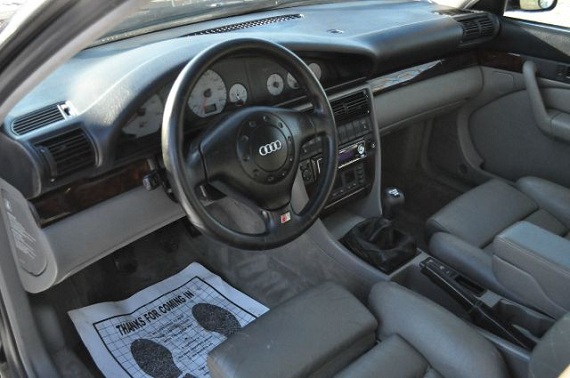 1995 AUDI S6 QUATTRO!

Fun Classic Audi!

Loaded!

Heated front and rear seats!

lloy Wheel

Power Moonroof

Tan Leather seats!

Black Exterior

20V Turbo

Kenwood CD Player

Factory Books/Mats and Key!

VIN WAUKA84A7SN061713
All Of Our Inventory Is FULLY Detailed To The Highest Standards! Car Wash Cars Inc is located in upstate Albany County! Any questions please call our office @ 518-729-4317.
For 250,000 miles, the car looks quite clean and these have been known to go much longer. Black over Ecru is one of the most popular colors, and while the RS-spec alloys are very popular in the Audi crowd to me they look very out of place. The interior looks pretty clean for the distance it's covered, but these cars can nickle and thousand dollar you to death, so I'd choose one with a better history over one that looks pristine.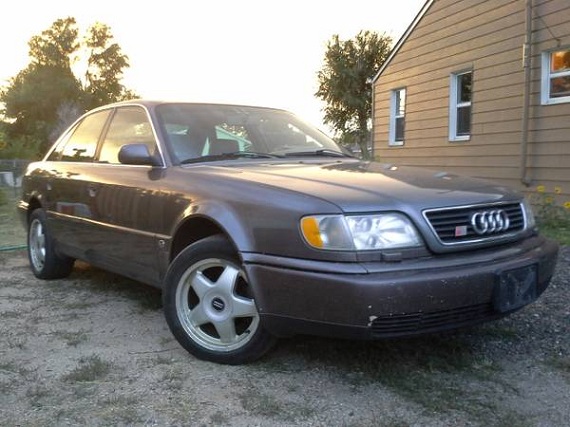 Year: 1995
Model: S6 quattro
Engine: 2.2 liter turbocharged inline-5
Transmission: 5-speed manual
Mileage: 256,000 mi
Price: $6,000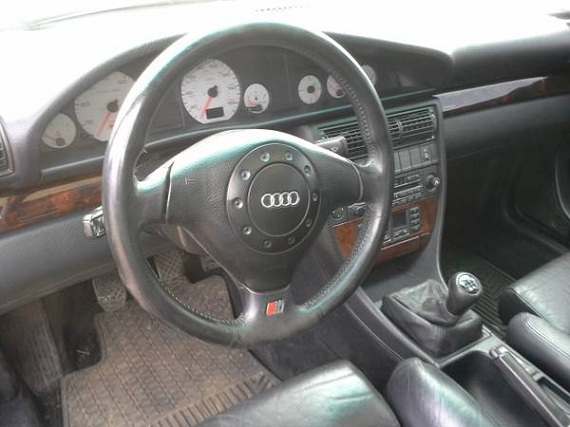 Great performance even at 256000 miles. All original-no modifications. Original wheels have been refinished and new all season Z rated tires with alignment. Could acquire new paint-minor body damage. Interior immaculate-even has the Audi car phone in center console. I'm 4th owner with all service records. Was first sold in Boulder, CO. I obtain the clear title. Super fun to drive but I'm in need of a Cummins turbo diesel. Call, e-mail, or text.

-sunroof
-10 disc cd changer/a.m./f.m. radio
-2.2 liter turbo
-5 speed manual trans
-all wheel drive
-4 heated leather seats

580 4th st (google map) (yahoo map)
I've always liked Cashmere, though I prefer the lighter grey color over the black leather seats. This car features the original Fuchs-made wheels and is claimed to be all original. 4 owners later its also reported to have all of the service records, but at $6,000 and 250,000 miles with some body damage, I'm not sure this is the best example to jump into. Still, it's a rare color so worth a look!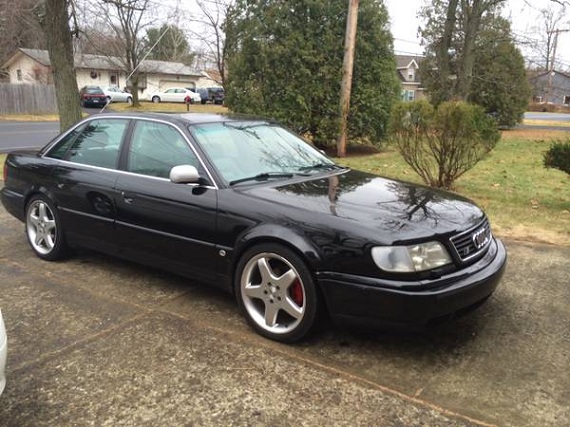 Year: 1995
Model: S6 quattro
Engine: 2.2 liter turbocharged inline-5
Transmission: 6-speed manual
Mileage: 199,000 mi
Price: $5,300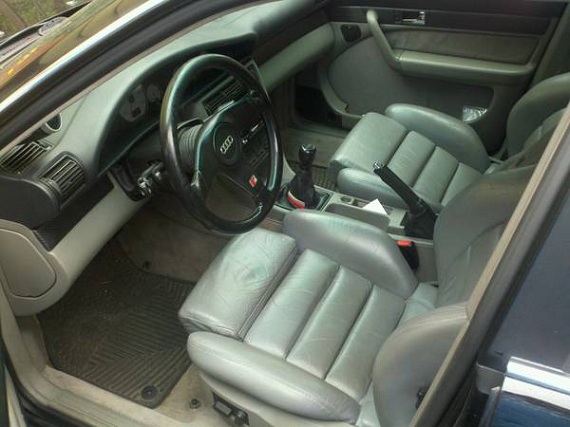 I have up for sale my 1995 Audi Urs6, this car is in fantastic shape for being 18 years old. For anyone who doesnt know these cars they are pretty rare and the engine is bulletproof. The car had a full paint correction in september of this year and looks great. heres some more info.

199k
6spd 01E swapped tranny out of a newer audi s4
spec stage 5 clutch
full 034 hose kit
2 Bennett coil overs Bilstein struts
sport edition 18" wheels with snows in great condition
euro s4 wheel
European Tail lights

Few minor issues with the car known in all older Audis is.
Power steering has a slow leak out of either the xplug or a line (havent diagnosed where yet being winter)
car burns a little oil when cold sometimes, guessing its a valve seal bc it stops at temp.

Car pulls hard and runs/rides great.

5 one eight four 66 five two two 5 if you email put URS6 as subject.
Now we're heading in the right direction; this car has some neat modifications like the 6-speed to replace the often whining pre 95.5 transmissions. Additionally there are coilovers from 2Bennett, the hose upgrades to silicone from 034, a few Euro bits and some not-bad looking 18″ wheels. It also has grey leather, which is pretty rare on the S4/S6 and looks much better than the Ecru that is often found. Overall this car looks better than the first two and is priced pretty well at $5,300 considering the fresh paint and modifications.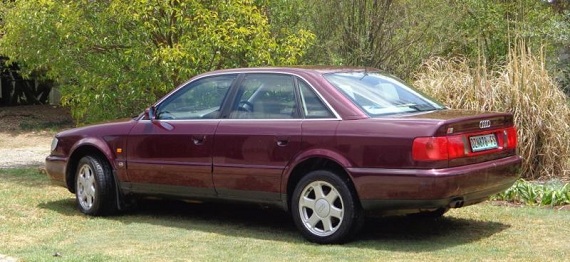 Year: 1996
Model: S6 quattro
Engine: 2.2 liter turbocharged inline-5
Transmission: 5-speed manual
Mileage: 210,000 km (130,500 mi)
Price: R.49,000 ($4,387 today)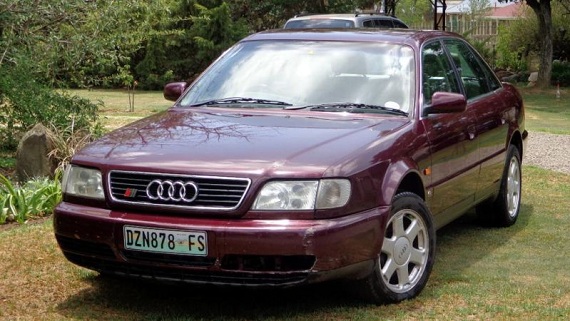 Audi S6 Quattro, 2.2 litre 5 cylinder petrol turbo with grey leather interior in good condition. Standard with traction control, active suspension, automatic transmission, climate control and sunroof. All still in good working condition. Good tyres, 2 are brand new. One owner.
Up for a journey? This is a pretty unique example in South Africa; it's claimed to be an automatic 2.2 turbo – which to my knowledge didn't exist. You could get the auto with the 4.2 V8, but then the ad also claims "active suspension" and traction control – again, things that the S6 didn't have. Silly seller is my guess – more than once I've heard the differential lock button referred to as traction control, but perhaps South Africa got some unique items? What is cool is the Cyclamen Mica color that was pretty rare on the S6. Miles and price are low – you just need a container!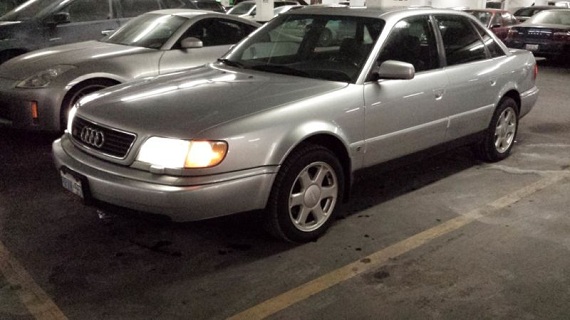 Year: 1997
Model: S6 quattro
Engine: 2.2 liter turbocharged inline-5
Transmission: 5-speed manual
Mileage: 230,000 km (142,450 mi)
Price: $7,900 CA (7,064 today)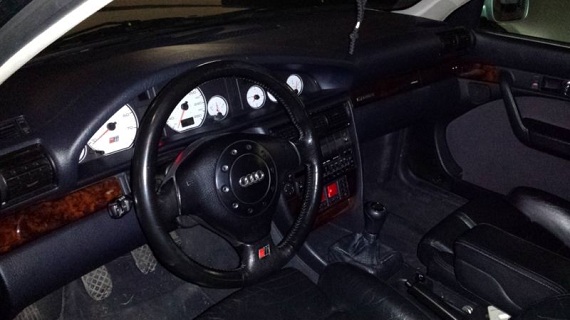 Silver 1997 Audi S6 Quattro for sale. This is a very rare car and they are hard to find. This car is super clean on the inside and out with not a spec of rust. The car doesn't need anything to certify and will pass emissions no problem. The car is being stored underground away from the salt and winter. 230,000 kms. No test pilots please. Email for more info or questions.
Pricey, but rare. There aren't many 1997s kicking around, nor are there many silver S6s either. This car has lower miles, claimed no rust and no inspection issues. I really love the silver color on these S6s; it's both stealthy and also the color of the first S4 I saw in person. It made a memory that I'd love to repeat; perhaps the same goes for you!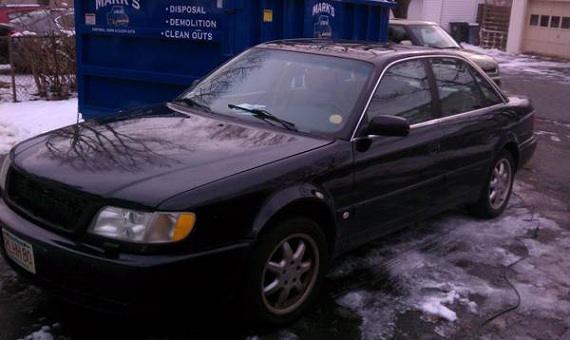 Year: 1995
Model: S6 quattro
Engine: 2.2 liter turbocharged inline-5
Transmission: 5-speed manual
Mileage: 230,000 mi
Price: $2,200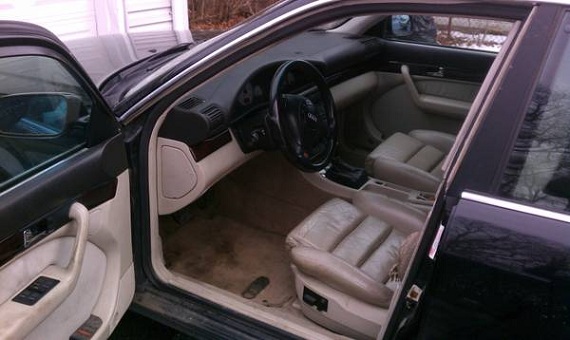 Rare, 95 Audi S6. This car runs great but has oil leaks and needs some front end work. I spent about $3000 on various issues this past year including a new clutch and brakes, I came into another vehicle so am letting this one go. KBB value over $4000. Serious inquiries only, this car is a great deal for someone who knows what it is.
Finally, if you're looking for a bit more of a project perhaps this car will suit the bill, with recent clutch, brakes and other items totally a claimed and believable $3,000 in maintenance. Although not original or the right width and offset, I think the A4-spec "Swing" wheels look decent on the S6. This car needs some work but is priced appropriately at $2,200.
Thanks again to John for finding all of these gems and sending them our way!
Which is your favorite?
-Carter