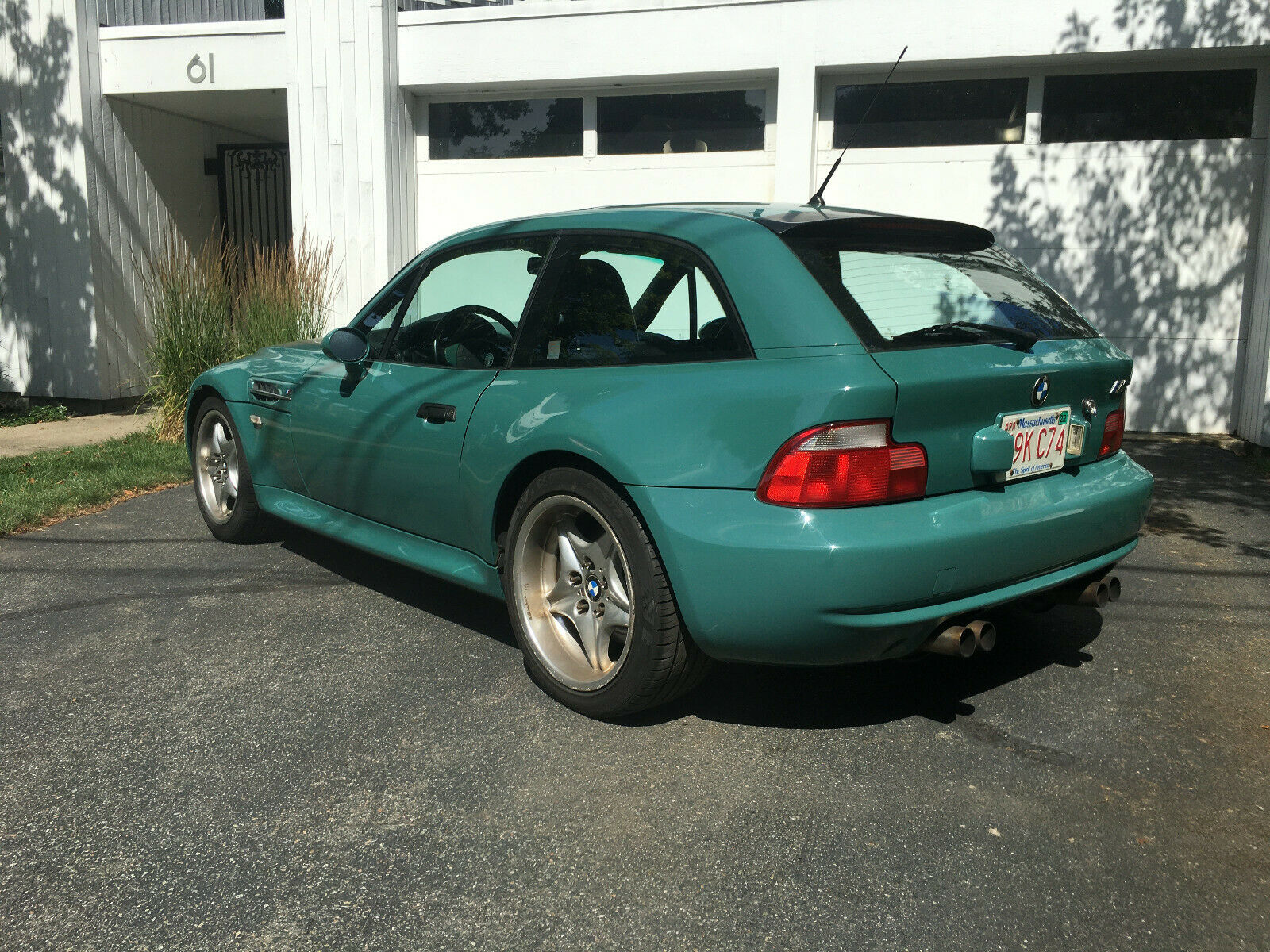 The Golf R Color Spektrum wasn't the green hot hatch you were hoping for? Well, here's a potential alternative that's a lot cheaper – and probably more fun, though certainly not as practical.
Evergreen is certainly a polarizing shade, but it's also one of the neater and more rare tones offered on the Z3 Ms when they were released. Because it was unique, BMW often chose it to run as its press fleet – and that seems to be the case with this car. One of a claimed 27 Evergreen M Coupes with an Evergreen and black Nappa leather interior produced, this one is also claimed to be the first made in this combination, and is claimed to have been used by Motorweek in their test of the model. Whether you want to sit in the throne once occupied by John Davis is another matter, especially when you couple it with its subsequent history: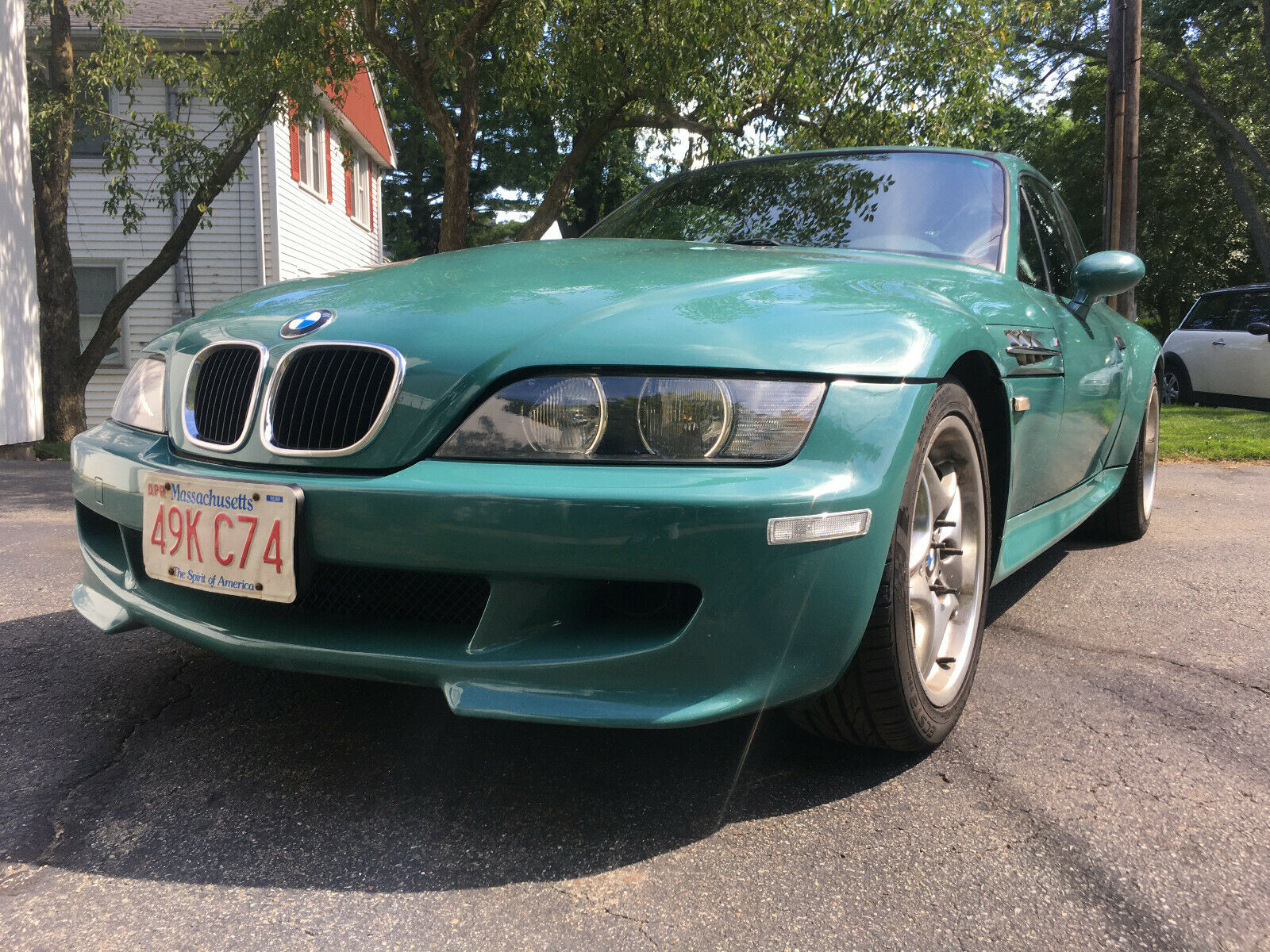 Year: 1999
Model: M Coupe
VIN: WBSCM9332XLC60030
Engine: 3.2 liter inline-6
Transmission: 5-speed manual
Mileage: 155,500 mi
Location: Arlington, Massachusetts
Price: $25,000 Buy It Now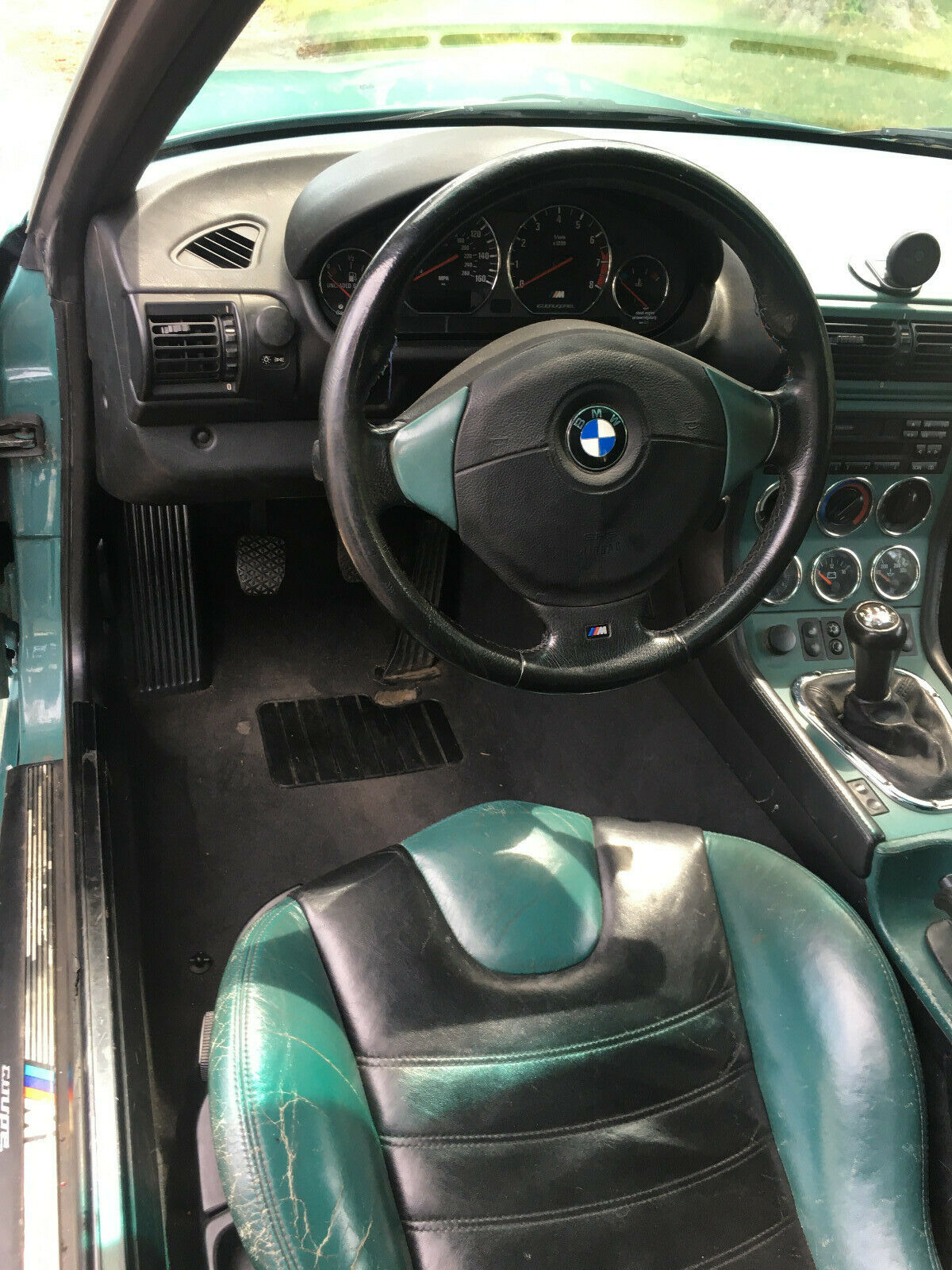 1999 BMW Z3 M Coupe in rare Evergreen exterior and Evergreen / Black Nappa interior. One owner. This is the actual special press vehicle that was reviewed by the Motorweek TV show and Autoweek magazine.

BMW made only 41 M Coupes in the highly-desirable Evergreen. Of these only 27 have the preferred Evergreen and Black Nappa leather interior. This very car was used for the press introduction and was reviewed on TV by Motorweek. Watch the episode. This is also the actual car reviewed by Autoweek magazine. I purchased the car new (never registered) in 1999 from the BMW dealer in Boston with about 6000 miles on it and have had it ever since. See it's options and history here: M Coupe Buyer's Guide

Before 2018, I drove this as my daily driver. I also have driven it in High Performance Driving Education events, where I am an instructor. I have maintained a very high level of maintenance and reliability, as the history below shows. The car has always been garaged. This car is not a queen but rather an exciting driver's car. It needs nothing and is ready to enjoy on the street, autocross, or track.

Title. This car currently has a clean title in Massachusetts. However, in 2018, a minor parking lot accident resulted in an insurance total loss. The car was subsequently repaired (bumper cover, hood repair, paint, headlights) for $3800. The repair has been inspected by the insurance company and the car is now insured with collision and comprehensive insurance. Massachusetts does not issue salvage titles for cars of this age. Other states may handle this differently. Check with your insurance agent to see if this car would have a rebuilt title in your state.

One owner. I bought this from Herb Chambers BMW in Boston in 1999 as my company car. Subsequently I bought the car personally from the company.

Evergreen / Evergreen. Only 41 M Coupes were made in Evergreen, and of these only 27 have the preferred Evergreen and Black Nappa leather interior.

Early VIN & Special Press Vehicle. This actual car was reviewed on TV on Motorweek and was written about in Autoweek magazine. The VIN, LC60030, is very early. I know of no earlier M Coupe in the US.

Exterior. The exterior is in very good condition. There is a small dent from a traffic cone on the passenger's side skirt. The hood has some small imperfections from rubber marks. The driver's door and a tiny ding. Rear bumper cover by the hatch has multiple shallow scratches. Much of the exterior is fresh or recent paint. There are some small scratches here and there as one would expect from a car of this age.

Interior. The interior is in condition that is appropriate for its age. The driver's left lumbar bolster has a tear and has been patched with tape. The rest of the interior is in reasonable but not excellent condition. The center console is in good condition and the dead pedal is not cracked.

HPDE car. This car was used for High Performance Driving Education events. It had a harness bar and racing harnesses, which have been removed. The high level of maintenance reflects the needs of performance driving.

Fresh motor. The car has a recent motor built by Wile Motorsport in Walpole MA. It has baffles welded into the oil pan to prevent starvation in turns. The oil pump nut has been secured. It has a high-output Stewart metal-impeller water pump, a nice Mahle radiator, and electric fan delete. The motor was built for reliability, not for increased horsepower. The ECU has been programmed with the Shark Injector performance software, which uses 93 octane gas, removes the 155 MPH speed limit, and raises the red line slightly to 7K. I am providing the programmer so the programming can be installed or uninstalled as desired. Frequent oil changes, usually with Mobil1 0W-40 European synthetic oil and Mahle oil filters. Note that at the time of the pictures, it had an oil cooler, which will be removed before sale.

Fresh drivetrain. The transmission was recently replaced with a newer stock used transmission that shifts beautifully with newer shifter bushings. Driveshaft rebuilt and balanced a few years ago. Guibo is in good condition. Stock 3.23 limited-slip differential from a lower-mileage car has been installed with a dual-ear finned 3-quart diff cover with vent and catch bottle. Lockup is solid.

Rear subframe. Full Randy Forbes rear subframe and floor reinforcement kit with dual-ear diff option installed by Wile Motorsports (highly regarded for this installation). All work was epoxy coated when complete.

Performance street suspension. Dinan suspension with single-adjustable Koni shocks and struts. Racing Dynamics adjustable sway bars. Swapped left-right front upper strut mounts for increased negative front camber. Rear Rogue Engineering reverse rear shock mounts allow the shocks to be service without trunk disassembly. This suspension is a nice upgrade for performance driving, but still very comfortable on the street.

Brakes. Recently rebuilt stock calipers with plenty of street pad (Performance Friction Z Pad), wear sensors, with a fresh system flush with ATE 200 brake fluid. Turner front brake duct backing plates with ducts routed to the stock brake duct inlets.

Wheels. The stock Roadstar wheels have some curb rash and significant hardened brake dust. Inquire for other wheel options. The car has 90mm Turner Motorsports racing studs sufficient to run up to 20mm spacers. Stock lugbolts are supplied also should you wish to remove the studs.

Lighting. Headlights were wet-sanded and rotary polished until clear, then covered in film. Amber side markers were replaced with clear Euro-style lenses with amber bulbs.

Convenience. Full set of keys (2 keys with remote locking fobs, 1 valet key, 1 plastic emergency key). Hard-wired with switched power for Valentine V1 radar detector by driver's visor. Magnetic smartphone mount on center console. All stock tools in trunk. M Mobility 12-volt tire inflator. The mirror was replaced with an articulating rectangular mirror for better rear visibility.

All accessories work. Air conditioning blows cold. The Harmon Kardon sound system works properly, including the 5-disc changer in the rear. The glovebox, prone to sagging in these cars, has been reinforced. Inquire for a optional Thule roof rack with bolt-in BMW feet.

Documentation. Supplied with all manuals and sales materials shown, as well as a thick folder of service and part receipts. Bentley service manual.

Accident history. About 15 years ago front and rear collision damage was repaired by a (and maybe "the") premier autobody shop in the Boston area, Dick's Autobody, Somerville, MA. The repair was immaculate. About 5 years ago the driver's door was damaged and replaced with a fresh used door and repainted. The rear bumper was tapped at about 3 MPH and the bumper cover, carrier, and struts were replaced and the cover painted. In 2018, a SUV with a hitch backed into the front in a parking lot. The bumper cover was replaced and the hood repaired. The front was painted and used headlights were refurbished and fitted. Unfortunately the insurance company totaled the car (even though the body shop bill was only $3800). I purchased the car, had the repairs done and inspected by the insurance company and the car now carries collision and comprehensive insurance. About three years ago, all visible rust was repaired, the side skirts replaced, and the left fender replaced. Color matching is excellent. The result is paint that is fresher than you would expect for a car of this age.

Inspection. Contact me for additional photographs of anything you want to see. The car is available for inspection in Arlington, MA. Test drives require a refundable $500 cash deposit, a valid driver's license, demonstrated proficiency with a manual transmission, COVID masks, and me as a passenger.

Production data. According to M Coupe Buyer's Guide:
Total Number with S52 Engine: 2180 (#32 produced*)
Total Number for 1999 Model Year: 1076 (#6 produced*)
Total Number in Evergreen: 41 (#2 produced*)
Total Number with Evergreen & Black Nappa: 32 (#1 produced*)
Total Number in Evergreen over Evergreen & Black Nappa: 27 (#1 produced*)
Total Number in Evergreen over Evergreen & Black Nappa with a Sunroof: 26 (#1 produced*)
Total Number in Evergreen over Evergreen & Black Nappa with S52 Engine: 27 (#1 produced*)
Total Number in Evergreen over Evergreen & Black Nappa for 1999 Model Year: 16 (#1 produced*)
Total Number in Evergreen over Evergreen & Black Nappa and S52 Engine with a Sunroof: 26 (#1 produced*)
Total Number in Evergreen over Evergreen & Black Nappa for 1999 Model Year with a Sunroof: 16 (#1 produced*)
* Approximate

Terms. Payment by wire transfer (once cleared), cash (once deposited), or cashiers check (once verified and cleared). Car may be picked up in the Boston, MA area or shipped at the buyer's expense and responsibility. Car may be sold prior to the end of this auction and I reserve the right to cancel bids and offers. This car is sold as-is. Test or other drives may increase mileage slightly. Bids from users without adequate positive history subject to cancellation. Car is available for pickup or shipping on or after 8/1/2020.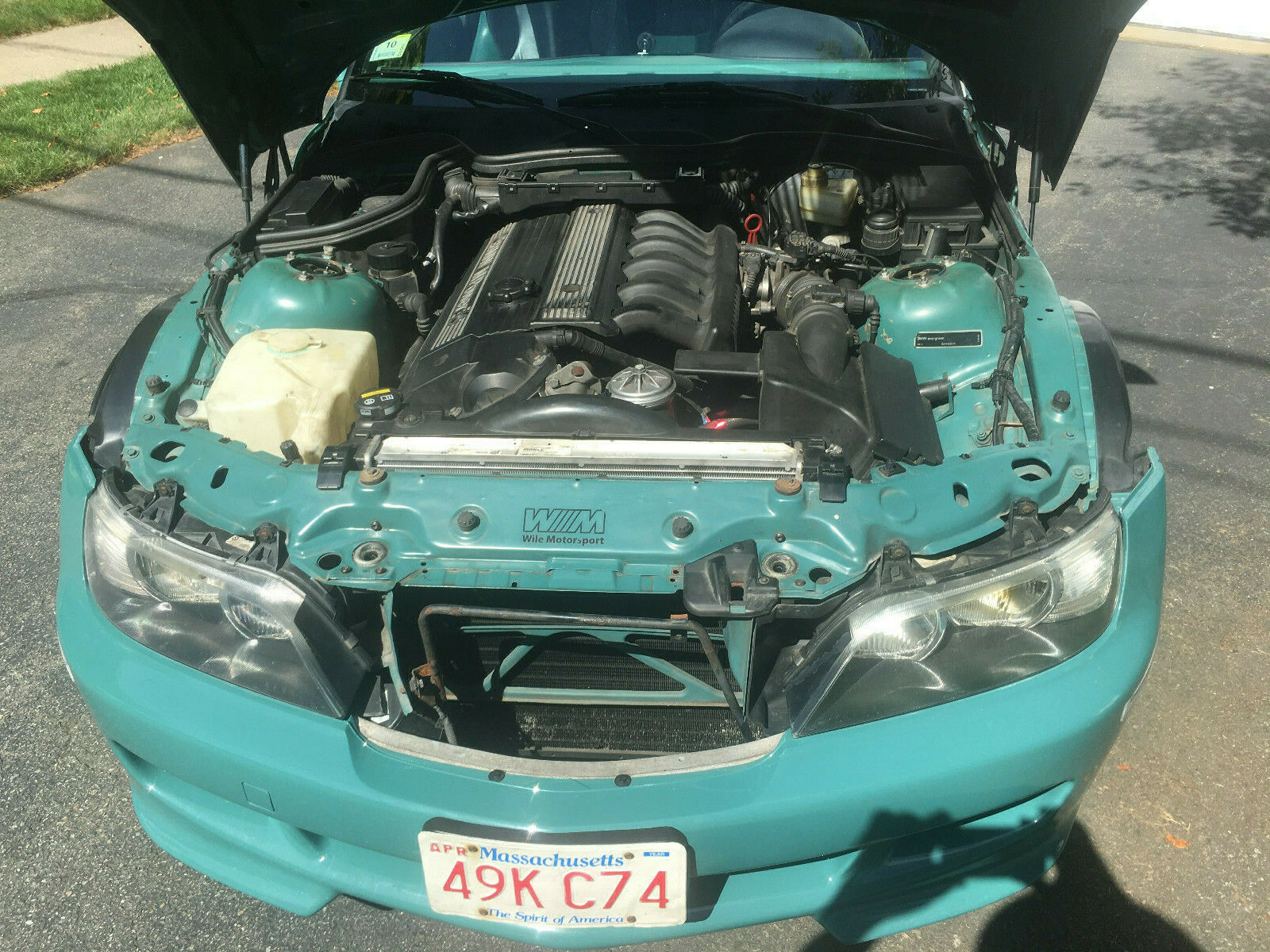 So on first look, my reaction was 'Wow! An M Coupe in a very rare color combination with a not-outrageous asking price!' Click through, though, and things become a little less appealing. First off, it's certainly not in perfect condition, and it shows the wear of 155,000 miles. Granted, the soft-glow pictures don't help, but still – this isn't the example that BMW is hunting for to stick in their museum. Then there's the accident history – four times wrecked, apparently, seems a bit above the norm. Then there's the Motorweek history. Have you seen how they drive cars? Nevermind that. Have you seen how they assault the interiors unnecessarily? So strange. Sure, the car was on TV once. I don't think that makes it more valuable, but it's certainly an interesting talking point at a Cars and Coffee. Then you've got the track history – not that a car shouldn't be driven, and I'm glad this one has been treated as was intended. But, again, it probably doesn't add value.
So after considering all of that, is the car still worth $25,000? That gets you into a very nice, lower mile E46 M3 today. A very nice '99 with a lot few miles and a clean Carfax report sold on BaT earlier this year for $21,000. Another in Dakar with even fewer miles and a clean report sold for $23,000 late last year. Color rarity surely helps the price, but personally I think the current bid of $19,900 is probably generous.
-Carter