I've never been a fan of celebrity cars, with the exception of race cars. You spend gobs of money on them and then park them in a museum or they turn into a Jon Voight's LeBaron situation.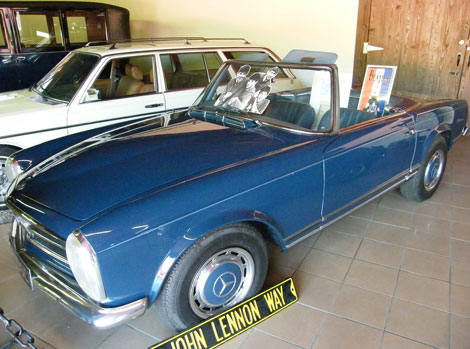 There seems to always be a John Lennon car for sale somewhere. A few year's ago his Mercedes 600 Pullman didn't sell when it reached £190,000 (at the time $273,600) at an auction where it had a £200,000 ($287,600) reserve, tell me if that situation doesn't sound like some bidding shenanigans. It later appeared for sale with an ask of £320,000.
Now we have an arguably much more mundane Lennon car in this 1965 230SL pagoda that has an ask price of a quite ridiculous $465,000, down from $495,000. The price discrepancy is from varying sites listing the car, the dealership page still has the higher price. The dealer lists the odometer as reading 19,127.
I'm not going to speak about the marketplace for Beatle's collectibles, but these W113 Benzs continue to rise in value. The Pagodas so called because of their distinctive hardtops are quality cars that garnered a high end clientele when new.
The 230SL was the smallest, in terms of engine options, of the W113 SL. The 2.3 liter inline six puts out 150 horsepower. Ideally you want to find one with the 5 speed manual, but this one was special ordered by John with an automatic.
These are fine cars and in good shape can be seen as investment grade vehicles, particularly the later 280SL. However at this price you could literally corner the market on good driver 230SLs or buy 10 very top tier Pagodas.
Knowing our typical reader on this site, I suspect most of you will turn up your nose at this one, but don't take it out on the Merc. These were some very quality cars that make for fun drivers. They also aren't very complicated to work on and are light on a lot of the gadgetry that came in later Benzs. They also are significantly lighter than the R107 SL that replaced them and turned the SL into more of a boulevard cruiser than a twisty road driving car. Just save your money and find a non-celebrity owned one. As with any convertible keep an eye out for water leakage. The Euro models look a lot better with their headlights to me, but eitherway these cars have a great, unmistakably German and Mercedes look.
~Evan