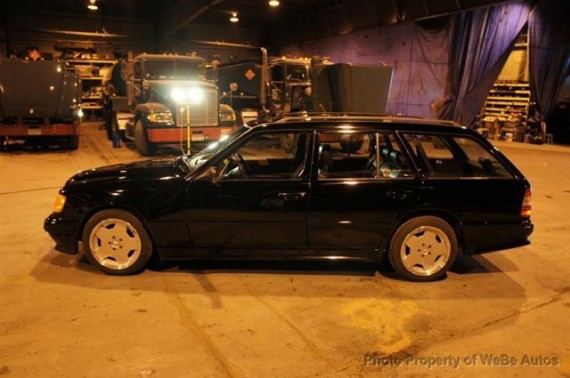 Another revisit for us. This happens with really conspicuous cars, particularly ones that just don't seem to find owners who want to hold on to a car for the long haul. We first posted about this car back in 2008 and it is now up on eBay again for sale by We Be Autos.
The car didn't sell at $48k and then again at $38k, garnering bids only up to $20k back then. It is now up with a buy-it-now price of $29,995.
The car has 77,800 miles on it and has taken on the Mallet moniker in homage to the AMG Hammer name. The seller says there is $40,000 in receipts, which are worth checking out to see how recent the "mechanical restoration" work was done.
Very cool car, that would have been one of the most awesome things on the road when new. I appreciate all the photos of the car, but wish they weren't all taken in a dimly lit Mad Max style warehouse.
The seller has posted a video of the car:
The below post originally appeared on our site July 29, 2008:
Bring a Trailer has been on fire recently with their finds, but this one really rang my bell. A W124 wagon project car done up like an AMG Hammer of the period.
I love everything about this car. A monster 6L motor, all black on black color scheme, classic late 80's styling with AMG monoblocks, light colored wood interior, etc, etc… It's a cherry ride. But honestly, unless this car is a documented AMG one-off, I'd be very curious to see who'd justify the $48k buy-it-now. It's an incredible car, but c'mon… I hope the seller and community rise to the occasion to prove it authenticity because it's a fantastic car.
dc