BMW AG Motorsport ALMS car # 003 is up for sale and comes race ready with a fresh spare engine.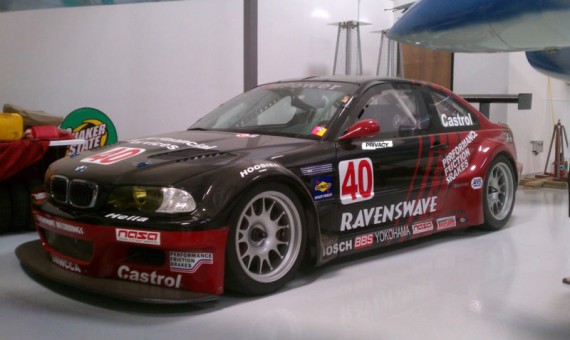 This ex Tommy Milner PTG Racing car is a chance for a turnkey factory BMW racer.
This M3 currently has a 450 horsepower P50B32 stroked to 3.4 liters by PTG. Power is routed through a 6 speed sequential racing gearbox.
Also included with the car is a brand new factory P54B32 3.2 liter good for 420 horsepower. The seller, Scottsdale Motorsport also says they can upgrade the car to a  P65B44 V8 with 530 horsepower if you so desired.
These factory cars are pretty sweet because they are purpose built, engines included. These inline six models were the predecessors to the E46 V8 powered GTR racers.
The car is pretty rare. Unfortunately the pricing puts it out of reach for many, the ask price is $348,000. You can go racing in an E46 M3 for a lot less than that, but you aren't going to have a car so well setup or the genuine BMW, real deal, race engine. The seller says they will knock $69,000 off the price if you decide you don't want the brand new spare engine. That gives you an idea of the level of race car you are dealing with. ALMS level competitive cars aren't your backyard mechanic stripped down used E46 M3 with an exhaust tacked on.
Though the car isn't that new, heck it is eligible for some historic racing, I suspect that for this type of car a new owner would want to put it through some pretty competitive racing. If historic racing is your thing feel free to bring this over to Watkins Glen for one of the events, I'm willing to help a new owner take it around the track. : )
The seller has recent video of the car starting up and I'm sure you can find older video of it at speed.


~Evan