The baby Benz with the rev happy four showed its ability on the track with the DTM series as well as blowing away other four door sedans in the small car market. This E30 M3 fighter tuned with the 16 valve engine built by Cosworth didn't skimp on the sport with an aerodynamic body kit and famous dog legged 5 speed.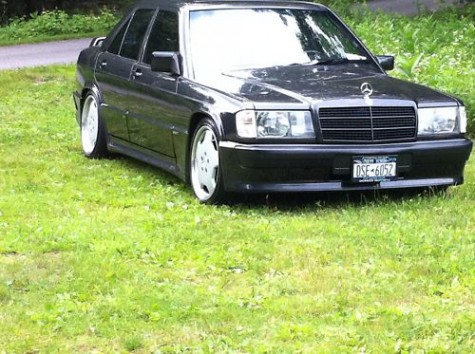 This particular 16v appears to have been extensively redone with $35,000 in receipts. It has a new bare metal respray, rebuilt engine and transmission, as well as redone suspension and brakes. The bumpers and head lights are also new. The large amount of work done to this car shows as it looks great. The Euro lenses, smoked taillights, and painted grille along with the more modern AMG rims complete the stealthy performance look. You would never suspect that it has covered 182,000 miles. The restoration shows that an owner enjoyed this car. It isn't clear if the current owner put all the miles on, but he does state it took him two years to complete all the restoration. It seems a bit of a shame to go to all that work to restore the car and then not enjoy it, particularly knowing going in that, at least right now, you aren't going to get all the money back out on the sale. Of course there is also the feeling that once you get a car perfect you hate to drive it for fear of seeing your work start to come undone. I wish there was a bit more description in the auction. I'm sure that you could get more details on what exactly was rebuilt in the engine from the seller, but I would've liked to see that up front.
With an ask price of $27,200 this 190E is no where near cheap. There is another one, minus the restoration work, on eBay up for sale with no reserve and 217k on the clock for under $3,000. Though the limited production models of the 190E have been singled out as future classics, the ask price on this one is steep. With all the work the purist collectors looking for an original condition car will skip this one. The car isn't quite scarce enough yet to have a major restoration on a high mileage chassis pull in close to the $30,000 wanted here. If this was a scarcer 2.5-16 the price would be higher. Of course neither of those can come close to the prices realized for the Evo 190E models, but they can come close on performance.
Great looking car and I understand that on paper it should be worth the ask, but I'm afraid painful as it may be for the seller, they will need to lower the ask or put the car away for a few more years.
~Evan