Warning!
This post is in our archives. Links in this post have been updated to point to similar cars available to bid on eBay.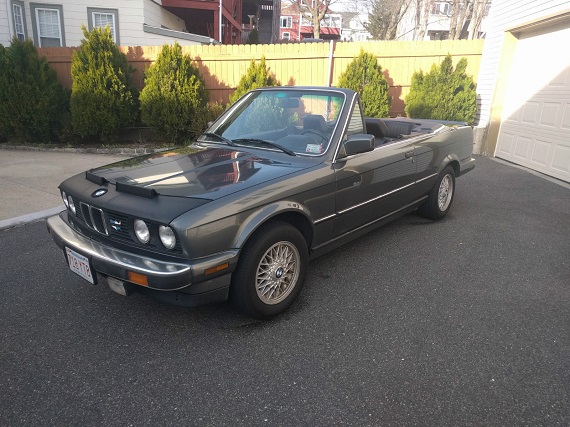 April 2017 update: The seller of this car has relisted it HERE!
It's very interesting to me to look back and compare the 1980s offerings from the big three luxury producers in Germany. In many ways, BMW lagged behind the competition early on. Audi launched the B2 chassis in 1980, and it revised the standards of the near luxury market for Germany. There were diesel and gas motors, two or four-door configurations, and even a wagon from sister company Volkswagen. But the real addition gearheads loved was the wide-winged turbocharged and all-wheel drive Quattro, the first of the hot versions that would come to the market for junior executives. Indeed, it was the Quattro that changed the future of the W201, as Mercedes-Benz changed the mission of the future 190E 2.3-16 Cosworth from rally to circuit racer. So, Mercedes-Benz had a track version of the W201, and it also set the standard in build quality. Bringing those reputations to the small luxury market meant a whole new class of clientele and the W201 was massively successful thanks to a bunch of factors. While VAG produced about 1.6 million B2 chassis cars between 1976 and 1987, an amazing 1.8 million W201s made it to market. Those successes put more pressure on BMW, and it responded.
The E30 was without doubt the sportiest of the three out of the box, and just like the B2 is was amazingly versatile. There were sedans and 2-door sedans, and BMW was able to match the Volkswagen Passat with a Touring offering. Hot shoes liked the addition of the Motorsports division M3, which not only met the challenge of the Quattro and Cosworth but exceeded it by nearly every measure. Build quality was great but performance was even greater. But BMW wasn't done, as it took the versatility – and the small executive market – to a new level. Not satisfied with the diversity of the range already, the Munich engineers introduced a trump card over its rivals by removing the roof. An often overlooked development in the hot E30 market, the ic models would set the standard and demand responses from its rivals.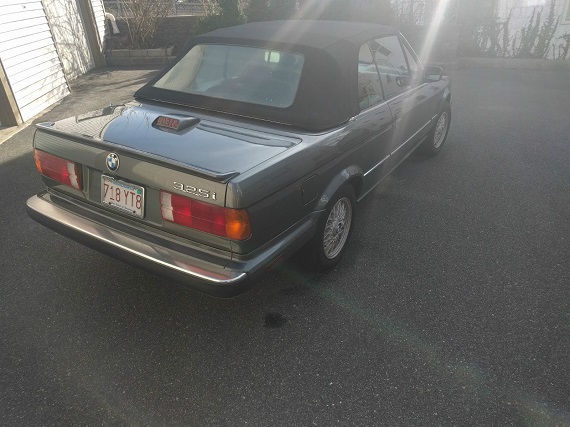 Year: 1987
Model: 325ic
Engine: 2.5 liter inline-5
Transmission: 4-speed automatic
Mileage: 112,516 mi
Price: $9,500 Buy It Now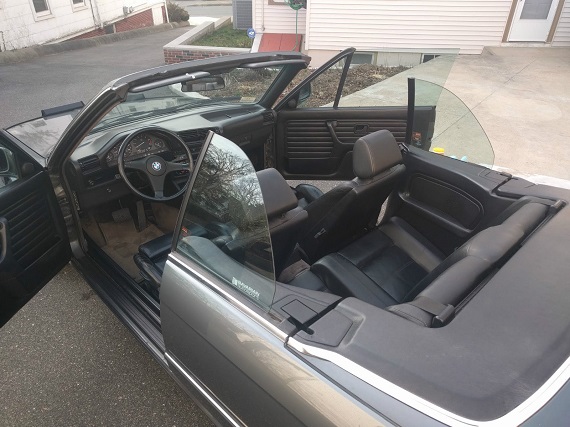 This car has been absolutely babied, and is in impeccable condition. Here's a detailed description of the exterior and interior condition (more details below in longer descrip):Exterior:- No rust- Paint is in immaculate condition, light cloudiness on the hood – Plastic is nice and black in most places except those that got the most sun like under the windshielf- Factory top in mint condition, seals nicely everywhere but the front corners of driver and passenger windows. You can see a .25″ gap in the weather stripping, only a slight leak in absolute downpour conditions – Rear plastic window is cloudyInterior:- Leather has been reconditioned and is a nice deep black. Some repaired cracks in the back seat and wrinkles on the driver bolsters from use- Carpets are spotless as are mats- The usual E30 crack in the dash plastic from sun (not too bad for an 87)Electrical:- Brake wear indicator wiring is faulty, brake maint. light comes on intermittently- Heater / AC fan is loud

This is such a fun car, turns heads everywhere it goes! It's an ultra-clean E30 that's always been babied. It hasn't been a daily driver since the 90's, living in the third garage bay and only coming out for really nice days. Almost every time I drive it I get thumbs-ups from other drivers, and people roll down their windows to chat at stop lights, which is really fun. It's like driving a piece of history, especially when you're blasting some Biggie or Michael Jackson.

The greatest hits:
– It's the beautiful Dauphin Gray color, paint is in amazing shape
– Reconditioned leather interior, some wrinkles and the usual wear but nice dark black
– Upgraded Blaupunkt head unit with bluetooth and a custom subwoofer box with 2 10″ Rockford Fosgate subs and a 400 watt RF amp. Maintains tons of trunk space (can still fit three golf bags back there!) but adds some welcome bass
– Convertible top is in mint condition (except for slightly cloudy plastic window)
– Really sweet factory E30 stealth radar detector mounted under dash, really unique if not so functional anymore (no laser obvi).
– Leather bra
– BMWCCA roundel in the grille (I love this but you could obviously remove it)
– 14″ spoke wheels (the ones you want for this year)
– Sport steering wheel (not M, but not the hideous airbag wheel some E30s have)
– This thing is CLEAN. It feels almost brand new at times, drives beautifully and is an awesome piece of history

Maintenance:
– New timing belt, thermostat, mounts, the whole big E30 maintenance package was performed in late 2013 and only has 2k miles or so since then
– All new Bilstein HD shocks and new bushings in all four corners, stock ride height but a much tighter ride
– Replaced both control arms as part of suspension upgrade
– New rotors and brake pads front and rear, drilled rotors in the front
– Replaced lots of little bits like new antenna, plastic covers in engine bay, cabin lights, hood and trunk struts, fixed small cracks in plastic, all kinds of stuff. I have receipts for all of it which I'll include with the maintenance history.

History
I'm the fourth owner, and the third to own the car as a second or third car. Originally purchased in Connecticuit and daily-driven until 65k or so miles, was sold to an older man who kept it at his beach house. He sold it to his buddy who also kept it at his beach house in CT until they sold the house, and I purchased it from him.

Carfax shows the title as having a NAM or "not actual mileage" title that was issued in CT around the 60k mileage mark. It's unclear exactly why, my mechanic speculated that it could have been a clerical error or paperwork snafu (owner didn't know mileage at the RMV counter or something). The car's condition and mechanical condition is testament to the mileage being correct (or within a few miles if it indeed was a mechanical issue with the odometer).

The "collectors" who have owned the car (myself included) have documented pretty much every little scrap of maintenance, so included you'll find a hefty manilla folder with all the receipts, estimates and descriptions of work.

Things I'd want to know if I was buying it:
– Convertible top seals:it seals up tight everywhere but a tiny spot in the corners of the drivers and passenger's windows. It's actually so symmetrical that it seems like it's supposed to be this way (i've never seen a brand new one, obviously). This is only an issue if you drive the car in a torrential downpour, and even then it'll hold for 20 minutes or so. It doesn't leak in the usual E30 spot which is near the latch, it's a tiny dribble in the left front (never the right for some reason). I've never had a pro look at it but it might be simple to fix with a tiny piece of rubber stripping, but I only drive it on nice days so it's really not an issue. Don't take it through automatic car washes.

– There's a tiny shimmy between 55mph and 65mph. The car is smooth everywhere else and corners well, especially with the new Bilsteins. But for some reason when you get to about 55 you'll feel a little vibration in the steering wheel. It goes away once you get to 65 though, no idea what the cause is. I drive it mostly around town between 20mph and 40mph, so I forget about this sometimes. If you're commuting an hour to work on the freeway each day, this car is probably not for you.

– The brake lining indicator wiring appears to be busted, even though the brake overhaul put in new sensors and all that the light will occasionally come on. See gauge cluster picture. Apparently the E30 electrical system can get pretty crazy, but this one's gremlins seem to be localized to the brake wear indicator. Not worth ferreting out in my opinion.

– The BMW tool kit is there under the trunk, but the tools are rusty. I think some water got in the trunk at some point in the vehicle's history (not on my watch) and it rusted the screwdriver and stuff. I've checked the weather stripping on the trunk and adjusted the latch pressure so it's nice and tight, but the original maintenance kit isn't much to look at inside. Plastic is in good shape and you could just buy new tools for it.

What it comes with:
– Entire maintenance history
– Two keys
– Detailed E30 Technical Manuals
– Assorted extra plastic bits like plastic fasteners, screws, things like that
– Car cover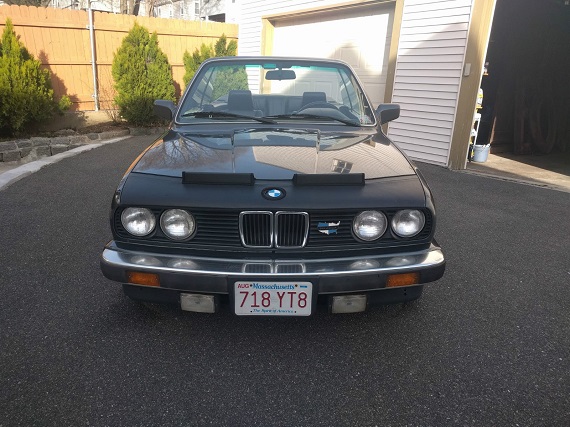 BMW really held this trump card convertible for some time; Audi would add the Cabriolet model to match in 1992, after E30 production ended, and while it's a great looker the performance was soft compared to the BMW. Mercedes-Benz wouldn't offer a small convertible until the W202-based R170 in 1996 – itself more a reaction to the equally trend-setting BMW Z-series. It's no surprise that the E30 was the most successful of the three small executive, and by a large margin – over 2.3 million were produced. The M20 2.5 inline-6 was good for about 170 horsepower, but the convertibles weren't really about speed. This was a stylish cruiser for weekends in the Hamptons, and this car fits that job description perfectly. It's been an occasional driver for some time, so miles are in check and condition is far above average. There's a lot to like here, from the BBS wheels to the nice color combination – but it's the seller's disclosures that are most reassuring when considering what is now a nearly 30 year old car. The convertibles aren't for everyone but it's still a very unique classic, and you could take some time to improve upon the condition to make this a show car if the next owner so desired. To me, this is a great way to enjoy some sunshine on the weekend and head to some Cars and Coffee events or a local BMW get together – or throw some beach chairs in the trunk and bring the family to the coast to soak up some rays!
-Carter