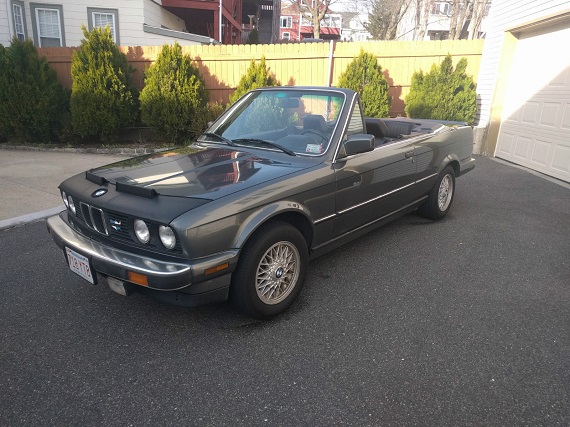 April 2017 update: The seller of this car has relisted it HERE!
It's very interesting to me to look back and compare the 1980s offerings from the big three luxury producers in Germany. In many ways, BMW lagged behind the competition early on. Audi launched the B2 chassis in 1980, and it revised the standards of the near luxury market for Germany. There were diesel and gas motors, two or four-door configurations, and even a wagon from sister company Volkswagen. But the real addition gearheads loved was the wide-winged turbocharged and all-wheel drive Quattro, the first of the hot versions that would come to the market for junior executives. Indeed, it was the Quattro that changed the future of the W201, as Mercedes-Benz changed the mission of the future 190E 2.3-16 Cosworth from rally to circuit racer. So, Mercedes-Benz had a track version of the W201, and it also set the standard in build quality. Bringing those reputations to the small luxury market meant a whole new class of clientele and the W201 was massively successful thanks to a bunch of factors. While VAG produced about 1.6 million B2 chassis cars between 1976 and 1987, an amazing 1.8 million W201s made it to market. Those successes put more pressure on BMW, and it responded.
The E30 was without doubt the sportiest of the three out of the box, and just like the B2 is was amazingly versatile. There were sedans and 2-door sedans, and BMW was able to match the Volkswagen Passat with a Touring offering. Hot shoes liked the addition of the Motorsports division M3, which not only met the challenge of the Quattro and Cosworth but exceeded it by nearly every measure. Build quality was great but performance was even greater. But BMW wasn't done, as it took the versatility – and the small executive market – to a new level. Not satisfied with the diversity of the range already, the Munich engineers introduced a trump card over its rivals by removing the roof. An often overlooked development in the hot E30 market, the ic models would set the standard and demand responses from its rivals.