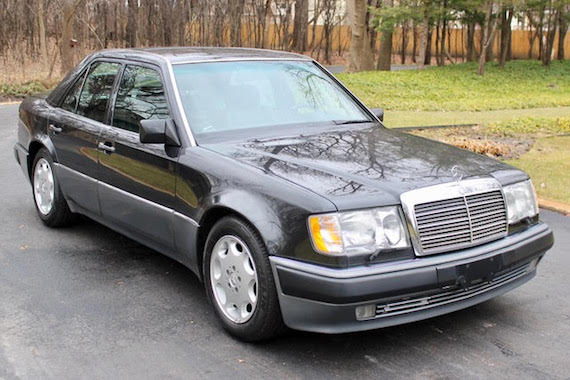 The term "Q-ship" is an antiquated phrase dating from the WWII era. Originally used to refer to merchant ships carrying concealed weaponry, among car enthusiasts it's been repurposed to describe fast, brawny, and exotic sedans that hide their performance beneath conservatively styled exteriors. German manufacturers excel at producing these kinds of cars, and while the E28 M5 might have been the OG "wolf in sheep's clothing," the 500E may be the more interesting. The product of a collaboration between Mercedes-Benz and Porsche, and based on the confidence-inspiring W124 chassis, it got a 5.0 liter V8 motor making 326 hp, beefier brakes taken from the R129 SL, upgraded suspension, a wider track and Recaro bucket seats. The saga of assembly of these beasts was a heroic undertaking; Porsche had the capacity on its dormant 959 production line, so a deal was struck where bare chassis were loaded at Daimler-Benz in Unterturkheim and shipped across town to Porsche in Zuffenhausen. There, the revised and widened fenders were mated with the R129 500SL 16-inch wheels and brakes. Porsche also installed the all-aluminum V8. Mercedes-Benz then repatriated the partially complete cars to paint them, but Porsche completed finally assembly. Around 10,000 were completed in this back-and-forth manner.
Sold between 1991 and 1994/5, the 500E could make the 0-60 MPH dash in under 6 seconds and topped out at a limited 155 MPH. Those were very respectable numbers for the time, especially given the size of the car. From the outside, the 500E was virtually indistinguishable from an ordinary W124, the flared fenders and slightly lower stance being the only tell-tale signs.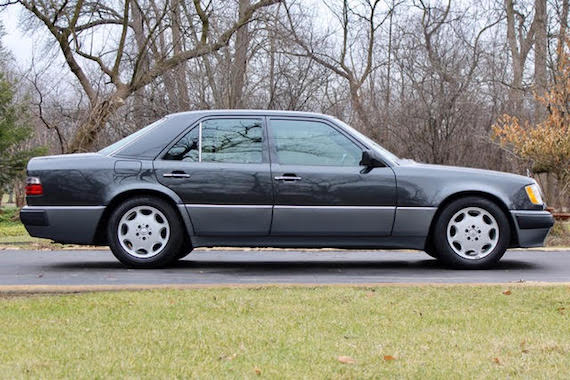 Year: 1993
Model: 500E
Engine: 5.0 liter V8
Transmission: 4-speed automatic
Mileage: 66,300 mi
Price: $39,500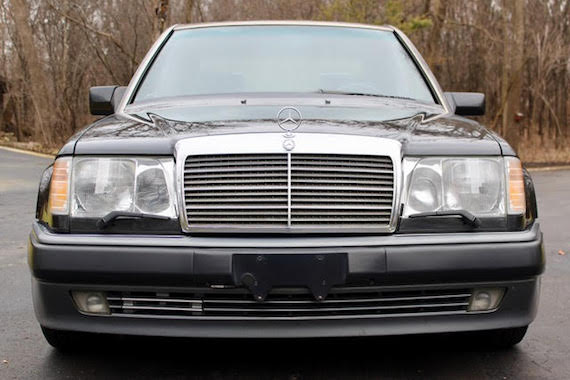 1993 Mercedes-Benz 500E, 66,629 Original Miles, 4 Owners From New, Perfect Running Condition

VIN: WDBEA36E4PB886196

This 1993 500E is fantastic example of one of the most important Mercedes Benz models produced and represents an era of collaboration between Mercedes-Benz and Porsche cars that will never be seen again.

The condition of this car is very original and very well presented. The car shows very few signs of age and has 66,300 miles on the odometer. I am the fifth owner from new, but the CarFax is a little confusing on that point, as two of the owners were brothers and sold the car back and forth to each other. In order to document this, I'm including the CarFax to document the mileage, service, and owners.

This car still retains every option available on a 500E at the time, including:

BODY:

This 500E wears its factory correct and original paint, which is in very nice condition. All of the body panels are ripple, dent, and rust free and don't appear to have had any sort of body or accident damage.

The glass and seals are in excellent condition and there are no leaks evident. The windshield was replaced last year with a factory ORIGINAL windshield, after a stone chip and crack necessitated the replacement.

The body trim, including the aluminum, and rubber, is in good condition. No trim has been replaced, nor has it needed to be, on the car. It has all been preserved and cared for properly over the years.

This car also has the very rare and sought after European head lamps AND tail lamps installed. The American market head lamps and tail lamps will also be included with the sale.

INTERIOR:

The interior is trimmed in the original black leather. The seating areas are in beautiful condition, with no rips, tears, or wear evident. The door panels are also in the same condition. The wood trim is also in very good condition and not in need of any type of repair. The carpet is also original and looks perfect.

All of the accessories, including the climate control are in perfect working condition. The stereo head has been replaced, and works perfectly with all of the factory speakers. If you you're looking for the original factory radio, they are very easy to find on eBay and comparatively inexpensive.

All of the windows power up and down and work perfectly, as does the sliding roof. The trunk is in very nice condition, the trunk covering is in excellent condition with no rips, tears, or missing pieces, and the spare tire and jack, and associated tools are accounted for and in very nice condition.

UNDERCARRIAGE:

The underside of the car is exactly what a 66,000 mile car should look like that was well taken care of, garaged, and not driven in the salt. Again, it is very solid and very well preserved, with no evidence of any accident damage. I couldn't include all of the photos of the undercarriage in the ad, so if you'd like to see a complete set, please contact me and I will email them to you.

ENGINE and ENGINE COMPARTMENT:

The powerplant in this Mercedes is the original V-8 engine. It is completely original and as you can see from the photos, very well preserved. All aspects of the motor are in perfect working order, and the compression ratio is exactly where it should be.

The engine bay is completely original, with all components in operational condition. Every detail of the engine compartment is "Mercedes-Benz Correct" and well preserved. There is some very minor wear to certain painted surfaces due to age, but overall, I don't think you'll find one in better condition.

All engine and drivetrain maintenance is up to date, including the following services:

-oil and filter change

-air filter replacement

-installation of new fuel filter

-engine coolant

-installation of new drive belts

-lubrication of entire chassis

I have also had the following work performed on the car in the last few months:

-Replacement of the right rear hydro-pneumatic shock (these shocks, which usually last past 150,000 miles before replacement, were checked and tested, only one in need of repair).

-Removal and replacement of rear lower ball joint, right side outer. This service also include the full suspension fluid flush and fill service).

-Removal, reseal, and installation of the power steering fluid reservoir, which included related seals and gasket replacement, with fluid flush and fill service.

-Removal and replacement of the center steering link, which included both tie rod assemblies and steering dampner replacement with steering toe adjustment.

-Replacement of the transmission cooling hose.

-Replacement of the transmission shift linkage bushing.

I also have a host of spare service and replacement parts which will be included with the sale. They are all original Mercedes-Benz parts or OEM Mercedes-Benz suppliers. Included are parts such as filters, belts, wiper blades, etc. as well as more technical spares.

TRANSMISSION:

The automatic transmission in this car is in perfect working order and functions as a 66,000 mile car should. It is the original transmission to the car.

TIRES, WHEELS, and BRAKES:

The tires are in very nice condition and are not in need of replacement at this time. They and are the correct and original size replacement (Michelin Pilots) for the 1993 500E. There are also two additional new Michelin Pilots included with the sale of the car. One is installed on the spare wheel of the car, and one is included loose and un-mounted.

The wheels are the original Mercedes wheels, and are in excellent condition. They are in very nice condition as you can see in the photos.

The entire braking system has been gone through to ensure every part works as it should. All rotors, pads, and seals have been replaced and brake fluid flushed.

OVERALL DRIVING IMPRESSIONS:

This 500E runs and drives as should – It's barely broken in! The 8 cylinder powerplant runs and accelerates smoothly and very quickly and the transmission shifts as it should.

The car drives around town and on the open road with no squeaks, creaks, or rattles. It has had all of the necessary service recently performed including oil-change, tune up, installation of new battery, and transmission and differential service. It needs absolutely nothing to drive, show, and enjoy. All of the mechanical aspects of the car work as they should.

PLEASE NOTE:

This 500E still retains all of its original or N.O.S. components! This means the engine, transmission, rear end, etc. are original or correct to the car. All of the numbers, markings, etc., are correct. THIS CAR HAS NEVER BEEN MODIFIED IN ANY WAY! It is an original and very special car that, as evidenced by the low mileage and condition, has been driven very sparingly and properly cared for during the last 23 years. If you've never driven a 500E of this period, you are in for a treat with this one!

If you are serious about purchasing this vehicle, I encourage you to come, take a look, and drive it. I can also provide you with additional photos of any specific part you have questions about.

You or your mechanic are also welcome to put the car on a lift and perform any drivetrain inspection you wish, including a compression check.

I am always looking for new cars and motorcycles to add to my collection and have several cars including a 1969 Mercedes-Benz 280 SL and a 1965 Jaguar E-Type convertible as well as motocross and enduro machines for sale, including early Maico machines as well as Gilera and Can-Am motocross and enduro machines. Please contact me if you are interested or have something interesting for sale.

Contact: 630-202-7357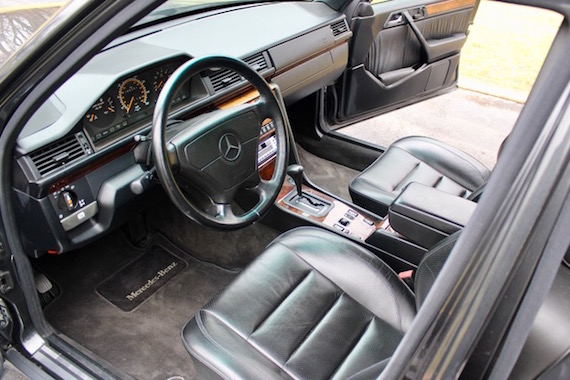 This particular example presents wonderfully in 199 Pearl Black over a black leather interior, a very desirable color combination. The paint looks to be in great condition, body panels are said to be straight and true, and the interior looks like it has barely been used. The exterior has been tidied up by the addition of European-spec headlights and taillights, a neat upgrade. All electrical accessories are said to work and, with the exception of the aforementioned lights and an aftermarket radio, the car is otherwise in stock and original form. Some recent maintenance has been performed on the suspension; the car is said to need nothing else except a new driver and looks the part.
Overall, this looks like a lovely example of a classic and quite rare super sedan. The 500E may no longer be able to outmatch much newer cars, but it's an unusual piece of Mercedes-Benz history that is sure to reward the contemporary driver. For some time, these were neglected by the market and could be had from prices somewhere in the mid-teens. But prices have begun to soar as they're becoming increasingly sought after and harder to find. The price on this one is strong, but I think it's reflective of the excellent condition on show.
– Craig