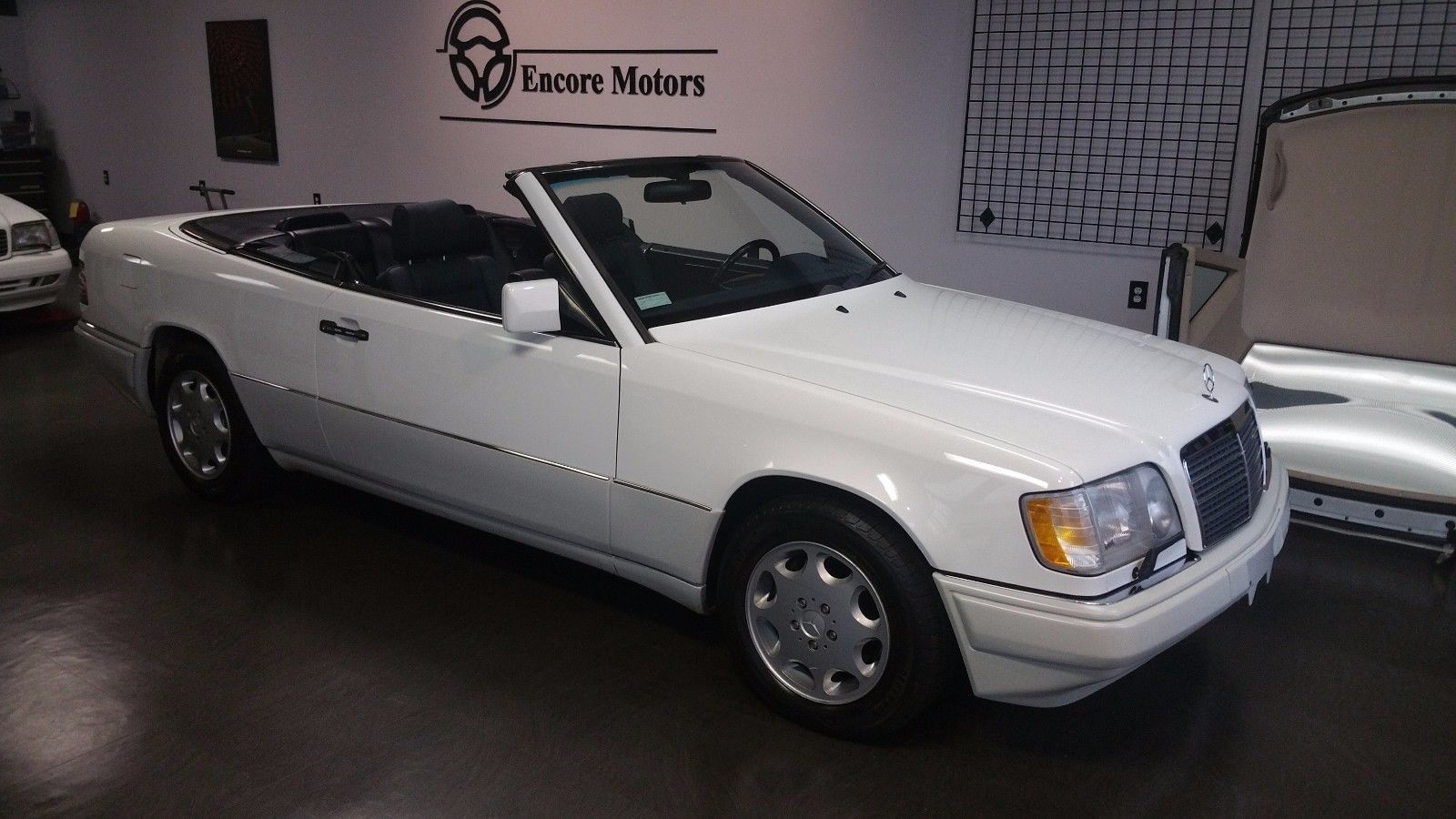 I can't say it enough times how special the Mercedes-Benz W124 Cabriolet is. On the outside, yes, it just looks like a W124 coupe with the top removed. But like I said here, it is far from Clarkson breaking a sawzall out and saying 'How hard could it be?'. Over 1,000 parts needed to be changed to take this handsome coupe and turn it into a handsome cabriolet. No easy task, but then again, this is Mercedes-Benz we're are talking about and I have faith in them. So should you.
What brings me to talk about the W124 Cabriolet once again is this beautiful 1994 E320 for sale in sunny Georgia. It checks all the boxes if you are looking for a prime example of the model. This is the facelift version painted in beautiful Polar White with blue leather interior and a blue top. The news only gets better from there.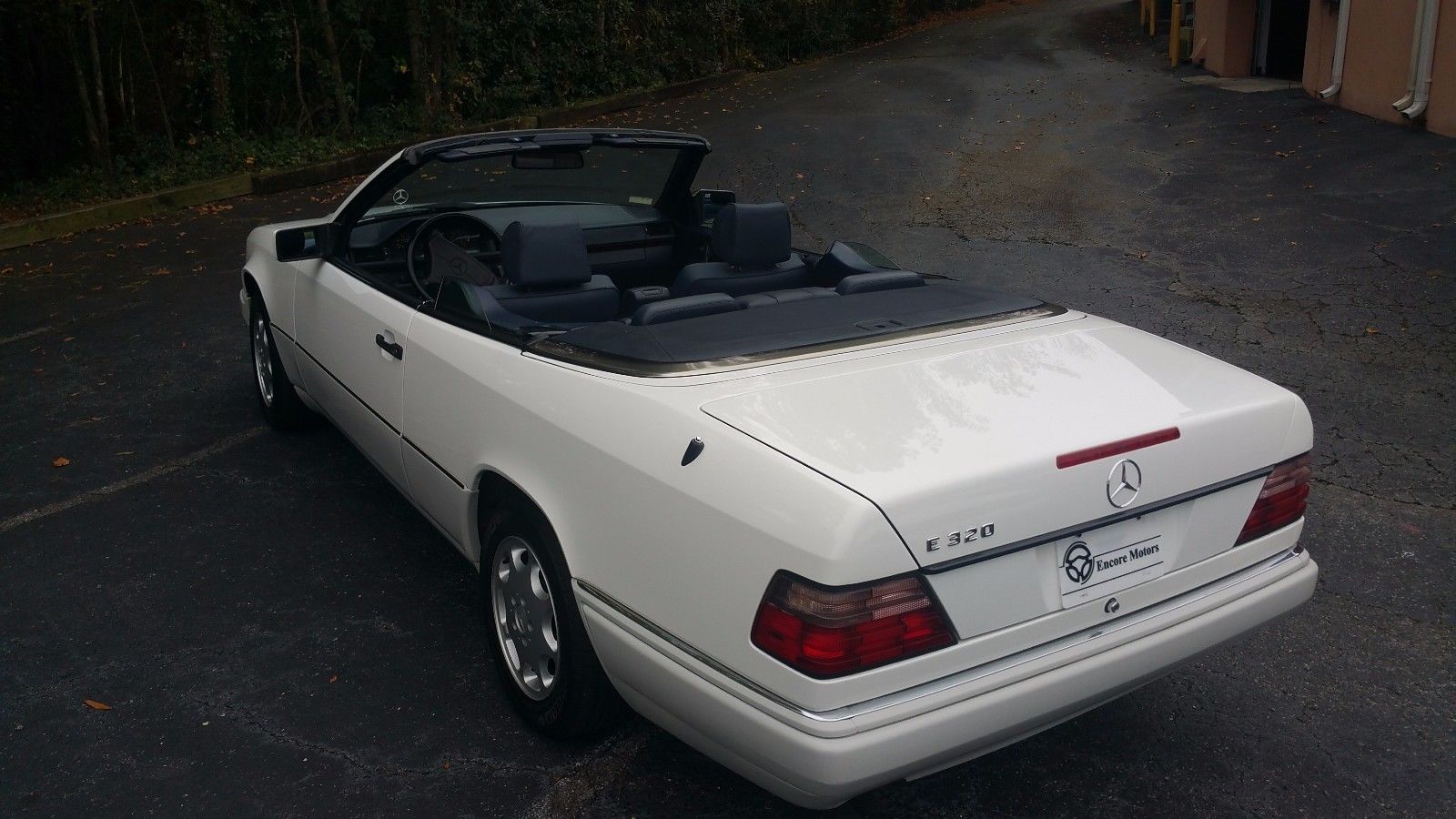 Year: 1994
Model: E320 Cabriolet
Engine: 3.2 liter inline-6
Transmission: 4-speed automatic
Mileage: 75,210 mi
Price: $18,900 Buy It Now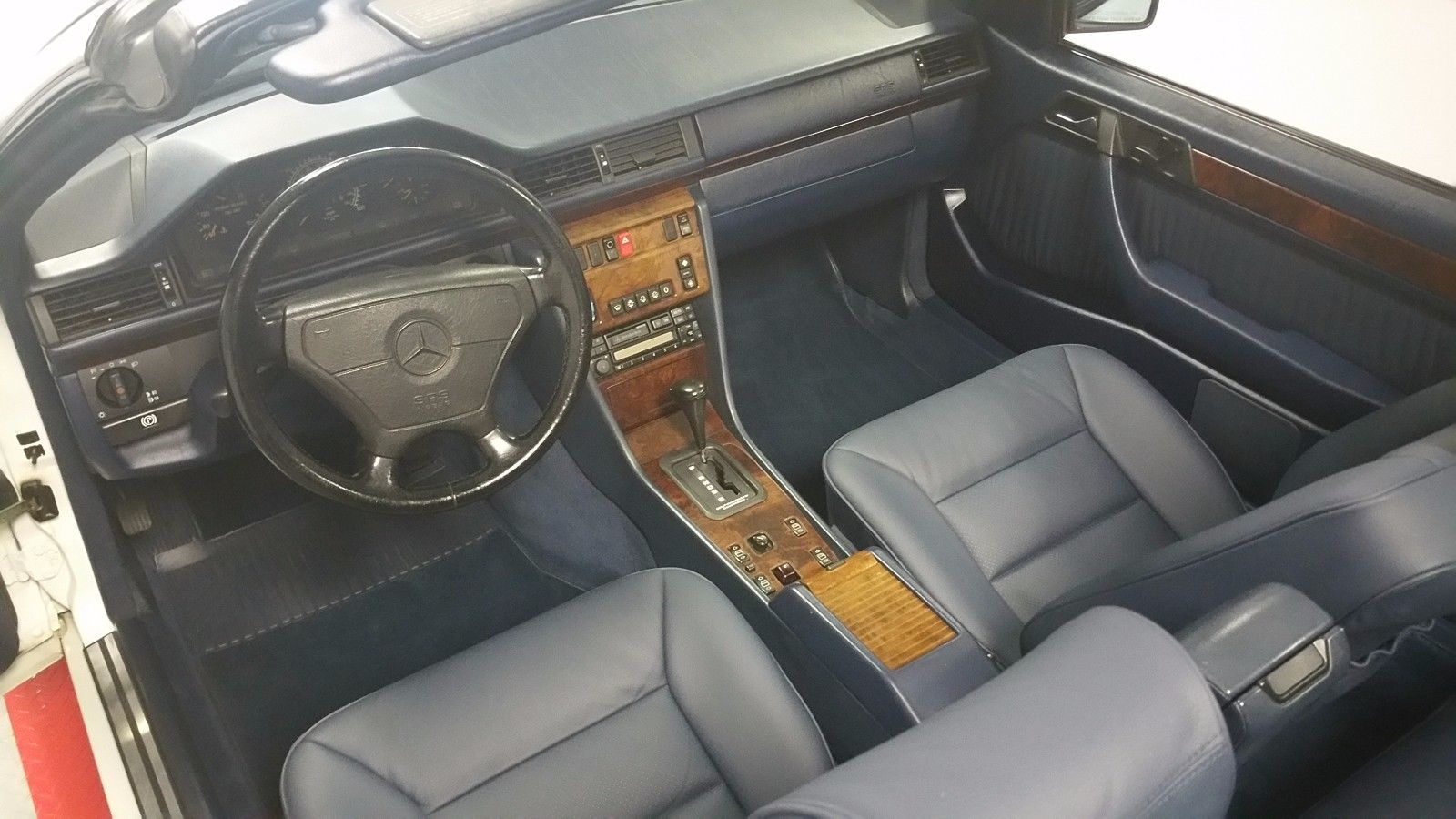 This is a superb example of a rare, rapidly appreciating Mercedes that you can actually enjoy.

This is a 1994 E320 Cabriolet, sold new at our local Mercedes dealer, to a local physician on February 4 of 1994. It is #149 White with #262 Blue leather, trim, and top. So many of these cars are black and silver, this is a rare and refreshing change. It is a one owner car, although it was bought out of the Mercedes Credit group and re-titled in 1999. It has lived all its life in the sunny warm climate in Macon GA, and the bottom looks excellent. The car had been sitting for months and months with no activity in his garage, and I rescued it back in November of 2015. I have taken the last two years to make sure everything is just right, and as it should be.

I am a 40 year MB Geek, and am fully aware of all the issues that come with these cars , and what it takes to make them right. Space limits me here, but here are some highlights:

Cylinder head job completed in February of 2016, about 1k ago. (They don't leak coolant, but oil). I don't care if the car has 5,000 miles or 205,000 miles, this will certainly need to be done.
Wiring harness replacement was done many years ago at Mercedes dealer under goodwill. No issues.
AC was not cold–replaced compressor, drier, and x valve. Condensor appears to have already been done. AC is cold and all HVAC is proper.
Replaced top with proper German soft top. While in the same facility, I went ahead and replaced the 24 year old front seat covers with NEW GERMAN leather (rears are immaculate, rarely if ever used). This invoice alone was over $5000.
Full investigation on top cylinders. A few had already been replaced, we replaced 3 more. No issues at all there.
New front rotors and pads at that time. Also all filters, fluids, plugs, and more.
Fresh battery in Feb of 2016.
That first invoice through the shop was roughly $4700.

After a little shakedown, a few more things:

I didn't like a chirp I heard in the belt tensioner. Replaced and new serpentine belt at 74328.
Top controller box was a little loopy. These are known failure items, so we went ahead and had it rebuilt. (BTW, don't be mislead by top issues on this car. They are complex and particular to fix. And these top controller boxes ARE NLA from Mercedes. I have checked at Classic Center and the European Depot. They do not have any.)
Had an occasional "check engine light". O2 sensor turned out to be original (24 years old!), replaced, and cleaned out and serviced the induction tube. Revs nice and free and starts on the first twist.
Replaced rear rotors, pads and sensors.
We have also disassembled the seatbelt proffering arms and replaced the gears. This is another common failure item on these cars. Usually the gears break and they won't work, or make awful noises. Both sides work perfectly. Also replaced drivers side headrest gear that was not working.
Many cosmetic items and trim have been replaced, including the storage box in console (the louvers always break), the piece of black deco trim on the rear trunklid (cracked– almost $300 at the dealer!), faded front signal lenses, rebuilt the Hirschman antenna (twice).
Steering wheel showed 20 years of dirt and neglect. Replaced with a Sportline Steering wheel I sourced in Europe.
New Michelins and alignment at 74,120.
And we put in yet another new battery, and replaced the positive cable. It was not secure and looked bad. Interstate has a 18 month replacement guarantee and we got a new battery no charge.

These are not all the things that have been done. Just want to let you know the caliber of car and seller that you're dealing with.

So you're asking, what's NOT perfect? Very little. In the interest of full disclosure:

The radio is original, and it was pretty lousy when it was new. It still is. I have replaced the dash speakers in the last week or so, but the woofers in the door are dead, and the rears don't sound great. I would fix it, but I'm never sure if people want to use something of a newer vintage, so I've left it alone.
There is one horizontal crack beginning in the center console. It's not bad, but you can lightly see it in the pictures. Of course, MB does not offer a new replacement, but there are vendors who can refurb this stuff beautifully. I've been afraid to send it out for fear of not getting it back.
The wheels are very good, but not perfect. Again, I could have them beautifully refinished, just a matter of what you prefer.
I do not have the wind screen deflector. We have looked high and low for it, to no avail.

I have the books/manuals/pouch, 3 correct keys, Mercedes Master Vehicle Inquiry, and all of the receipts for my work, totaling well into the 5 figure range over the past 24 months or so. I should also mention that I have NO additional dealer fees or "smoke" charges. GA Residents would be required to pay appropriate taxes or fees.

It is fully detailed by a Concours judge and participant–me. Take note that this car recently won it's class at our Atlanta area Mercedes club concours last month (note the picture of the trophy and the display).This car is a pleasure to drive and look at. It is recognized by Mercedes experts as one of the best choices for appreciation over the next 5 to 10 years.

You can actually enjoy this car. It is not the cheapest one on Ebay. If that is what you are looking for, please move on. It is also by far not the most expensive. There is a beautiful example for sale for $65,000. The problem with the cars that are $10 or even $15k more, is that the owners seem to think that because of the low mileage, none of these repairs are necessary. WRONG. Remember these cars are approaching 25 years old. I have taken the time, money, and my experience, to ensure that you have a great time with her. Check the valuations on Hagerty, I am well within the guidelines. This car is AT LEAST at high 2, maybe better, by their standards.

I encourage inspections from you, your tech, or a service, but please, I will not hold up the auction for that. Paypal is fine for the deposit, but the balance is expected by wire within 3 business days of the transaction. I must also remind you–please have your money in order. Most commercial lenders are NOT going to loan you a bunch of money on a 25 year old car, so please make your arrangements in advance. I am 37 years in business, and play by the Golden Rule. Check my feedback–and read the comments. 40 year Mercedes geek, 37 years in business. Longtime MBCA member, second generation.

For us in the South, this is the greatest time of year for convertibles. Cool days and nights with the heat on your feet! Tons of fun, great looks, and smart money. A wonderful choice in a rare Mercedes.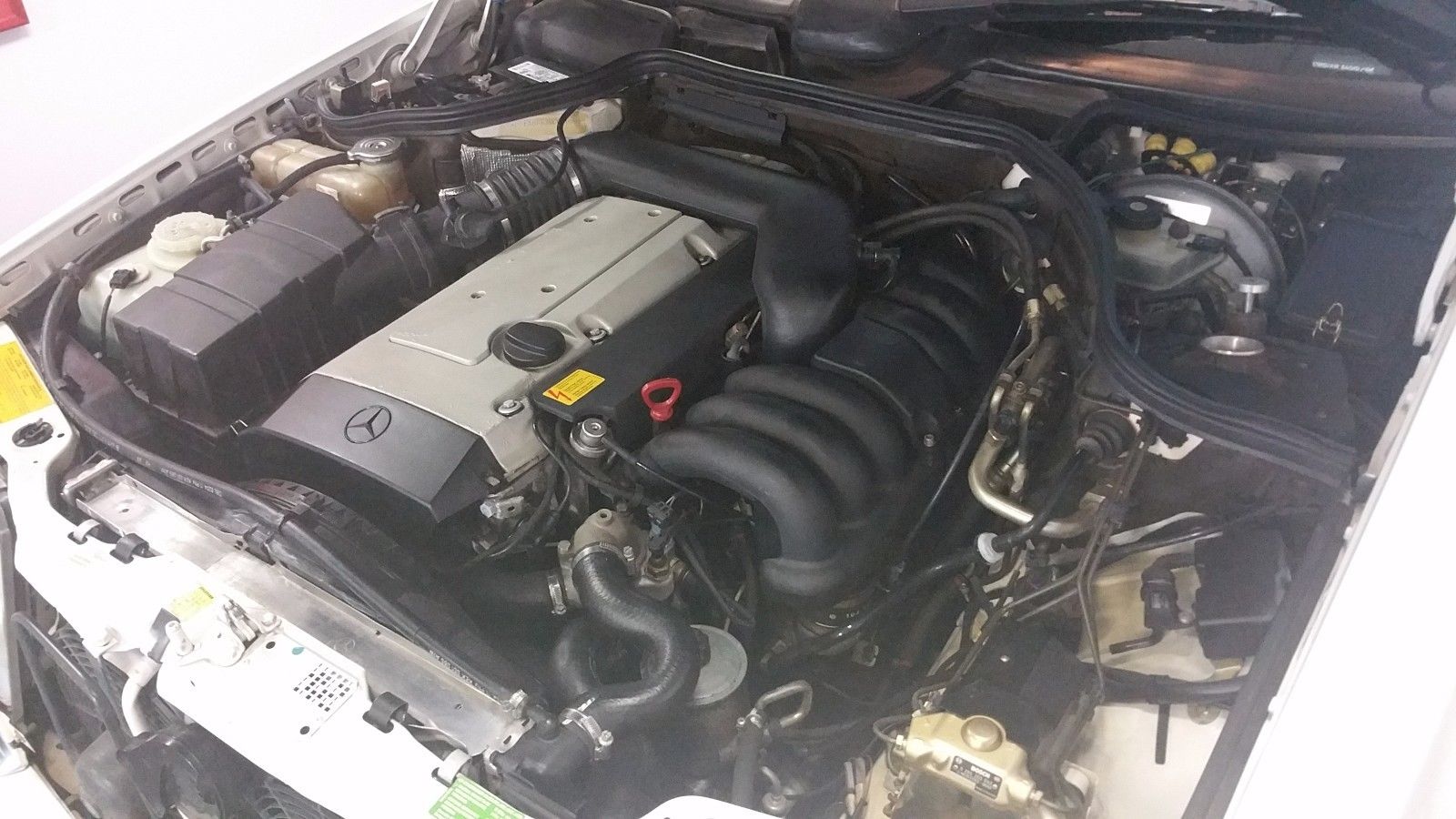 What an absolutely beautiful example this thing is. For a hair over 75,000 miles, this W124 looks like it has less than half that. The exterior is extremely clean, the interior looks like it has never been sat in thanks to new seat covers and the engine bay still looks like it left the dealer lot back in 1994. This is just a great example if when you take care of things, they stay nice. That is the beauty of these "golden era" Mercedes; take of them, they take care of you. This is especially true with the W124 Cabriolet and how it was built. There is no reason that this car can't continue to look like this in another 24 years and beyond. The seller does an excellent job explaining all the heavy lifting that he did to this car and now it is ready for the new owner to enjoy. No worrying about a headgasket. No worrying about a ripped top. No worrying about a wiring harness. No worrying about a top controller. Just get it, drive it and keep it nice.
The $18,700 asking price represents an excellent value. I see a fair amount of these for sale in the low to mid-teens and they aren't half as nice as this one. I'd have no problem paying up front on this W124 because I know I'm not going to have to sink a bunch of money into this car for deferred maintenance and repairs to it. The even better news is that the values of these cabriolets have stayed strong from many years and it doesn't look they are going to be falling off anytime soon either. So if you are looking to pull the trigger on one of these great cars, this one might be it.
– Andrew