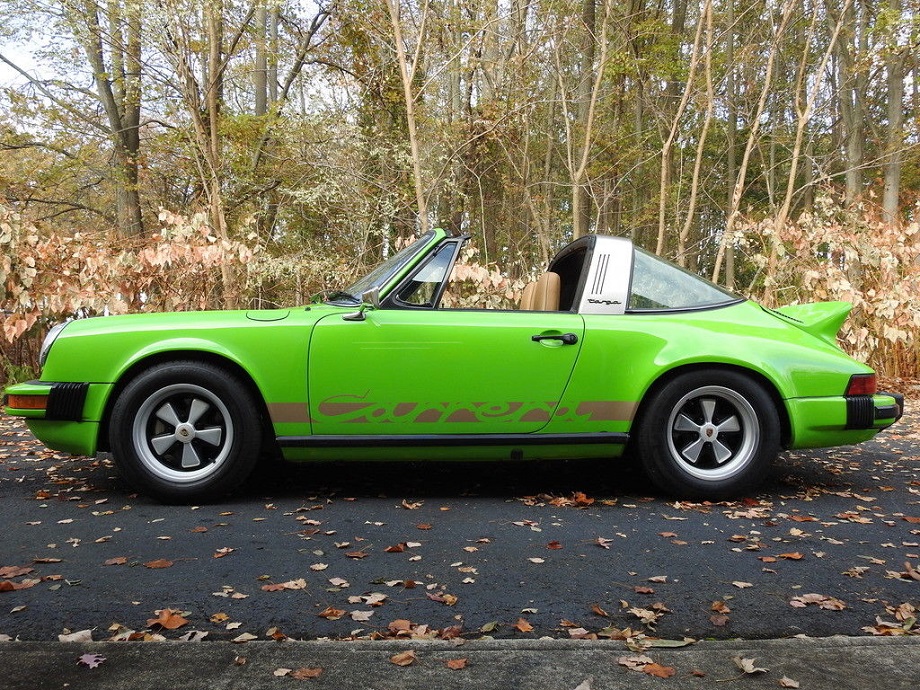 When it comes to Porsche's early pastels I'm not sure any color is more paradigmatic of the genre than Lime Green. Perhaps Pastel Blue, but even that very bright color takes a back seat to the intensity of Lime Green. Put Lime Green on an early Carrera Targa with duck tail rear spoiler and you get a car that just makes me chuckle. Every aspect of it seems hellbent on drawing as much attention as possible. And I have no doubt that's exactly what it does.
This particular example looks fantastic: a Lime Green 1974 Porsche 911 Carrera Targa, located in New Jersey, with Cinnamon leatherette interior and 74,237 miles on it. Unlike some ads where we wonder how the car really looks this seller pretty much shows us everything. Paint readings even are provided. That shows some confidence in this 911's quality and it's certainly not a bad way to sell a car.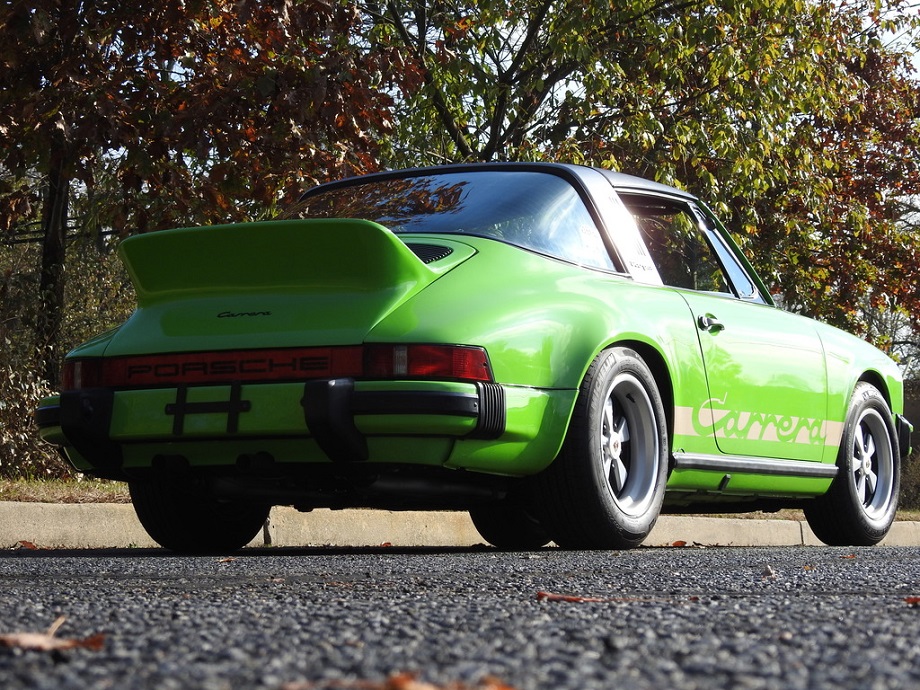 Year: 1974
Model: 911 Carrera Targa
Engine: 2.7 liter flat-6
Transmission: 5-speed manual
Mileage: 74,237 mi
Price: Reserve Auction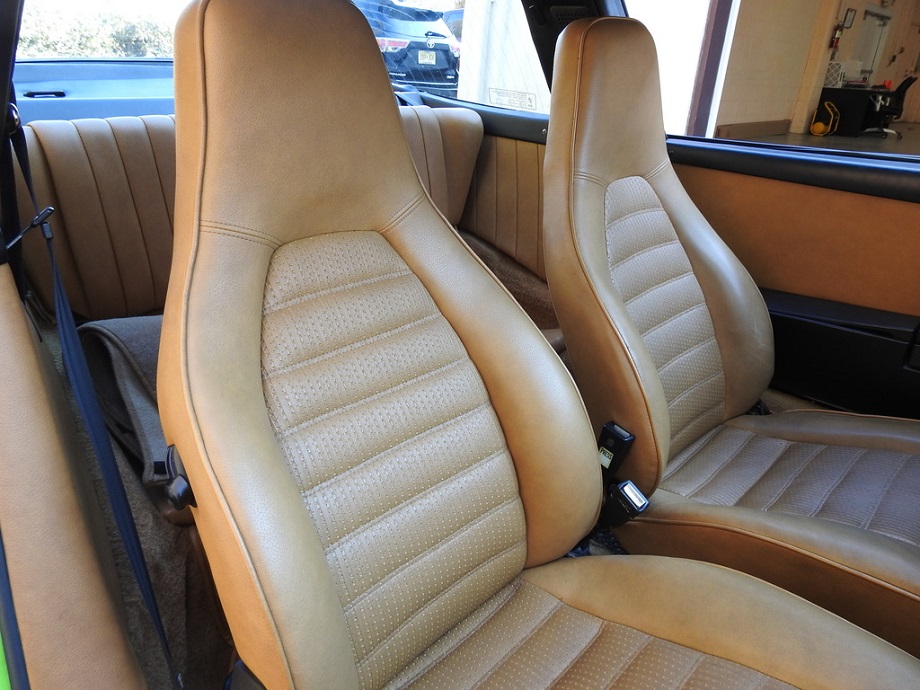 1974 Porsche 911 Carrera Targa

9114410012

74,237 miles from new.

Lime Green/N8

Cinnamon Leatherette/31

1974 Porsche 911 Carrera Targa – YouTube Video will open in a new window

Original California car with well documented chain of ownership from new.

Beautiful original condition inside and out.

Mechanically this 1974 Porsche 911 Carrera Targa is the best in the world.

The vehicle has just completed an entire engine and drive train rebuild at world renown marque specialist Dawes Motorsports in Stroudsburg, Pa.

Nearly $40k invested and the vehicle is now better than new.

Photos of that engine out rebuild are included at the end of this listing as well as paint meter readings from every panel.

The vehicle is housed in climate control and dehumidified environment in Ocean New Jersey.

Present owner is former employee of Porsche and has been an avid lifelong collector of air cooled Porsches.

This is one of his favorite Porsches he has ever owned.

Please see over 150 photos below of the car from every possible angle.

Included are the photos of the work completed by Dawes Motorsports, and receipts.

Located in Ocean Township, New Jersey.

Contact Dean at 848-459-7776 or the owner direct at 908-902-4682.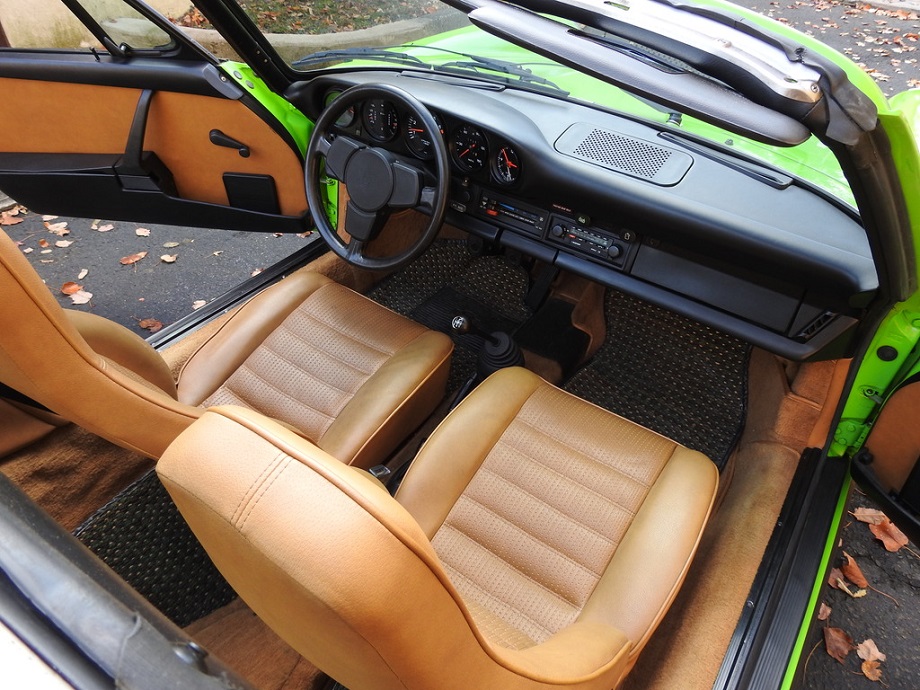 I really love the character of this 911. The '74 models aren't really those that I gravitate to with much frequency, but I have to admit this one really got my attention. It's a vintage 911 in so many ways and while it is an early impact-bumper 911, it's a great example of that breed.
The condition looks great and if I'm understanding the ad correctly this is said to be its original paint and interior. For original paint in such a bright color, this looks phenomenal. I think the only non-original exterior piece is the rear valence, which looks to have been replaced with a unit to house the dual exhaust (the exhaust also, of course, being non-original). The interior too looks in very good shape. Everything looks so good that it even makes me wonder if it is in fact original. We know the engine and transmission have been rebuilt and receipts are provided. A full ownership history also is said to be available. Originality certainly will go a long way in assessing its value, but even if restored it all just blows me away. I really like this Carrera Targa.
Right now we're still fairly early in the auction and bidding sits at an even $50k. The reserve is unmet and if the originality checks out, then based on other asking prices I've seen I'd guess the seller will be looking for double this amount. These are far from the most valuable model year 911, but the Carrera models have tended to show much better value than their non-Carrera peers and I expect this one to be no different.
-Rob