I've owned and loved modified Volkswagens now for going on twenty years, so I'm certainly not new to the scene. Obviously, being a popular tuning and performance platform since its launch, the GTi has undergone just about every conceivable permutation of modifications. Despite what would seem to be an endless pool of candidates, though, I often find examples lacking a clean, well put together look. I've also found as I've gotten older that the cars that really stand out to me aren't the wildly modified cars, but the subtle cars; cars that manage to integrate their modifications well into what already was a good platform. Let's be honest; modifying cars is a very personal endeavor, so of course there are going to be varied opinions about what looks good. To me, find a clean VR6 Mk.III in close to original spec but with just the right hints of spice to make it stand out and be a little less vanilla, and it's perfect. Make sure those mods are on one of my favorite colors – Windor Blue – and it's one of the rare cases where I think the seller got it just right: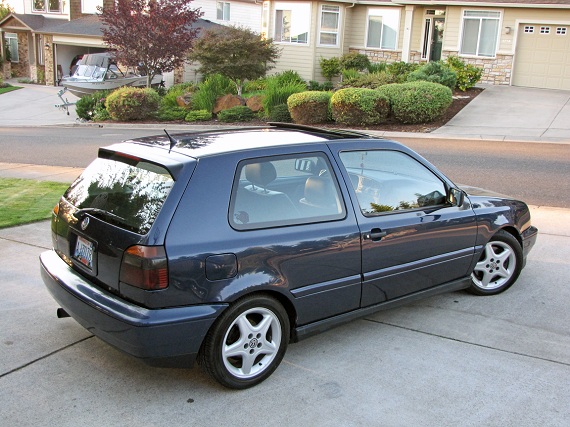 Year: 1996
Model: GTi VR6
Engine: 2.8 liter narrow angle VR6
Transmission: 5-speed manual
Mileage: 210,000 mi
Price: $5,500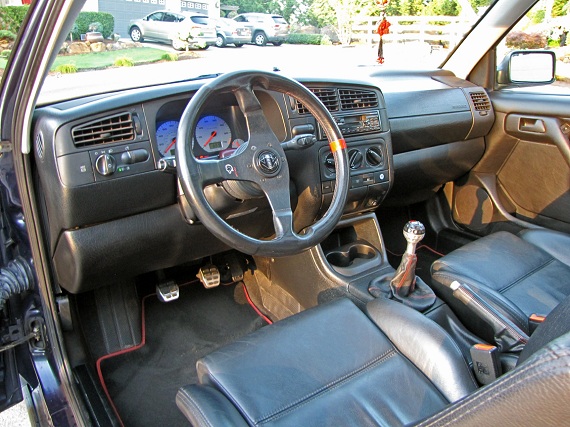 You won't find a Mk3 VR in better condition, period.

Great Windsor Blue exterior, beautiful leather interior with no tears or rips. Momo Competition steering wheel, 20th Anniversary shift knob, Driver's Edition shift boot, e-bake boot, pedals, door lock pulls and floor mats. Central locking/keyless entry, power windows, power mirrors, tilt/slide moon roof, cruise control and MFA all work great. Lowering springs/struts, tt exhaust (sounds wonderful) tt chip, cross-drilled rotors and ceramic pads. Pulls extremely hard and runs beautifully. RARE ABT color matched grill and headlights, euro VR spoiler, H&R 25mm spacers rear, 10mm front. Complete clutch replacement just completed: clutch disc, pressure plate, throwout bearing, clutch arm, pivot pin, and slave cylinder. Small bit of rust on rear hatch at window seam (common Mk3 issue), A/C system line needs replaced and a recharge, passenger window regulator could be replaced.

This is by FAR the best driving and reliable water-cooled VW l've ever owned and I've had 12 so far. Owned by Bellevue/Kirkland VW dealer techs for majority of it's life and it shows. Just rolled over 200k and you'd never know it. Averages 24 mpg in mixed driving, 27-28mpg on the freeway.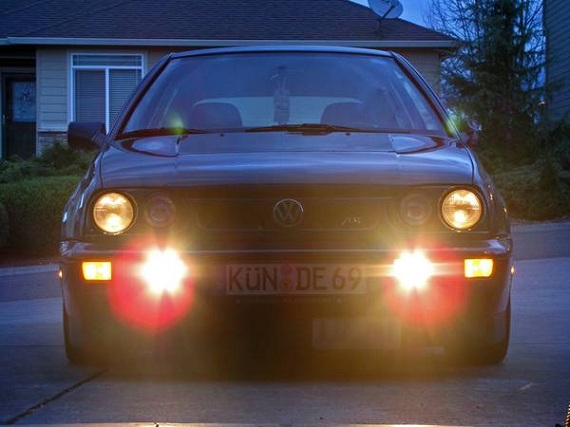 This car is striking not because it's some shade of candy white with 19″ wheels, but rather because it's such a clean example of a 1996 GTi. Already a desirable car, the condition belies the miles that have been put on and it's clear the seller was an enthusiast. I love the original Pininfarina-design wheels from the early Mk.III GTis and the European-spec chin spoiler, but the real winner for me is the Abt grill and headlights. They're quite unique and stand out, but certainly are well designed and integrated – keystones of the Abt cars and a nod to the GTi's heritage. They're also rare as hen's teeth, so if the buyer doesn't like the look they'll find a welcome number of buyers eager to snap them up. There are also minimal performance modifications, but they're from the well-proven Techtonics Tuning bag of tricks. The rear wheels have been spaced out to clean up the look a bit and to me the stance is perfect. With recent maintenance, a clean leather interior with tasteful updates and a shining exterior, this is an excllent example of the breed. As with any Volkswagen and particularly the Mk.III, there are a few minor gremlins – but the performance package that the VR6 GTi delivers punches far above its price range. I doubt very much the future owner of this car will regret the purchase!
You can contact the seller if you're interested directly at jwrinne@hotmail.com.
-Carter