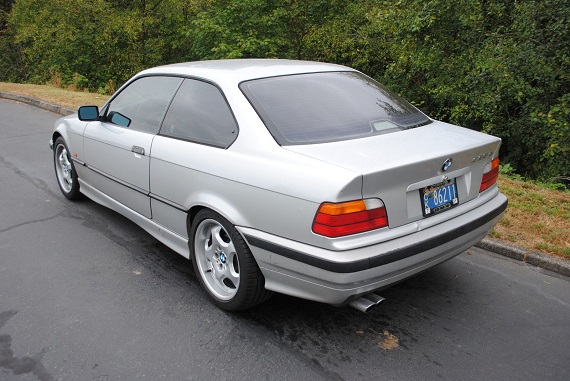 The BMW Car Club of America isn't exactly a tough to join organization. Fill out a form, pay your dues, and you too can receive an honorary doctorate in BMW ownership. Heck, for a while if you bought a new BMW they automatically signed you up for the club! However, it's not the joining that is particularly noteworthy in this discussion. Don't get me wrong, they've got a fantastic magazine that is filled with a tremendous amount of useful information and reviews. But where the BMWCCA membership really shines is when you're selling your prized car, and you see it all the time with older models. As a BMWCCA member of a no longer new car, you're probably more diligent about oil changes. You may even be engaging in preventative maintenance. You've likely documented all the work you've done. And, more often than not, you've taken very good care of your car. Downstream, these little (or not so little) things add up.
Now, finding an E36 for sale isn't particularly a rare event – they're everywhere, and most are pretty cheap. As I said in a recent M3 article, there are quite a few cheap and tired options to fit any budget. But a well cared for, maintained and tastefully modified E36? Now, that's reason to take notice: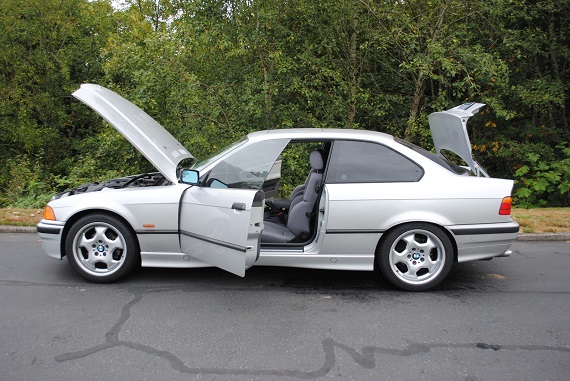 Year: 1999
Model: 323is
Engine: 2.5 liter inline-6
Transmission: 5-speed manual
Mileage: 180,700 mi
Price: $6,900 Buy It Now/Best Offer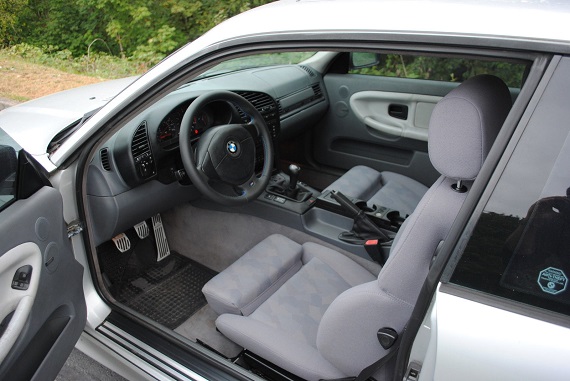 The time has come to part ways with my beloved 1999 323is. I am the second owner of this car since 2004. I purchased the car from Long Beach BMW in California. I am a 20 year BMW CCA and Porsche CCA member and take car of my cars meticulously; this car is no exception. Car has been a West Coast car its entire life; never seen snow or road salt. Always garage kept on BMW Advanced Battery Charging System (which is included in sale; please see below). All original keys, books, and manuals included.

The car does have some exterior dings, scratches, dents, and damage to the exterior. I slowly backed into another parked vehicle in my parking garage after leaving the office, and you can see the dents/gouges on the rear of the car. Also note this caused the rear quarter panels to buckle slightly. The car was evaluated by my shop and no frame damage occurred – the car aligns perfectly. There is also a tear in the leather of the center armrest on the passenger side and the rear parcel shelf has a small tear in it.

All features of the car work, including sunroof and other power features. Stereo sounds great through the Harman Kardon system with upgraded Genuine BMW CD43 headunit/in-dash CD player. Original head unit also included in sale. No dead pixels on OBC or any other display. Car starts up with zero hesitations every time, pulls strong through the rev range, and gets nearly 30MPG on the freeway. Gears shift smoothly. This car has never seen track time, although could be a deadly track weapon or canyon carver should you choose to use it that way considering the excellent suspension upgrades and limited slip differential. Always non-smoker and no pet car. Always adult owned and well cared for.

All body panels are original, and all VIN numbers match. This car has been thoughtfully upgraded with either Genuine BMW parts, or high quality aftermarket parts. Oregon title in hand.

Please see complete maintenance history and upgrades from new below. All parts were brand new, unless otherwise noted.

1999 323is Sport Package – M52B25

Mobil 1 0W-40 7qts Motor Oil & OE Oil Filter

NGK BKR6EQUP Spark Plugs

Redline 75W90 Diff Fluid(1.8 Qts) / Redline MTL Transmission Fluid (1.25 Qts) / Redline Dexron IV P.S. (2L/Qts)

BMW OE Coolant

ATE Super Blue Brake Fluid (1 Litre) / ATE One Slot Rotors / OE Pads

10/98 Production

6/99 8,069

BMW Oil Service

12/99 – 16,576

Inspection I

11/00 – 26,019

BMW Oil Service

7/01 – 35,000

Inspection II

6/04 Acquired

2/05 72,600

OE 3.2L M3 Exhaust Midsection & OE 328is Exhaust

Metal Thermostat Housing

Drive belts

6/13/05

OE Pre-owned Contours

1/12/09 112,619

Flex disc; Center Bearing,

Trans. Output flange seal & shift seal

Trans. Fluid flush

Fuel Filter

Repair PS leaks @ Reservoir & Pump

Fan clutch & Shroud

6/09 118,434

Water Pump

Radiator Hoses

Radiator Cap

Oil & Filter

12/29/10

Brake Job & Brake Fluid Flush

2/21/2011 135,537

Meyle HD Lower Control Arms / Bushings & OEM Tie Rods

Alignment

12/19/2011

Napa Alternator in Lebanon, TN

2/12

BF Goodrich G-Force Sport 255/40 Rear Tires

Oil and Filter

NGK Spark Plugs

6/12 157,000 miles

M50 Manifold

Fuel Injectors

ICV Clean

6/4/2012 159,070

86k OE E36 M3 3.23 LSD

OE Drive Belts

Transmission Flush – Royal Purple Synchromax

Differential Flush – Royal Purple 75W90

Bimmerworld Camber Shims – Alignment: -2.3 Camber Front / -1.5 Camber Rear / .10" Toe (excessive front tire wear)

M3 Gauge Cluster

OE Fuel Filter

OE Fuel Filler Cap

CDV Delete & Clutch Bleed

Coolant System Bleed & Coolant Sensor

Bimmerworld Stealth Underpanel

Brake Light Switch

OE Bosch Euro Ellipsoids (original lights included in sale)

12/10/12

OE Z3 Short Shifter 40% & Refresh Kit

HD Meyle FR Sway Bar Links & Meyle OE Rear Sway Links

OE Sway Brackets

O2 Sensors NTK 25045 Downstream / 25013 Upstream

1/12/13

New Battery AAA 6 YR Warranty

1/19/13 164,400

OE Driver Door Striker & Switch

NGK Spark plugs

TRICO Wipers (Test v. Bosch)

1/25/13 164,500

Oil & OEM Filter

OEM Air Filter

OE Oil Filler Cap

3/23/13 166,900 Wax

7/5/13 Wax

8/24/13 170,100

Oil & Filter

9/24/13 170,800

Super Blue Brake Fluid Flush / OEM Pads / OEM Pad Sensors F&R / ATE Star Slot Rotors / Stop Tech S.S. Lines

OE X Brace

Brake Light Switch

OE Lighted Knob w/ Leather Boot

10/5/13 – 171,100

Michelin Pilot Sport AS3 Front Tires

10/9/13 Wax

OE Brake Switch

11/9/13

OE CD43

Alignment – -1.8 camber Fr

11/27/13 – 172,900

OE Kidney Grilles

12/19/13 – 173,300

Wax & Paint touch up F+R

3/3/14 – 174,363

OE MAF

Wax

3/28/14 – 175,263

Oil & OE Filter

4/4/14 – 175,419

NGK Spark plugs

4/16/14 – 175,800

OE 323 Decklid Badge

4/21/14 – 175,830

Bilstien HD Shocks & Struts; H&R OE Sport Springs; OE Suspension Hardware Refresh; Meyle HD Shock Mounts; Meyle HD RTABs; Lemforder OEM Strut Mounts; OE Motorsport Strut Reinforcements; OEM M3 Motor Mounts; OEM Transmission Mounts

Rally Road Front Motorsport Strut Bar

4/29/14 – 175,937

OE Rear Contour Alloy Wheels; OE Wheel Caps

Michelin Pilot Sport AS3 Rear Tires (Road Force Balanced)

5/13/14

Polish Windshield, Headlights, & Fog Lights; Aerospace Treatment Exterior

5/24/14

Reupholster Headliner

P21S Body Work Polish, Cleanser, Shampoo, Wax

8/27/14 – 178,483

OE Steering Wheel with Thicker Diameter & Nappa Leather Install

2/15 – Wax

6/4/15 -179,600

OE Front Contour Alloy Wheels; OE Wheel Caps (Road Force Balanced)

9/8/15 – 179,649

H&R Sway Bars – Hard Front/Soft Rear

AKG Swaybar Reinforcement Plates Install

Mason Rear Strut Bar Install

Alignment – -1.8 camber Fr / -1.5 Camber Rear / .10" Toe

2/23/16 – 179,900

Recaro Expert M Grey Artista Nardo Seats

Recaro OE E36 Sliders

3/5/16 180,000 – Wash, Wax, Shampoo Carpets, Aerospace Interior Vinyl, Enzyme Clean

Schroth E36 4 Point Harness Driver & Passenger

Additionally, the car comes with a trunk full of brand new high quality Genuine OE BMW parts and high quality aftermarket equipment. Listed here:

o DR. VANOS OE VANOS Unit

o OE Upper Timing Chain Tensioner

o OE Upper Timing Chain Guide Rail

o OE Upper Timing Chain

o OE Timing Chain Tensioner

o OE VANOS/Upper Timing Cover Gasket

o OE Lower Chain Guide

o OE Lower Chain Rail

o OE VANOS Oil Supply Line

o OEM Valve Cover Gasket & Spark Plug Gaskets

o OEM 15 Valve Cover Rubber Grommets

o NGK Spark plugs

o OEM Bremi Coil Boots

o OE Z3 Steering Rack (w/ dust boots)

o OEM Lemforder Inner & Outer Tie Rods

o OE Inner Tie Rod Lock Plates

o OEM Luk Power Steering Pump

o OE PS Reservoir

o OE Steering Guibo

o OE PS Hoses, Pipes, Clamps & Fittings:

§ 32411093461

§ 32411093460

§ 32411141714

§ 32411093596 x2

§ 32111131345 x2

§ 32411093597 x4

16121180242

o Mason Steel Clutch Pedal

o AKG Delrin Clutch Bushings

o OE Clutch Pedal Return Spring

o LeatherZ VDO Custom E36 Gauge Kit: Oil Temp, Oil Pres, & Voltage

o All fittings and hardware

o Mobil 1 0W-40 Oil

o Redline 75W90 Diff Fluid

o Redline MTL Transmission Fluid

o Valvoline Dexron III ATF Power Steering Fluid

o OE BMW Coolant

o OE Engine Oil Filter

o OE Engine Air Filter

o OE Cabin filter

OE E36 Trunk Harness Repair Kit

OE Trunk Switch

Mason Rear Subframe Support

2 x BMW Advanced Battery Chargers

OE BMW Sunshade

OE BMW All weather floor mats

Terms :

Car is sold "AS IS" no warranty express or implied. $500 non-refundable deposit due at close of auction through PayPal. Full payment due within 36 hours of auction close. Payment must be made either through bank wire or cash in-person. Buyer responsible for all shipping arrangements and costs.
If you really wanted to buy into an E36, this is exactly how you'd want it presented. The seller goes to lengths documenting all work completed and offers pictures in detail. Condition throughout is far above average and belies the odometer reading. As several readers have pointed out, these E36s are getting older – this is the youngest possible, and it's hard to fathom it's already on the verge of adulthood at 17 years old. But the maintenance is to date, and the important suspension refresh with a mix of upgraded original equipment components and quality aftermarket bits is right on target. These 323s are fun to drive, too, as though the M52B25 might be down a bit on power it managed to channel a little of the E30 325is lightweight, high fun quotient. Helping that is upgraded M3 Contours, M3 limited slip and some fantastic looking Recaro seats. The seller is also including a host of spares in addition to the lengthy list of work completed. Do you pay a premium for this work to be done? Certainly, but the value in buying from a devoted enthusiast will save you the money, time and headaches of "saving" a few thousand in purchase price of a lesser example.
-Carter