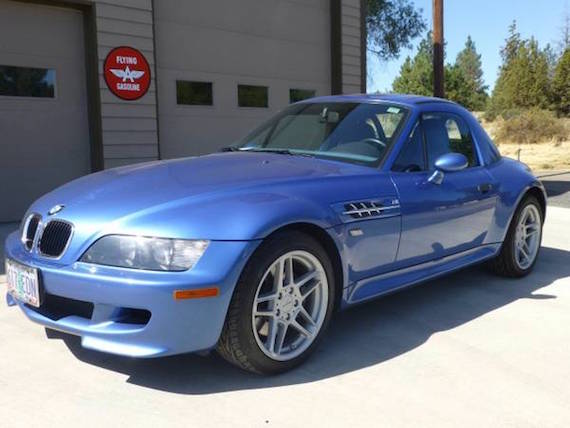 With all the hoopla surrounding the BMW M Coupe, it's easy to forget about its sibling, the M Roadster. This wide-hipped roadster offers a lot of power in a very small package along with the ability to drop the top and listen to the noise of that straight six out the quad tailpipes. This Estoril Blue M Roadster is for sale from former GCFSB contributor Aaron Kraljev in Portland, Oregon. This M Roadster was his personal car and has been meticulously maintained. It also comes with a host of nice options and accessories, such as the hardtop, AC Schnitzer alloys and exhaust along with Dinan performance software. Looking to stand out a bit with your M Roadster? Read further…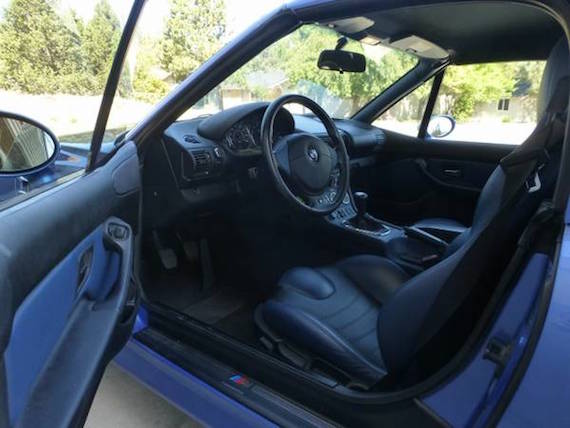 Year: 1999
Model: M Roadster
Engine: 3.2 liter inline-6
Transmission: 5-speed manual
Mileage: 72,300 mi
Price: $16,900
Purchased from the second owner over the summer. Low mileage local 1999 BMW M Roadster finished in Estoril Blue over two tone leather interior with 72k miles and a clean CARFAX and title that is on hand. Extras include factory hard top with cart/cover, authentic AC Schnitzer wheels and exhaust, and Dinan software, throttle body, cold air intake, and front strut tower brace.

At purchase I addressed any and all issues that were identified during the PSI including replacing the rear shocks, a power steering hose, passenger side window regulator, etc. Since then I have also replaced the fuel pump, flushed tranny fluid, replaced several interior bits that were showing wear, and swapped out the driver seat rail bushing that make the seats travel a 1/2 inch on stopping and acceleration in these cars. I have also had all four wheels refinished and had PDR done to remove any dings.

The only modifications I have made were to swap out the stock head unit (included with sale) for a high end Pioneer deck with bluetooth and satellite radio functionality. I also swapped the stock speakers with the BSW upgrade kit. I also had the windows professionally tinted to preserve the condition of the interior. The 60k service was done so nothing but scheduled maintenance is needed up to 90k. Tires have deep tread, brakes have a great deal of life, and the clutch is strong. While the S52 does the have the power of the S54 engines the Dinan modifications and exhaust do a wonderful job of closing the gap. This is an exhilarating car to drive with zero deferred maintenance or cosmetic issues.

The only flaws I can identify are a small crack in the shifter trim which I have a replacement on hand, there are two bulbs out in the HVAC knobs which I have as well, and the rear window on the soft top could be replaced at some point.

I am sure I am forgetting something, if I sound a little OCD you would be correct. My asking price is firm and is a bit less than I am into this car. Only reason for sale is that I need something with a rear seat and a bit bigger for my aging frame. Pictures are from last summer, I am in the process of a clay/polish/wax treatment on her in the near future.

Please let me know what questions you have, cheers!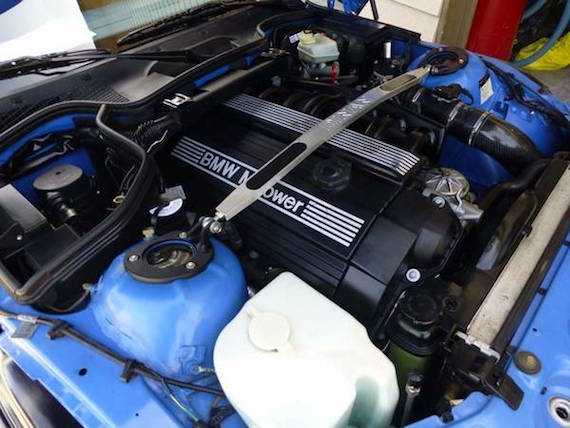 We've all seen the prices that M Coupes are demanding these days, whether equipped with the S50 or S54 engine. They are not for the faint of heart. The M Roadster, however, allows you to enjoy some of that same magic for a much more reasonable entry fee. Considering this car was one of GCFSB's own is cause enough to stop and take a closer look, but the color, condition and accessories make this one stand out from the other M Roadsters I've seen in the past few months. The mileage is also reasonable for its age. Not very high, but not insanely low. Just enough to let you know that someone has enjoyed their time behind the wheel of this vehicle. Those interested in this M Roadster can get in touch with Aaron via the Craigslist ad linked to this post. Good luck on the sale, Aaron!
-Paul