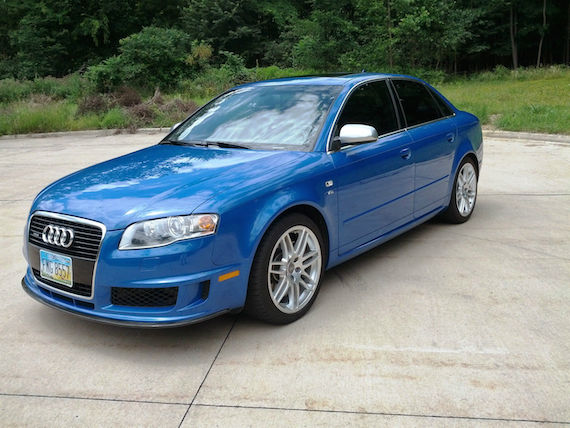 If you were to walk into an Audi dealership and spec out a brand new S4, you'd find yourself $60,000 poorer. In fact, that hasn't changed much over the past decade; the original price on the 2008 S4 shown here would have been pretty close to that amount by the time all the option boxes were ticked, too. However, while anyone can walk into a dealership today and be handed the keys to a new car, it's not often that you get the opportunity to get into what is effectively a brand new previous generation car. But that's exactly what we have here, and arguably the DTM S4 is the best of the normal production run. Presented in the signature Sprint Blue Pearl Effect, the DTM edition sported extra carbon fiber bits provided by quattro GmbH. The real treat, though, was underneath – the DTM edition received the same revised differential as the RS4, quite literally turning this car into more of a canyon carver than the earlier models were known to be. Shouty and fantastic, the combination of the high-revving sonorous V8, the 6-speed manual and all-wheel drive gives you the confidence to run this car much faster than legally anyone should. With only 20,000 miles covered and in near perfect condition, the opportunity to get into this package will never be so perfect again – the right color, drivetrain, and the special limited edition model at half the price of a new example makes this one special package indeed – and even comes with a warranty.
The below post originally appeared on our site May 4, 2015: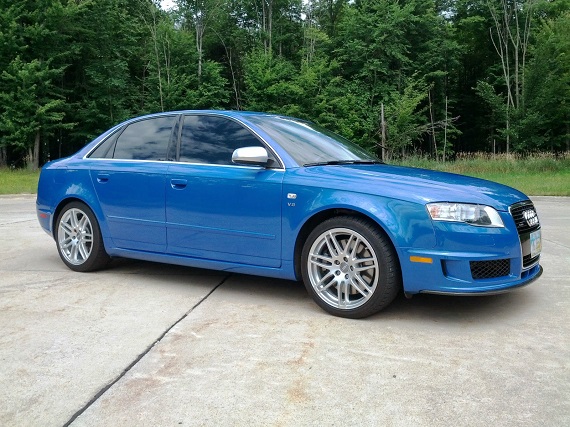 I think it's wonderful that, as automobile enthusiasts, we've been able to live in the time period that revolutionized cars. For some, the muscle car era was the best; for others, the cars of the '30s are the way to go. But while there may be some aspects of those generations of cars that are better, compare them to the high performance vehicles of today; they all start, stop, turn and run better than anything that has come before them. Not only are the limits of performance higher than they've ever been, but today's cars are frankly better at being cars than older examples. Quite simply, it's amazing considering the amount of electronics that are now carried on cars; get my iPhone cold or drop it, and it goes all haywire – yet sub freezing (as well as scorching) temperatures and pot holes are the norm for cars to soak up. Inside, cars are more quiet and luxurious than they ever have been, in general. If you never went past 1/4 throttle in a B7 S4, you'd have a refined, quiet luxury car. It's even handsome, too, with a smooth face giving way to the lovely flared arches, a slight uptick in the tail helping to direct the air. But really setting cars apart over the past few years has been the amazing power they've been able to produce and their uncanny ability to transfer that power to the road. Go past that 1/4 pedal in this S4 and the experience changes; suddenly, you don't have a sedate cruiser, you have a warp-speed sports car capable of carrying four shocked friends being forced back in their seats as the 4.2 liter all-aluminum 340 horsepower V8 heads towards the stratosphere, announcing through the 4 exhaust pipes that you've now broken every speed limit in the country and you still have three gears to go. Yet while there have been fast Audis in the past, "true" enthusiasts always complained they were heavy and no fun in the corners. To remedy that perceived fault, starting with the 25th Anniversary Edition and going forward, S4s received the same T3 Torsen setup as the RS4, now with a rearward power bias and capable of moving up to 100% of the power to the rear axle. If you think you know what all Audis drive like by reputation, you probably haven't driven one of these cars. By the end of the B7 run, it was not a beefed up A4 anymore; it was in reality a slightly detuned RS4: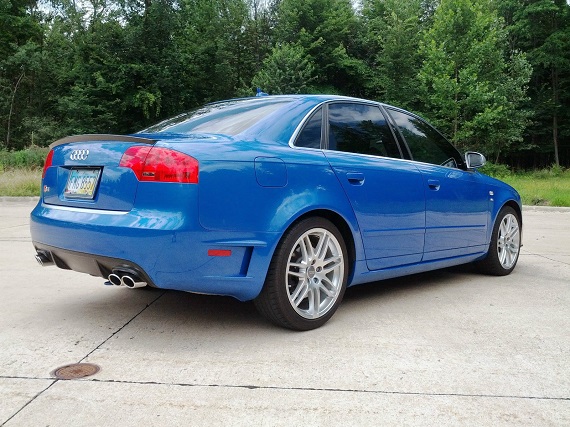 Year: 2008
Model: S4 DTM Edition
Engine: 4.2 liter V8
Transmission: 6-speed manual
Mileage: 20,600 mi
Price: $30,000 Buy It Now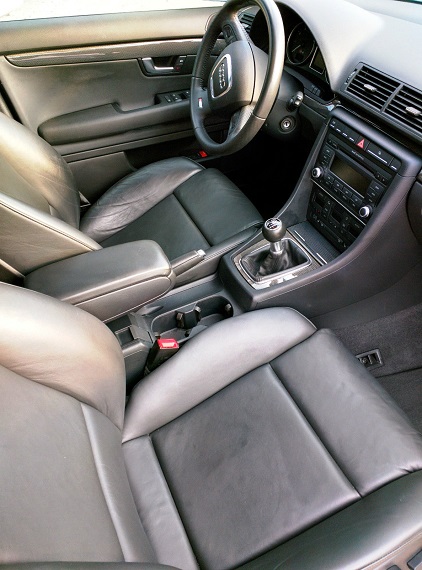 2008 Audi S4 DTM/Quattro GmbH 6 Spd Manual – Sprint Blue Pearl Effect over Black Nappa Silk Leather with heated front and rear seats – 20k miles.

Purchased two years ago from a Chevrolet dealership in rural Central Ohio with just 6k miles on it, I was able to speak with the first owner for some background. The car was purchased new in January of 2009 from a dealership in Colorado. He kept it at the dealership until May because he didn't want to drive it in the snow (!!). The owner drove it back to Ohio, around for a bit that summer, and effectively parked it until trading it in.

The previous owner didn't drive the car in the snow, and when I bought it, I wasn't about to start. So in an act of preservation, I have been accumulating miles through the past two winters, and for almost all essential travel, in my 1997 Subaru Legacy. Fancy, eh? It bears repeating: THIS AUDI S4 HAS NEVER SEEN SNOW, NOR SALT. And in Cleveland Ohio, that's no small feat. So it lives in my clean, dry garage on a battery tender with the mirrors folded in. The battery is original, and should probably be replaced at some point – but only because of its age. It shows no signs whatsoever of needing replacement.

All prescribed services have been performed by Audi dealerships, only. The Continental Extreme Contact DW tires were installed at 10k miles – along with a four-wheel alignment – performed at Sunnyside Audi in Middleburg Hts., OH. The spare tire has never been out of the trunk, and has only seen the light of day when I check the air pressure in it. Audi recommends oil changes every 10k miles. I have it done every 5k miles, or annually.

The car has a plastic paint protection treatment on the front end. Some of the edges are peeling, and if I end up keeping the car, I'll have it removed and reapplied. I think that whoever did the initial install just didn't do the best job on preparation. It also has a protective film applied to the windshield. I understand the reason behind it, but it has hazed over, and I haven't been able to remove the haze permanently. I would have that removed and reapplied as well – or just removed.

As you may expect, with so few miles, everything works perfectly, and the car drives fantastically. There truly is nothing like the sound of a German V8. Smooth shifting with very tight gear change action, and flawless clutch operation. This car has never been abused. It's fast. It's quiet. It handles better than a 4100 lb car has any right to.

The only driveability item I mention in the spirit of full disclosure, is a high pitched squeak from the front brakes when very light brake pressure is applied. If you step on the brake pedal with authority – no noise. If I were to keep the car, I would replace the front pads with a different pad compound, and I'm certain the squeak would go away. Some say you can machine the leading edges of the pads and grease the spring surfaces with Sil-Glyde, and it will solve this minor nuisance.

The interior is virtually perfect. The driver's seat shows minimal wear from getting in and out of the deeply-bolstered seat. It still smells like a new, German car. It has never been smoked-in.

The exterior is 99.8% perfect. There is a nearly-invisible, 2" shallow crease along the top leading edge of the left front fender. And while it bears the remarkable resemblance to the impression that a baseball might make, if baseball were being played in the garage over the winter, my two boys claim that they saw nothing of the sort happen – which is strange, given the types of implements littering the garage floor, in the immediate vicinity, immediately after coming inside abruptly, and for no apparent reason. Uncanny.

The Audi/Bose sound system has an in-dash, 6-CD changer, and an iPod (30 pin) interface in the glove box. The sound quality of the Bose system has always been a matter of debate. Myself? I think it sounds excellent, especially with the built-in 10" subwoofer in the trunk, mounted to the underside of the rear deck. Will.I.Am might even say it's got that boom-boom-boom.

The only weirdness I haven't been able to work out is the scratch in the windshield, and the fact that the driver's side windshield wiper is slightly misaligned – like it somehow came loose, and the base of the arm contacted the windshield. The previous owner said a rock got caught under it. I think he really doesn't know how it happened. It presents as more bothersome than it is because of the protective film on the windshield. I think that if the film were removed altogether, or replaced, it wouldn't be so noticeable. You can't see it from inside the car.

There's some conjecture about how many DTM cars were produced. Some say 200 worldwide… In any case, you don't see them very often. The beautiful, factory carbon fiber front splitter and trunk spoiler are the main giveaways – as well as the 'quattro' badge on the front grille in place of the usual 'S4' badge. The rear 'spats' with cosmetic, faux-vents are also DTM fare. Whether or not the DTM package is of any significance is up to you. No matter what, I would say it's highly unlikely that you'd find another one with less than 20k miles on the clock.

When I bought the car, because of the incredibly low mileage, I bought the *EXPENSIVE* Platinum warranty (covers most everything, save for some specific exclusions), for the maximum term. How long?

THIS CAR HAS A 6 YEAR/100K PLATINUM BUMPER TO BUMPER WARRANTY. The warranty is fully transferable ($150 fee). Each warrantable repair carries with it a $100 deductible. Coverage expires when the car reached 100k miles, or the year 2019 – four more years, and 80k miles left on the warranty. And yes, the much-discussed timing chain repair that affects 1% of 4.2 V8s would be covered under the Platinum package. Number of times I've used it so far? ZERO. The car has been extremely trouble-free.

Why sell it, then?

I travel every week, and there's no way I would ever park this car at the airport. When I'm home, I want to drive it, but I don't want it to get scratched, or dented, or chipped, or damaged. I also don't want to accumulate miles – which is typically the reason that we buy cars in the first place – to use them. Storage is an unnatural state for a motor vehicle. So as much as I would like to park it in a climate controlled museum and stare at it, I don't have the means to do that. So I'm offering it up for someone to properly enjoy and appreciate.

I do still owe money on it, so the transfer of funds and title must be completed in Cleveland, OH, at one of the Huntington Bank branches. This protects both parties, and facilitates legitimate title transfer, as the bank will allow pretty much no monkey business. For example, as much as I can understand that the struggle is real for the average Nigerian prince, I cannot help him convert his cheque [sic] from eleventy-billion Nigerian Naira to USD. It sucks that he can't get a break at his local Check 'N Go, but these are the wages of coming from Nigerian Royalty. Or something. "I cannot solve your problems, sir; only you can" #Mr.Lebowski

Upon request, I will provide complete, historical service records from my dealership, or, armed with the VIN, you could request them yourself from any Audi dealer.

It is a wonderful car, and one that surely marks the end of an era, with its limited driver aids, rumbly V8, and 6-spd manual transmission. It will make someone very happy.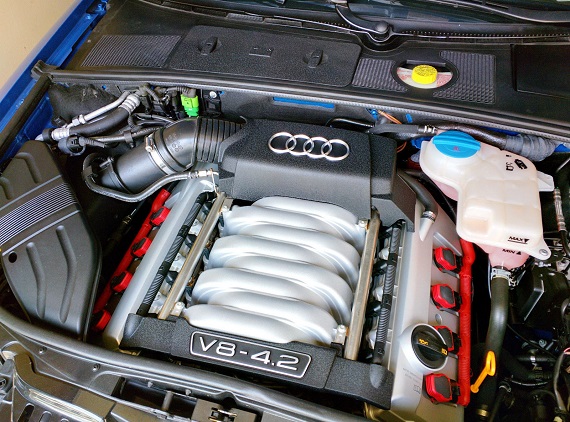 This car has really all the right pieces; it's been properly cared for by an obviously meticulous owner, it has low miles, and the condition is absolute top. Additionally, it's a special color that's great looking and suits the model perfectly. Coupled with the limited run, Audi skunk-works quattro GmbH breathed on special DTM Edition, this really is a special package. Dynamically, these last run V8 S4s are that much more special than the beginning of the run, and as the seller points out it's a package that you're not likely to get again; a high-revving, naturally aspirated V8 that's widely regarded as one of the best soundtracks available mated to a 6-speed manual transmission. It was a well optioned car, too – with expensive Convenience Package added to the already premium DTM model, along with carbon fiber trim, iPod interface and heated rear seats. On top of that, it even comes with an extended warranty for the Doomsday prophets who will proclaim the imminent demise of the engine. If you are looking for what's likely the best B7 S4 on the market, look no further. Here's a rare opportunity to buy what's effectively a new car no longer being produced – lightning isn't likely to strike twice for this configuration.
-Carter