As mentioned before on this site, the impending teens of this century bring exciting prospects for car enthusiasts. In 2013, any vehicle manufactured in 1988 "can be lawfully imported into the U.S. without regard to whether it complies with all applicable FMVSS." For those of us who love all things motor from late-80s Europe, this is revolutionary. Imports will be significantly easier and rare European models infinitely more accessible (sorry RS2 enthusiasts, you'll have to wait another 7 or so years).
Depending on the manufacture date, this 1988 320is could be nearing the golden period. But this is no normal 320is. Imported new from Italy to Slovakia, this slick 4-door wears an M Tech body kit and backs it up with the legendary S14 from the E30 M3. A 5 year-old repaint in lovely Delphin gray has it looking like new. If you're looking for M3 fun a little further below the radar, this is your car.
1988 BMW 320is with S14 for sale on eBay in Slovakia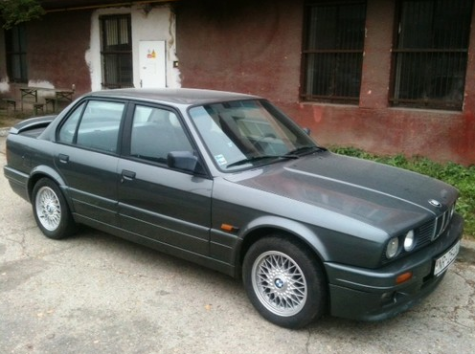 The appetizing headline of this car disguises some major questions, however. As if a Slovakian BMW weren't sketchy enough, add a negligible description, salvage title, and claimed 254k miles leave way more questions than answers. If you have eastern European connections, this may be worth checking out, but with a $12,800 asking price it's more of a fun though exercise in unique E30s. If unique E30s are your ultimate thing and you dig Slovakia, then maybe you can channel Steve Martin's Czechoslovakian "Wild and Crazy Guy," taking the time fully research and arrange shipping and guarantee the 25-year exemption, becoming the envy of all the other wild and crazy E30 guys.
-NR