Update 5.20.2012: First posted in January, the buy-it-now has dropped from nearly $50k to just under $20k. Links updated. -dc
The E32 7 series was BMW's major push to compete head to head with Mercedes-Benz. Not only did this car debut BMWs updated design language that would carry it into the 1990s, but it was a full six years ahead of the Mercedes-Benz S class in offering a V12 engine. The 5.0 liter V12 offered up 300 horsepower and was enough to catapult this über sedan to 60 miles an hour in 7.4 seconds. These V12 models are less common than their six and eight cylinder siblings, mainly due to their initial purchase price, fuel economy and running costs. Clean, low mileage E32s of any sort are not very common, and I was stunned to stumble across this one with an almost unbelievable 3,000 miles on the clock.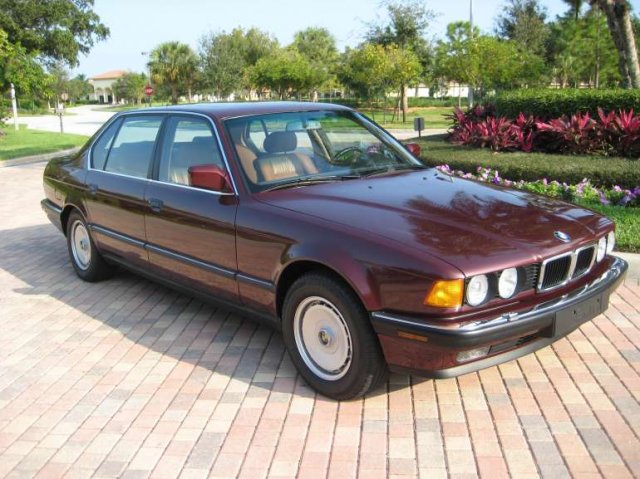 Garage Kept, Still Smells Like New!
This is yet another example of a seller that couldn't be bothered to write up a proper description, let alone get the cylinder count on the vehicle right. I'm pretty certain from looking over the vehicle history report and pictures that this is the real deal and we have a 3,000 mile, one owner E32 on our hands. Given this car is residing in Boca Raton, it was more than likely owned by an elderly person who either had a vacation home in Florida or became ill and ceased driving. Even though it looks nice, this could potentially be a ticking time bomb in terms of maintenance, with hoses, belts and tires to be the least of the new owners worries. This is a gorgeous sedan and a milestone car in BMW's history, but it would almost certainly be better if it had higher mileage and evidence of regular exercise. This is a car for someone with deep pockets or the most dedicated BMW enthusiast. If you are in the market for an E32, the later 740i/740iL with its V8 engine is the better buy and more economical choice.
-Paul