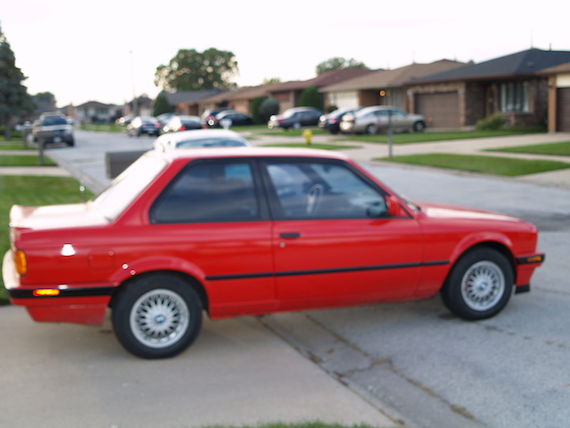 Unless you're going to do an engine swap, it seems like part of the charm of the E30 is that their power never outdid the chassis. Even with the range-topping M3, people call it underpowered (right after they sacrifice their first born to the car gods in hopes they might get one). So, if it's a great chassis with too little power, why not accept it and get a little flingable toy? That's exactly what the 318is was, a great looking sports sedan with less power than my 1988 Toyota pickup (which are not exactly known for their gusto). So, when I saw a red 318is for sale at $6k, I thought "ooh, great deal on a fun E30!" While not too long ago $6k would have bought a lot of E30, that is clearly no longer the case.
Tread carefully, dear readers, for this ad is full of fail. Happy Friday!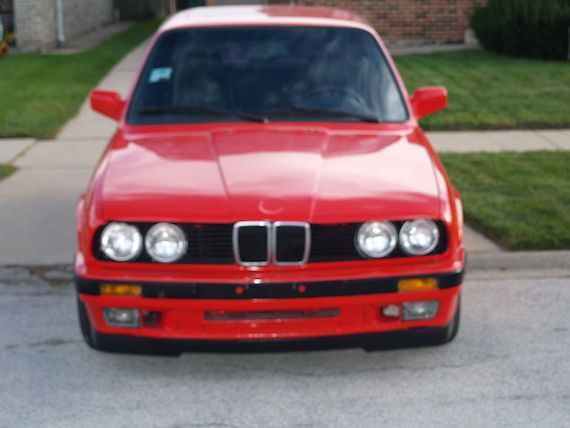 Year: 1991
Model: 318is
Engine: 1.8 liter inline-4
Transmission: 5-speed manual
Mileage: 110,965 mi
Price: $6,000 Buy It Now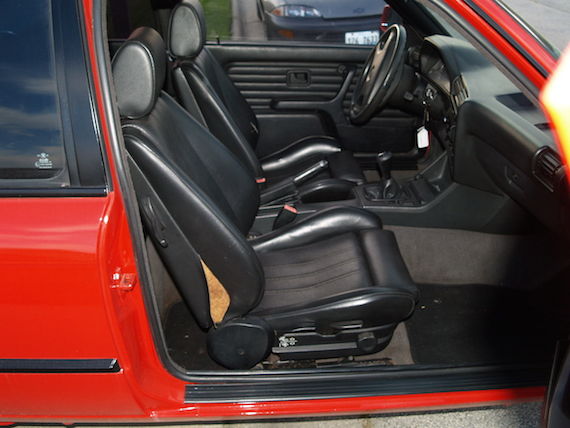 For sale is my 1991 318is purchased back in 2003. NO RUST ANYWHERE! Keep in mind that I have only taken this out for test driving after any work that was preformed. I never intended for this to be any type of project car but I just kept upgrading and removing the old and putting in new. It all started because I purchased and gave the seller a deposit for the car to be picked up the following day. Turns out that evening the car, parked on a corner street was crashed into slightly, hit and run (front drivers fender and damaged the hood as well). Well I got this car with no additional monies being exchanged. Purchased these parts and the project started. Remember over the course of the years I have done all the work myself.

In finding out that this particular car had a problem with the profile gasket, I decided to change this out. Upon tearing down I figured why not go all the way to the head gasket, as it was leaking some oil. So I did change out also had head inspected, pressure tested new valves were suggested and installed. The block was also inspected and cleaned, all corresponding parts were installed new (timing chain, tensioners, water pump, radiator hoses, heater hoses etc.) Throttle body gasket and hoses. While working on motor, trans. was removed cleaned and fresh fluid, rear main bearing seal changed out. New motor mounts, exhaust gaskets. On intake all vacuum hoses, boot and MAP control and added an aftermarket cold air intake. The original air box is included. The alternator, power steering pump and all belts have been changed. The air cond, is disconnected and no belt is on. I was going to change that out as well, (condensor and drier are new). While the engine was lifted I also changed the power steering rack (rebuilt) oil pan was removed cooling fins were chipped, so new OIL PAN with a new gasket installed. Front end had new control arms with bushings, new stabilizer bushings, inner and outer tie rods with wheel alignment. New front hubs, rotors, and brake pads. Rear end had half axels changed, were leaking grease, new shocks and upper supports. rear rotors and brake pads done as well. 4 new faulken tires with original basketweave rims and new caps. Rear diff, was topped off and cleaned. Underneath new center bearing on driveshaft, new Guimbo disc exhaust is new, convertor removed new pipe and has SS flow thru with new OEM muffler all the way back.

The fender and hood were changed out with aftermarket pieces. My fault there because they don't align perfectly. Even though it looks good. I had this car painted 08/02/2012, over 1400.00 spent with receipt (asked for extra paint on hand if needed). Have not washed or had any water touch it. Again I began putting bumpers and moulding back on and have caused some ting scratches and chipping at spots. My problem is I'm doing this by myself. The interior is in excellent condition no cracks on dash or torn seats. There is some material peeling from the sides of the passenger seat, I have never tried to strech and repair, (shown in pictures). The sunroof cranks works smoothly, all gauges on cluster are working as they should. The OEM radio was removed but is included, a new pioneer radio was installed. The shifter cover is used ok condition, but a new one is included but not installed. I also have the 2 side moulding pieces with all new hardware and new Front Roundel and drivers side window trim.

Additional parts that were changed
Water pump & thermostat, cam sensor, crankshaft sensor, electric fuel pump and relay, starter, good used wiper motor, new IS lip, hold down for spare, new blubs for fog lights, side markers, brake light

Items known to need attention, drivers door lock non operable from outside, pass door works all doors. Air cond. as mentioned, rear ash tray

I tried to describe this car the best of my ability its a great gas saving 4 cylinder or a car for a engine swap. I took numerous photos of the work in progress.and will include as many as I can. I dont have any idea what I want for this car as is but have seen others go for at least $5000 to $6000 with no NEW PARTS. This is a break down of my expenses!

Purchase Price $2,200
Parts Invested $1,500
Entire Paint $1,400
New Tires $400

Plus labor, numerous hours, yes my choice but I'd guesstimate at a reputable auto repair shop $3,000. GRAND TOTAL OF $8,500 But I'm LETTING HER GO FOR $6,000.00. IT'S A STEAL. GOOD LUCK! PLEASE ASK ALL QUESTIONS!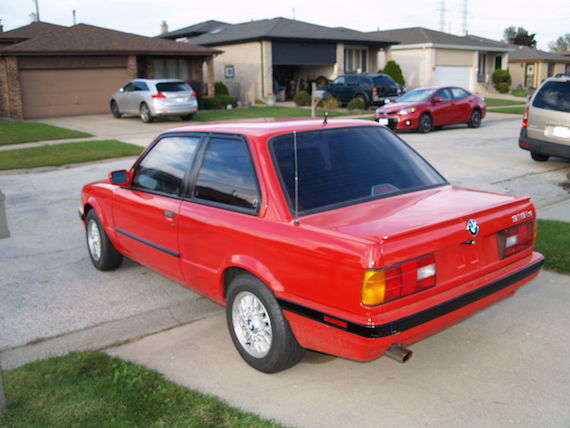 ALL questions? I'm not sure we've got time for that. Right off the bat, he's lost me with his purchase story that has all the continuity of a David Lynch film. After a thorough (if questionable) recounting of his efforts on the car, he's almost honest in stating that he has no idea what to ask for with this car, but quickly returns to the pablum of the rest of the ad with his guesstimation and declaring "ITS A STEAL." Not only has he fallen into the trap of thinking that the money into any project (let alone a German car) means that it is thus worth that much, but $3,000 of it is "a reputable auto repair shop's" charge for the labor he did himself. Labor, I might ad, that resulted in a hood and fender that don't fit right.
I'd love a little 318is, but if I ever buy one, the ad will have pictures that are in focus, body parts that fit, and a history that doesn't make me question the linearity of time and space. I don't care if it has 200k miles and some old paint – hell, if it does, it'll be a great swap candidate – but I do care that the previous owner can speak to me intelligently about the automobile.
-NR