We've had a few E36 M3 Lightweights here, and their rarity has kept these most of these cars starkly original and away from their true home, the race track. Yet while some collectors choose to keep their unobtainium-enhanced M3s as out-of-the-box as possible, today's seller has taken a decidedly more irreverent tack. He's gone and done what most adventurous souls do to normal E36s, and bought a Dinan supercharger system and upgraded brakes, suspension, exhaust, and thrown in an aftermarket stereo and some angel eyes just to really piss the purists off. Most, myself included, might not see the point in buying a car that was special because it had no stereo only to put one back in, but it's obvious this guy sees things a little differently. Adherence to good taste notwithstanding, the objective facts are that this is about as fast and rare as E36s get.
1995 BMW M3 Lightweight for sale on eBay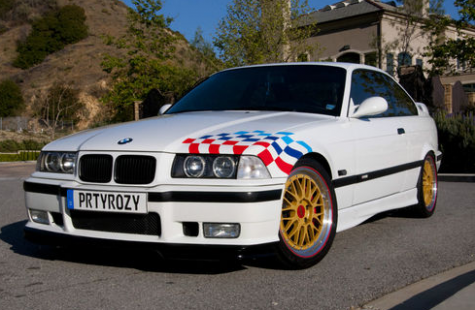 From the seller:
I have my very fast 1995 M3 Lightweight for sale. Rarely driven 21,411 highway miles. 10/10 interior/exterior. Limited Edition–LESS THAN 40 REMAINING IN THE USA. M3 LTW specs:

Lightweight Aluminum Doors
Underchassis X brace
Top Tower Brace
adjustable GT wing
Lightweight Racing Carbon Fiber Interior

http://www.usautoparts.net/bmw/models/m3_ltw.htm

High Performance Mods

Dinan Stage 3 factory installed performance package:

Dinan Supercharger
Dinan Stage 3 Computer
Dinan Cold Air Intake

StopTech Big Brake Kit
UUC Shortshifter
UUC Clutch and Flywheel
Sachs Racing Coilover Suspension
Racing Headers
Remus Racing Exhaust
BMW Factory Radio w/ CD changer (Not originally included in the LTW)

Umnitza Angel Eyes with Glass Lens
Euro tail lights and blinkers
Gold mirror tint all around.
18″ Gold BBS LM wheels on Michelin Pilot Sports
+Original Lightweight Wheels
The red flags are the opposite of what usually raises eyebrows… 21k highway miles? What was the supercharger for then? And well done modifications… but why modify it? At least it comes with the original wheels, but it'd be a bit of work to get this thing back to stock. The Buy-It-Now of $65k seems a bit optimistic, considering the reason these cars are so much more than your everyday E36 M3 is the exclusivity, and that's been partially negated by "improving" it. Modifications and low mileage or no, I don't see this being worth too much more than a normal LTW, which is to say around $40k. And even if he doesn't think so, I think a bone-stock LTW at $40k is cooler than this one at $65.
-NR