Our motto to some degree is finding the finest examples we can and while we do eschew that to post up some oddities that we come across we do try to seek out a mix of attainable drivers to unbelievably fine  and expensive specimens. This 300TD splits the range, a car that you would think could be a daily driver as it is not original, but has been restored to such a fine state you would be nervous having it out on the road.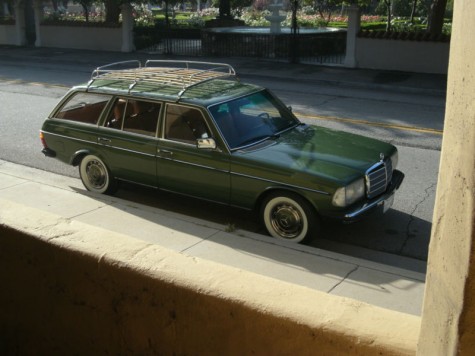 We have watched the W123 Benz diesels, cars that are perhaps one of the most prevalent in the world, creep into what a few years ago would seem to be stratospheric prices. The car being sold here has just about everything going for it to bring top dollar, not the least of which is the 4 speed manual transmission. When you only have 80 or so horsepower to push you around having the manual can help you eek out the most performance.
The 121,000 miles are a drop in the bucket for the 5 cylinder engine. This car started life as a Euro car that has gone through the federalization process, but the parts were then refitted by the current owner back to Euro spec. The car has the desirable light weight aluminum Mercedes rims, though I probably would not have placed the whitewalls on this car, really the only thing I can knock on this car's restoration.
The owner has put a lot of money and effort into fixing and replacing parts. The engine bay is super clean, as is the interior. Even little things have been made to right, a beautiful metal and wood roof rack, a working idle control knob, even the brush in the back to sweep out the cargo area, it has all been taken care of. The car also features the factory tow package. The car has a new repaint in the original color, the old paint was stripped before hand. This is a great color for this car and the paint job looks like a quality one.
Just an all around great example from an owner who clearly cares about the car. Bidding is heavy and up to $20,000. With no reserve we'll see once again the amazing prices these Benz wagons can bring from their cult following.
~Evan