*This project is in no way endorsed by the author or GermanCarsForSaleBlog, and all vehicles, pictures, and unholy unions are the sole responsibility of the creator and seller*
Juuuuust in case my E30 Cabrio didn't make you feel weird enough on the inside, we're going full-on Al Yankovic today with a BMW 3.0 CSi that has had E30 M3 fenders grafted on. It's not that they did a bad job – in fact, I'm impressed they were able to pull it off as cleanly as they did. This car is just one of those "why?"s that may never be answered. I love the CSL – why not do those flares? I guess the E30 M3's cache has spilled throughout the decades. It is on German eBay though, and I can only imagine what insanities German eBay contains. I'm guessing a nice assortment of micro-tolerance measuring devices and unthinkable "sensual" items. I'm not going to look, but I assume as much because it has to be combinations like that which explain this car.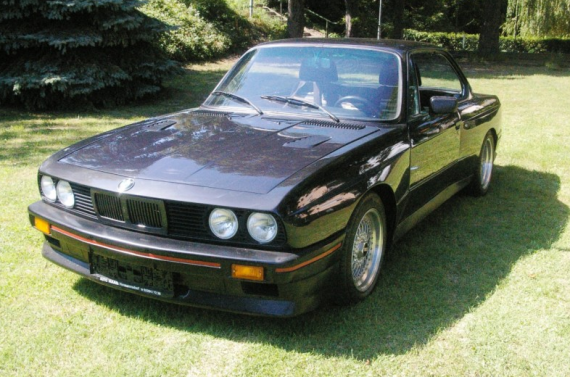 BMW 3.0 CSI with front and rear wide fender extensions from the BMW M3 (E30) (Original BMW)! Vehicle was built with perfection by a vintage workshop. The car has been in hibernation for years and has now been woken up again. All fluids have been changed. Car has never seen rain. Total mileage since construction is approximately 8,000km!!

Engine: 3.0 L-Jetronic, Schnitzer head (complete), new bottom end, firing order manifold, oil cooler, electric fan, Sebring exhaust system, 5-speed manual

Chassis: Bilstein shocks, ALPINA stabilizers, ZF locking differential

Interior: New headliner, new seat covers, new carpet, RECARO seats, harness belts, VDO gauges

BBS RS-8 and 9×16, with 225/50/16 and 245/45/16. Almost every screw, cable, seal, etc. is new. Vehicle 100% rust free!!

NO EMAILS!! (I'm not always on the computer) PLEASE CALL!!!
I don't hate this car at all. It would be a funny oddity to see at a car show and again the execution is pretty nice. What really sets me off is that the builder has removed the grace and beauty from each of the cars he combined. The 3.0CSi no longer looks like a machine that could flow in space or water just as well as on the road. The magnificence of the E30 M3's box fenders is that they accentuate the perfect horizontal line down the side of the E30. On the E9, they angle slightly downwards to the ends, making it appear as though the whole car is bending while high-centered.
If you're looking for some funky German weird though, you may have found your car. I can guarantee you won't see any others like it. Now, who wants to cough up between €12-16k?
-NR