We've discussed the merits of E30 Cabriolets made to look like M3s before. As I touched on last time, I prefer to approach reproductions like this from a more objective, ignorance-is-bliss angle than I do with most classic cars. For starters, hacking up a standard E30 convertible is no bad thing in my book. I don't know how many were produced, but I'm sure there are enough to play with without offending the BMW provenance gods. So when I see a project like this, I try to push my preconceptions about E30 M3s out of my brain and open my eyes to a fantastic-looking convertible. Today's is not gifted with the S50 of the last one but the stock-and-sturdy M20 2.5l. A great swap would put this on a different level, but for now I just can't stop looking at the damn thing. Objectively, it is one beautiful little convertible.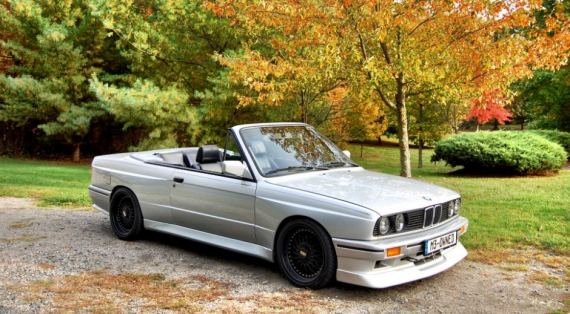 Let me start by saying that I've owned and built quite a number of BMW e30 convertibles (check my gallery above). This particular example offered for sale in this Ebay listing has to be one of the best out of them all. This is a very clean, meticulously maintained, restored and tastefully modified e30! It was owned by a female owner who took care and maintained this convertible religiously! The car is very tight, free of any interior or exterior shakes/noises. This is rare for e30 convertibles, with the top closed the car feels almost like a coupe but to truly experience it, put the top down and enjoy this topless beauty!

NO RUST ! NO DINGS ! NO DAMAGE ! I have original maintenance receipts for this car, it was always maintained by the BMW dealer!

This e30 convertible should have no problems passing California smog test as there were no aftermarket modifications to the engine, intake or exhaust! Everything works ! I have all books and manuals for this automobile !

ICE COLD A/C works on all settings !

Body: Complete e30 M3 conversion including Front Bumper (Euro Evo III style – no side markers, Custom Shave, Brake Vents, Porsche Rennline Tow hook, Evo II front lip, Evo III style hood seals), e30 M3 front fenders, e30 M3 side skirts, e30 M3 rear bumper (Euro Evo III style – no side markers), F/G e30 M3 rear quarter panels, BMW e30 325iS coupe trunk. Custom Silver metallic paint job – only the best materials were used – primer, paint, clear. Brand New Smoked Euro style smiley Headlights with city lights, Brand New Euro front grills ! Front turn signal indicators and rear taillights have been re-cleared and look new ! Convertible top was replaced some time ago, the top does not leak, rear window is clear ! This convertible looks amazing in person!

Interior: Sport leather interior in excellent condition – no rips or damage, heated front seats, re-covered in new leather rear seat. ZHP shift Knob, Motorsport new leather shift boot. Premium Sound system, Brand New Sony CD/iPod/Iphone player with external plug for connection and removable face. New OEM Amplifier (replaced by the dealer), Avital alarm system with 2 remote controls and LED scanner (you can lock/unlock the doors remotely). Excellent dashboard, Excellent carpet, original BMW mats!

Engine/Suspension/Brakes: The engine has always been maintained (receipts available)! Full tune-up including the Timing belt, Water Pump, tensioner, spark plugs, wires, gaskets, seals and water hoses has been done. Rare BMW Motorsport valve covered (black powder coated) Brand New brakes all around ! (New rotors, pads, sensors, brake fluid flush). Brand New steering rack with warranty ! New Battery ! Recent maintenance included: new idle control valve, valve cover gasket, new rear wheel bearings, new front control arms, off-set bushings. New Bilstein sport shocks and Eibach lowering springs! Exhaust has been replaced ! 5 speed swap with brand new clutch, rear main seal, bearing and clutch slave cylinder ! Everything is in excellent condition! 17″x 8″ BBS RC090 style 5s wheels, powdercoated black, new bolts, new tires, new Carbon Fiber BBS center caps!
There's no overdone show-car interior or ICE, just a sexy convertible that would be a blast for some coastal top-down days. I covet those BBSes, but get that tow-hook outta here. Swapping out the M20 would surely make it even more fun, but that can be your addition to this project. I'd just make sure there was zero reference of ///M on the car at all and enjoy the car for the what it is.
Starting at $7k, it's hard to tell what builders want to get out of their projects. The kit definitely makes it worth more than a standard E30 cabriolet, but I still can't see it going over $10k.
-NR