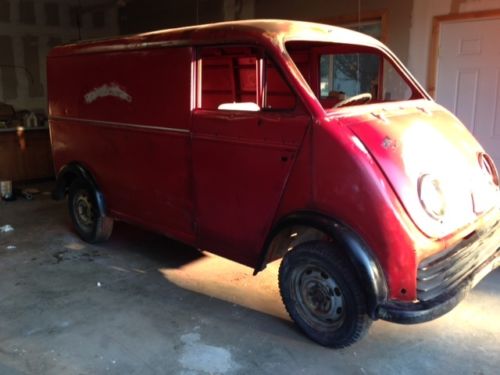 Most German car enthusiasts are no longer familiar with the name "DKW". It's a shame considering the long history of DKW, whose name originates from the German words for "steam powered vehicle" – just to give you a sense of the time period they started out. DKW reached its zenith in the 1930s, a time when Germany was experiencing massive growth in its economy and Hitler wanted to turn the Fatherland into a nation of drivers. Ironically, despite his notable efforts supporting Grand Prix racers and the development of the Beetle, pre-War automobile ownership in Germany was amongst the lowest in all of Europe. They were, rather, a nation of riders – motorcycles, to be precise, buying more of the two-wheeled transport than anyone else in Europe. It was what gave companies like BMW a start, for example, but the most successful of all of the pre-War motorcycle companies was DKW. Upon joining the Auto Union in 1932, they began experimenting more with small cars. But the aftermath of World War II meant that the area that DKW, Audi and Horch – 3/4 of the Auto Union company – were stuck in Soviet controlled areas, most of the factories being disassembled and sent back further behind the Iron Curtain as war reparations.
The result was that in the late 1940s and early 1950s, new efforts to resurrect these names was attempted. It's not very surprising that the attempts were made; after all, imagine if Chevrolet went out of business due to a War; you can bet once things were cleaned up, someone would try to make a Corvette. And sure enough, based upon some pre-War designs the F89 was born. As with most post-War cars in Germany, it was small, affordable and versatile. DKW utilized the platform to create what was, in essence, the first modern minivan. With a space-saving transverse motor driving the front wheels, there was ample room for flexible seating in the rear. Outside was a reasonably aerodynamic, compact design and the small motor ensured reasonable fuel economy – though no promise of speed. Today, nearly 70 years after the design was first sketched out, finding these vans is extraordinarily hard – and when they surface in the U.S., they're typically not in particularly good shape: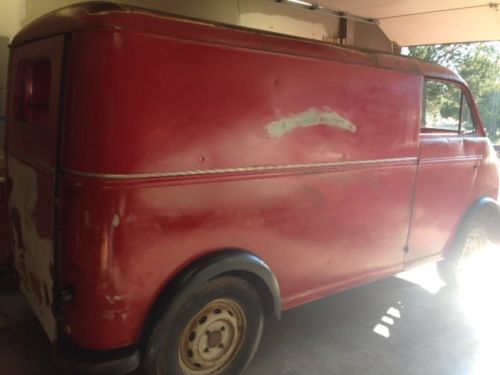 Year: 1958
Model: 3=6
Engine: 0.9 liter inline-3
Transmission: 4-speed manual
Mileage: "999" mi
Price: No Reserve Auction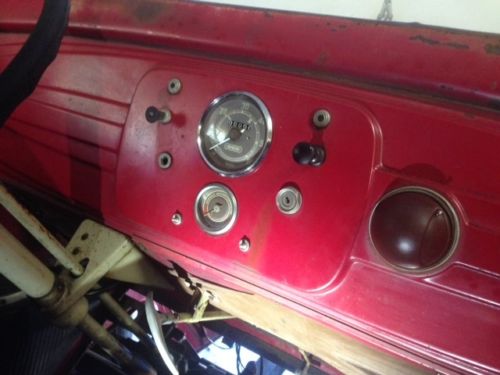 PLEASE NOTE THAT I HAD TO CANCEL THE AUCTION AND REVISE THE LOCATION OF THE VAN !!!
Its here at my home in Redmond, Oregon !!! not Brick New Jersey !!
First of all I will not insult potential buyers by using words like barn find, survivor or giving you a full history of DKW Schnellaster ..
this car is for the most part all original paint ..
there has been few rattle can touch ups ..
As a old time pick and file body man I am qualified to say that the body is in fantastic condition !!
The only body damage that it has .. is some old work on the back door ..and even that is not bad at all as you can see by the photos of the inside of the door .
and a few small dents here and the all very repairable with no plastic !!!!!!!
this car is 100 present rust free … even under the fenders and wheel wells have the original paint !!!
the only sport is a odd round hole on the right from body by the turn signal .. ??
100 percent of the paint on the inside is totally original ..
the wiring is all original with no cuts and is very usable for a high point restoration .
in one of the photos I have spread out some of the NOS parts and very important parts that are currently not on the car ..
I also have boxes of parts and extras ..as well as a extra full set of wheels and two original used hub caps in very good condition and two NOS hub caps ..
The engine is in good unrestored condition and will need to be rebuilt.
the only items that are missing is the fan shroud, seat cushion ..
other than that this car is complete with all the original nuts and bolts ..
For the interested buyer please call me and over the phone I can go over it inch by inch .. I would prefer it !! every time I look at this can I am so impressed with its condition .
please call me at 971 235-9599 Jaan
Bill of sale only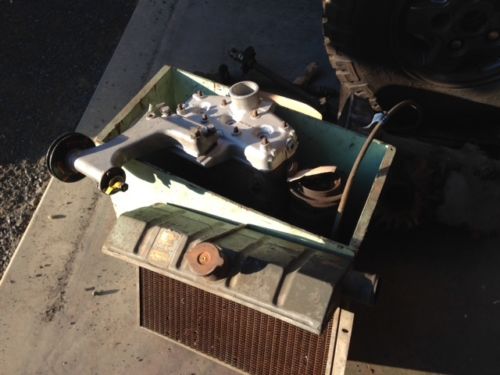 Most would look at this as no more than a derelict hulk awaiting the crusher, but much like the early Volkswagen Van/Transporter, there's a devoted following of the early DKWs. There's also a considerable amount of potential value there; only a few months ago, one of these vans crossed the auction block at Gooding and Company for an astounding $101,000. Obviously, that car was fully restored and this example isn't even remotely close to the condition of that car. But it shows that there's potential value there, and with all the pieces and a solid starting point this rare bit of Auto Union history could be a reasonable investment and fun project for the right person.
-Carter