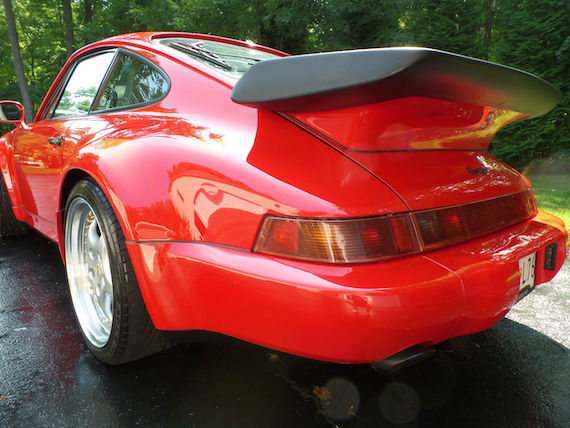 The current 991 based Porsche 911 Turbo is a very impressive car. When you consider the humble roots from where the 911 originally developed years ago, one could hardly fathom back then that we would eventually have a 520 horsepower, all-wheel drive monster on our hands wearing a 911 badge. But for some, it's a bit too digital. Sure it's fast, but the visceral feeling of the air-cooled clatter and rear-drive setup is gone. As long as you don't exploit the car's true potential, most anyone could drive one of these cars semi-fast and look like a pro. Dial back two decades, though, and the hot 911 was not so user-friendly. These were the kind of cars that would bite if provoked. This 1991 911 Turbo would be the last rear-drive generation Turbo, as the final air-cooled 993 would adopt all-wheel drive.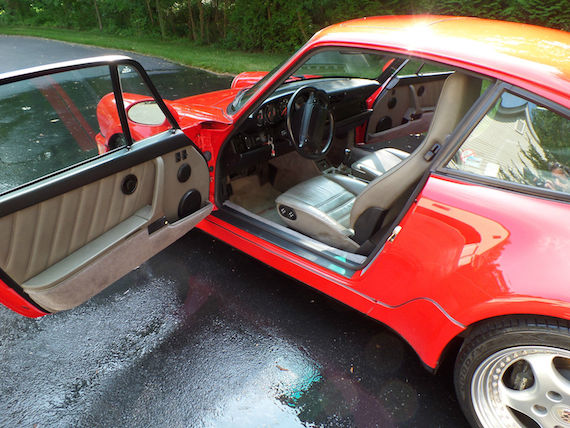 Year: 1991
Model: 911 Turbo
Engine: 3.3 liter flat-6
Transmission: 5-speed manual
Mileage: 52,462 mi
Price: $78,999 Buy It Now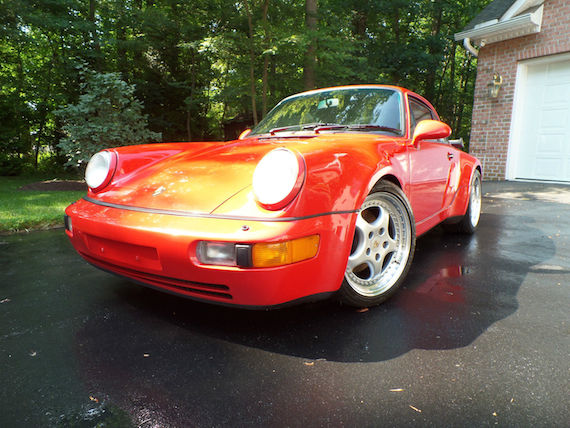 1991 911/964 Turbo – Only 52,462 original miles

Not just a sports car but a work of art. With the wide body and whale tail, nothing on the road compares to this classic Porsche Turbo. I purchased her in April of '06 with only 49,556 miles. For the past eight years I've only taken her on weekend drives and parked in clear view and away from others. Never rained on since '06. Always garaged kept and under cover. I've treated this work of art with the care and respect she deserves. 48K mile service preformed Apr. '06

The only modifications I've made was to add the 18″ RH 3.6 Turbo deep dish wheels, Eagle F1 ZR18 tires, and a Fabspeed muffler bypass pipe. The wheels are tires are excellent with approximately 3k miles on them. I removed the muffler and installed the Fabspeed pipe to give her a magnificent exhaust note. The original muffler will be included in the sale if you'd like to quiet her down.

Overall she's in excellent condition. The A/C operates but the air is not cold. I never bothered to have it checked or charged because I preferred to drive with the windows down to hear the engine. Also, the display on the Blaupunkt stereo does not function completely. But again, the only music I was interested in came from the exhaust.

I feel she's a solid '9' at 23 years old with 52k miles. Few vehicles are flawless at 23 but this one is stunning due to her condition, lines, power, and style. I'm relocating and just don't have the free time to spend driving her. It's clear how little it's driven. So it's time for the next lucky person to experience this incredible Porsche Turbo.

I've listed the 911/964 locally therefore I reserve the right to end the auction at any time.

Sold 'as is' with no warranty. Non-refundable $500 Paypal or bank wire deposit required within 24 hrs. upon winning the auction. Please ask questions and inspect prior to bidding. The sale will be final with no refunds. Please call (301)335-7419 with any questions. Thanks for looking.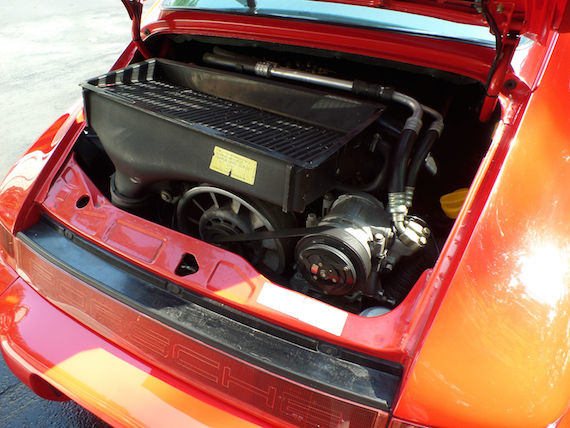 In a world where it's hard to get a standard Porsche 911 Carrera for under $100,000 once you add on options, a lower mileage 964 Turbo can seem to be a relative bargain. I'm just sitting here wondering when the more modern air-cooled material will start surpassing brand new 911s in value. This example is almost perfect for my tastes, used just enough as to not make one afraid of using it for its original intention, whether it is bombing down the interstate or carving up canyon roads.
-Paul