Estoril is regarded as one of the best blues ever produced, and while a similar shade has recently appeared on Mercedes, it will forever be a distinctly BMW color for me. I was first struck by this blue when it appeared on the first BMW M car I ever drove, a friend's E36 M3 sedan. It later appeared on the BMW M Coupes and Roadsters and the X5, creating the best-looking examples of all.
No surprise, then, that my first Estoril car is an E36 M3. Unfortunately this example comes with the diminishing automatic, but it's in great condition after just 75k miles. If you don't have the use of your left leg, it'd be a great car. Low-mileage examples of the fantastically-handling but least-extreme M3 are holding strong in the mid-teens, making it a great performance bargain.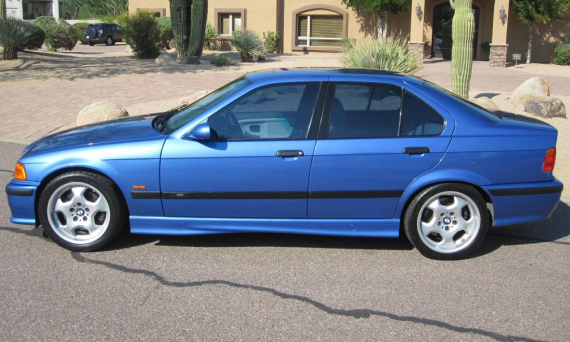 Year: 1998
Model: M3 Sedan
Engine: S52 3.2L inline-6
Transmission: 5-speed automatic
Mileage: 75,000
Price: $14,495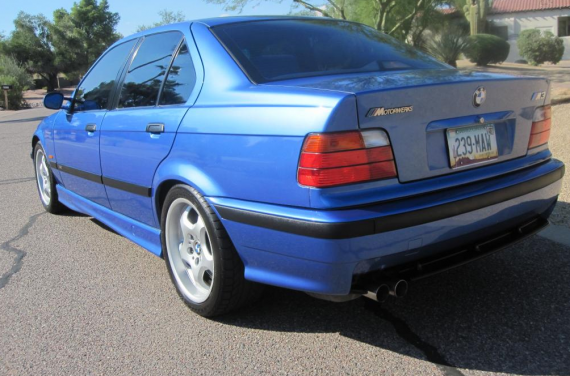 OVERVIEW:

Up for auction is a Beautiful Low mileage1998 BMW M3. This is one of the nicest E36 M3's I have ever seen. It is a One-Owner car that has been babied its whole life. The car was originally sold at Motorwerks BMW of Bloomington, MN. The original owners then moved to Scottsdale, AZ in 2002 where the car remained since. It was owned by an older couple who drove the car sparingly and always garaged it. It is bone stock and has never been modified! Its on overall Excellent condition and now it is looking a second owner to love and care for it!

Photobucket

EQUIPMENT:

3.2L Inline 6 Cylinder Engine 240hp
5 Speed Automatic Transmission
4 Wheel Anti-Lock Disc Brakes
Variable Assist Power Steering
Cruise Control
17″ M-Contour light alloy wheels
Electric Sunroof
Power and Heated Front Seats
Fold Down Rear Seats
Harmon Kardon Sound
BMW Anti-Theft Alarm w/ Keyless entry
On Board Computer
Dual Front Airbags
Power windows
Fog Lights
Photobucket

COSMETICS:

The exterior of this M3 is in excellent condition. The body is laser straight and there are no dents or dings. The Estoril Blue Metallic paint is in excellent shape. No major chipping or scratches. All of the trim and lights still look like new. This M3 is Carfax certified to have never been in an accident. The car looks just as nice as the pictures show!

The interior is in excellent condition as well. The Gray Leather seats are soft and supple. They are in amazing shape! There are no tears, rips, or deep wear lines anywhere. The carpet is in great condition. The door panels, trim panels and dashboard are all very nice and have no cracks. The headliner is perfect! All of the electrical equipment in the car works as it should (Windows, locks, sun roof, stereo, OBC, lights, etc). The A/C blows cold. The trunk compartment is in very nice shape. All of the original tools and spare tire are there!

Overall the cosmetic condition of the car is excellent. You would never know this car is 15 years old!

Photobucket

MECHANICAL:

This M3 is in excellent mechanical condition. We have inspected and test driven the vehicle over 100 miles and have found no major mechanical problems. The engine starts right up and runs very strong. The transmission shifts smooth as it should. It was just replaced with a rebuilt transmission less than 500 miles ago! The car does not leak anything. This Beemer runs and drives like it should for having only 75k miles! I just had new BF Goodrich G-Force Comp 2 tires installed. The previous owner cared for the car meticulously. The car has ALL the service records since new! Here are some recent highlights:

44k Inspection 2, Drive Belts, Power Steering Flush, Coolant Flush, Fuel Injection Flush
53k Camshaft Position Sensor
55k New A/C Compressor, Oil and Filter Change, Wipers
58k Oil and Filter Change, Air Filter
62k New Front Brakes and Rotors, Brake Flush, New Battery, Oil and Filter Change
66k Oil and filter Change, Thermostat, Coolant Flush, New Power steering lines and flush.
70k Oil and Filter Change
75k New Transmission, New Tires, New Windshield, New Floormats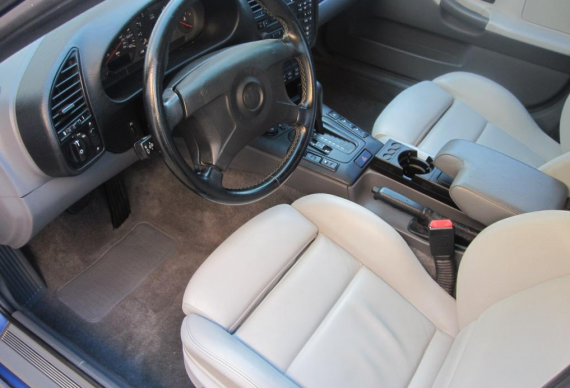 Next up, we have one of my favorite BMWs ever, the Z3-based BMW M Coupe. This earlier 1999 model shares the smooth (if Euro-jealous) 240hp S52 inline-6. In addition to the epic clownshoe shape, they came in Estoril, cementing their place as an oddly-gorgeous classic. This example has just barely cracked 100k miles and features a matching interior. That leather isn't my favorite choice, and neither are the unnecessary wheel spacers, but with no-reserve and lacking the highly sought-after and more expensive S54, this could be a great snag.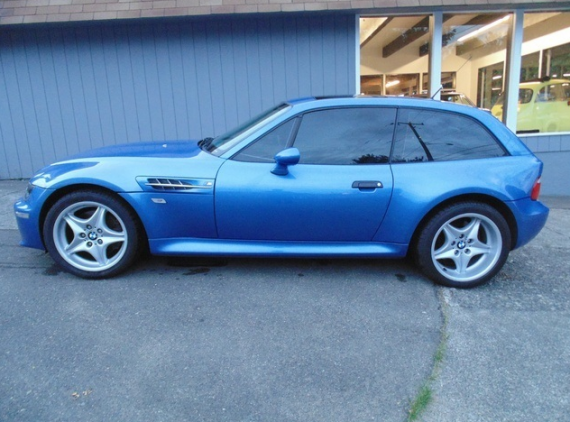 Year: 1999
Model: M Coupe
Engine: S52 3.2l inline-6
Transmission: 5-speed manual
Mileage: 102,500
Price: No-reserve auction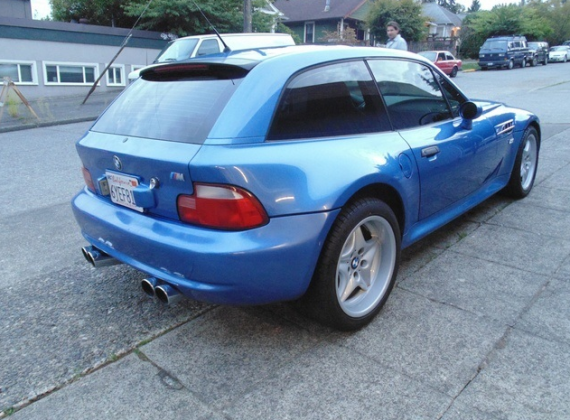 I have forsale this 1999 BMW Z3 M Coupe in Estoril blue over blue / black interior. This is a rare find with only 118 built in 99 with these options in this color. The M coupe is an outstanding car to drive. Handles like its on rails. Lots of character in a unique, timeless "clown shoe" style. This car features a S52 straight six delivering 240 bhp through a 5 speed manual transmission. This car has been very well maintained with lots of recent maintenance listed below and with 101k miles its in great shape. The exterior is clean and straight with a stunning blue / black interior with minimal wear with just minor wear on the drivers bolster. Give me a call with any questions Max Mudarri 206-518-1612 Upgrades: Super Sprint exhaust H&R Sport springs Bilstein Sports Angel eye, HID headlights Rear wiper delete Chrome Z8 windshield washer nozzles 12mm spacers all around Whalen Shift Machine knob SuperSprint exhaust with Magnum tips New: Front tires Ignition Bilstein sport shocks Thermostat Spark plugs Belts ac and serpentine Tie rod ends inner and outer and alignment Oil change less then 500 miles ago Coolant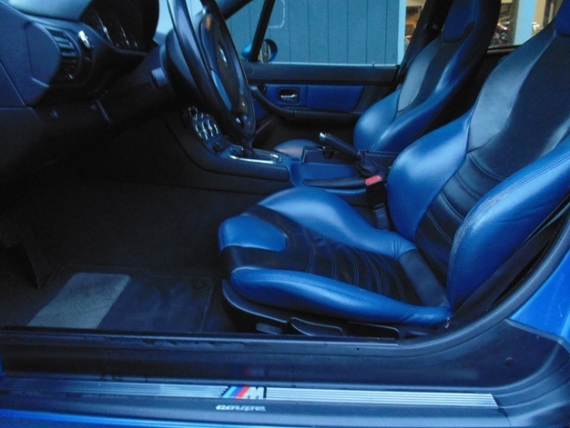 Lastly, we have a car produced decades before Estoril began beautifying the streets, the classic 2002. A well done restoration with some subtle liberties taken, it's a truly striking little car. Bidding is starting at a reasonable level, but with the reserve still on it's tough to determine how much of the claimed $25k in receipt the seller expects back.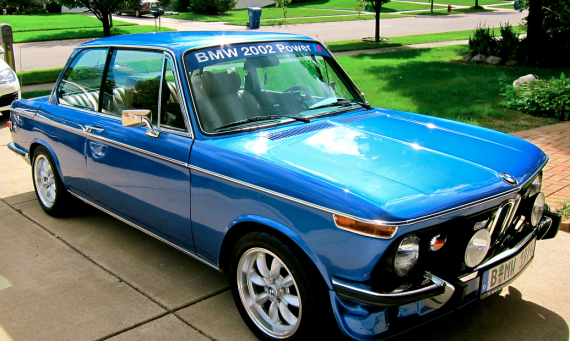 Year: 1974
Model: 2002
Engine: 2.0l inline-4
Transmission: 5-speed manual
Mileage: 8,500
Price: Reserve-on auction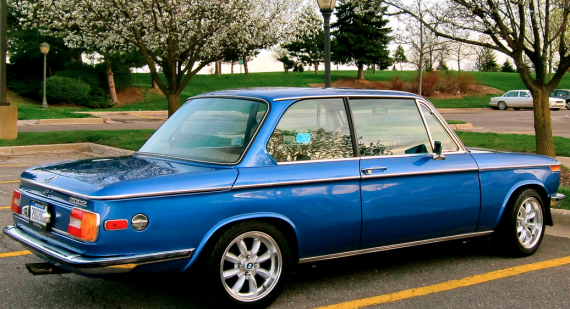 1974 BMW 2002 Resto-Mod in Estoril Blue, with beige interior.
An E36 color that is stunning with many new automotive components listed below, along with original window sticker and many records/receipts.
The refresh paint was professionally done in 2009, still looking new. The car was originally transported to Arthur Allen Imports in Riverside, CA. Code number 2213 then spent most of its life in Arizona.
Receipts totaling over $25,000.

Below is a list of the major items done:

– Engine rebuilt with Schrick Cam 292, rod bearings, main bearings, cam gear, crank gear, timing chain guide, tensioner, water pump, oil pump, clutch, head gasket, belts. fuel regulator, new gasket etc.
– New Weber Dual side draft 45 DCO
– 5 Speed conversion, IE (Ireland Engineering) driveshaft, clutch line
– LSD
– Euro front and rear chrome bumpers
– New Petronix ignition (push button start)
– Rear Disc brakes – all new including fronts
– Stainless steel brake lines
– New IE Stage 1 springs
– New Bilstein HD front and rear
– New Ireland Engineering front & rear sway bars and end links.
– New urethane steering coupler
– New left, center and right control arms
– Top end performance front and rear brace
– New headers by Stahl
– New Ansa sport muffler
– New ID Front airdam
– New floor carpet and padding – Color Saddle
– Dynamated the entire floorboard, front and rear panels and door panels.
– New front door panels (no speaker holes!!!)
– New clear plastic door backing to prevent water coming through.
– New weather seals throughout.
– New door seals
– Re-done rear deck compartment
– Engine compartment seal
– New front windshield, gasket and chrome beads
– New rear gasket and chrome beads
– New rear side window seals
– New drain tubing F/R
– New factory style headliner
– Re-upholstered front seats
– New rear side markers, tail lights, License Plate and new headlights.
– New front Euro Turn signals
– New Hella driving lights
– New turn signal and turn TS ring
– Powder coated valve cover
– New pedal pad insulation inner and brake clutch
– Solid strut towers
– Solid floor
– New Rota Minilite 15-inch wheels with Yokohama S-Drive tires 195-50R15
– New OE side skirts
– New instrument clusters – All three pods
– New custom cluster surround
– Momo steering wheel and shifter
– New seat belts and new locking
– Custom center console with Alpine CD/iPod, clock, engine start and new shifter boot
– New Alpine amplifier, 6×9 MB-Quarts speaker, JL Audio Sub. All in the trunk.
– New redone trunk carpet
– Charcoal canister
– Solid trunk
– New gas cap with BMW logo
– NO A/C – Everything was removed
– New battery purchased 08/21/13.
– Last oil change 07/20/13 with Castrol 20W50
– New custom hand-brake leather boot & handle with carbon fiber look.
– Dash panel has a few cracks but covered by a new molded Dashtop cover by Palco made specifically for 02 model.
– Evolution Car Cover (grey) with BMW ROUNDEL LOGO in the front.
– Only driven in sunny days, stored winter months.
– 2 sets of keys with master
Pleasure driven only on sunny days. No rain, never smoked in, always garaged, no track, race nor abused. This is my third 2002 but this is the nicest one I have owned to date. Highway speeds are effortless with the 5-speed, lane changes are super tight, brakes are fantastic, handling like a go-cart! Super fun! It is smooth, quiet, feels very solid! The driver seat will recline when using the bottom left recliner (the toggle on the side of the seat does not recline). As many of you know, the modifications are endless on these cars. There are 3 tiny paint bubbles (size of a dime) below the rear window.
-NR