Well here is something you don't see every day.  A Porsche Lola race car that was backed by the factory and raced from 2000-2002.  I will shut up and get to the description as this is a pretty amazing specimen.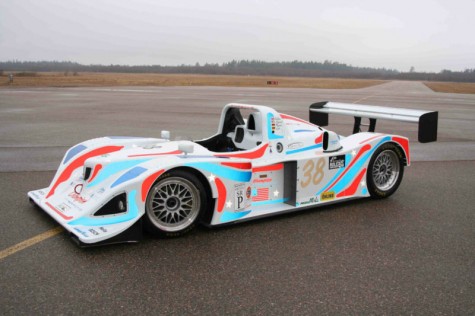 From the seller –
"A great investment opportunity. This Porsche was made in one example…..

Developed by Norbert Singer at Porsche Germany and Brad Kettler, now Audi Motorsport, both with huge experience from Porsche 917, 935, 962 GT-1´s and Audi´s race cars as  R8´s and up and with many wins at LeMans, Daytona, Sebring etc.

Our car raced by Champion Racing in the USA from 2000 to 2002 as a Porsche backed up car & team.  This chassie was delivered from Lola in UK, as a model year 2000, and is built up with a monocoque from carbon fiber.  The engine is the massive Porsche GT-1 evo ( fyi. GT-1 engines have a price tag of +200 000 USD ) with over 1000 Hp and the strong sequencial 6 speed Porsche gearbox from the GT-1.

Carbon fiber brakes and/or steel.  The car is ready to sit in a serious collectors show room or be used as a winning car at the track for Historical race ( race support can be organized ).  There are tons of spare parts (many of them brand new) which goes with the deal. For more info about the spares and other documents included, please e-mail me, and I will reply with photos and more info.

The car was one of the invited Porsche stars at the huge Porsche event 2011, Porsche Rennsport Reunion IV, Mazda raceway/Laguna Seca. It had a spot in the nice "VIP" tent, where it was signed by Norbert Singer & Porsche factory driver Sascha Maassen, who drove the car.

As it is build as a reace car, there are NO title or VIN number on this car.

Ill take all kinds of trade ins, as road cars like Porsches, Mercedes to Ferraris, Astons etc. 1, 2 or 3 cars. Or if you have a nice condo or and old airplane or a boat. Anything fun including some funds. For sale as a investor price. We have a realistic reserve price.

The buyer will make big profit within some years as all other Porsche race cars."
Some things to ponder from the description:
The shell was delivered by Lola and is built entirely of carbon fiber.
This car is powered by a GT1 Evo motor that can produce 1,000 horsepower.
These motors can run up to $200k.
Lots of spares included, probably enough to have a good head start on a second car.
Just so you know, the seller is willing to take a car, cars, or property in trade.
This is great and all but you would have to be a racing fanatic to buy something such as this.  It is good for two things, as a museum piece or on the track.  I am pretty confident in my driving abilities but I would need a double set of depends to pilot this 1,000 hp beast around the track.
That said, if you are into that kind of thing this is a rare opportunity to own a factory Porsche race car.  Bidding opens at $75k, reserve not me.  Anyone have a spare condo they are not using?
~Aaron.