The 500E is one of the most complete cars I've ever driven. When I was in college, I was fortunate enough to test drive this legend at a specialist dealer. Even though the car I drove had 110,000 miles on the clock, in true Mercedes-Benz fashion, it felt solid as a rock. The suspension in this car alone was a revelation; comfortable enough for highway cruising yet tight enough when you wanted to be aggressive. To explain how the engineers pulled this off would probably be as hard to explain how gravity works. This car left an impression on me and every time I see one come up for sale, the little devil on my shoulder tells me to forget about the maintenance, fuel and insurance costs….just do it. This 1993 500E is for sale right in my backyard and it's calling my name.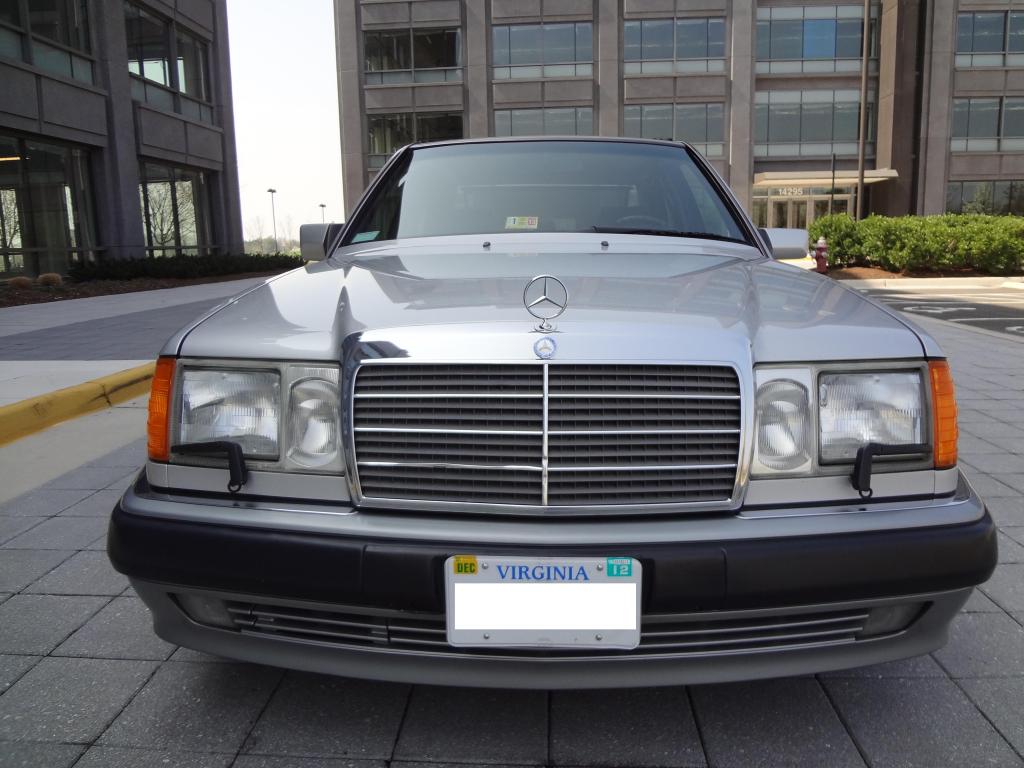 1993 Mercedes 500E: A joint production between Mercedes and Porsche. Here is the chance to own one of the cleanest and most cared for 500Es.

A little history, the prior owner received the car as part of a settlement many years ago and she spared absolutely no expense caring for it, none! The car was stored in a garage on 5th Avenue nearly all its life, it was always serviced at MB of Manhattan or EuroMotorcars in Bethesda on occasion. I have paperwork on the car that includes all the maintenance performed since its original purchase in addition to the owner's manual svc stamps since '93. I have all the major services documented since original purchase, including the latest 60k maintenance performed at the dealership to the tune of $1,100+ when the car had 57k; transmission flush was performed at 52k. Documented engine harness and water pump replacement.

All major equipment/parts on the car are 100% original i.e., engine, transmission, and body… Engine runs super smooth and transmission shifts like butter. Everything functions inside/out, cassette deck has the occasional hiccup but radio and cd player work perfectly. A/C blows ice cold and heat works great. It has never been driven in rain or snow, no rust/corrosion anywhere and the car lived a sheltered life as stated. No accidents/bodywork and paintwork is all original. Interior shows no signs of wear w/ a few minor blemishes on wood that is merely unavoidable on these cars. I have all three original keys, owners manual, documents, and MB dust cover. When I took possession the dealership recommended as general maintenance to update some parts, so I did right away. Below I will list what has been updated:

Parts & Service

New updated O.E.M. MBenz Engine Harness- Originals were known to deteriorate over time ($1,300+)

Front Rotors and Brake Pads
Caps and Rotors
Windshield Washer reservoir pump
Interstates best battery that came recommended for this car
Mobile One Synthetic
Car just passed a stringent VA Safety and Emissions inspection last month.

I know this is an extraordinary example of a very rare car, only serious buyers please inquire, I will do my best to answer your questions. Pictures do this car no justice so once again serious buyers please feel free to set up an appointment with me.I will do my best to assist with shipping if required in any way that I can. $1,500 deposit will be required at time of purchase. I have set a low reserve on the car considering what I paid and money I personally invested thereafter.
Over the past couple years, I've seen some 500Es advertised at stratospheric prices, sometimes close to or over the $40,000 mark. Usually Mercedes-Benz sedans command less than their coupe and convertible brethern, but this is one special Mercedes and enthusiasts know. This car's asking price is refreshing; well within reason given the mileage and condition.
-Paul