I'll spare you from listening to the origin of my love for 4-door E36 M3s again, but that won't stop me from lavishing praise upon the car itself. Still considered one of the best-handling chassis ever made, the 4-door E36 has the perfect mix of sharp and smooth, businessman and athlete, subtlety and aggression. Yes, the E36 is, at its worst, the Toyota Camry of 3-series. But its at its best when it's a 4-door, 5-speed M3. And 4-door, 5-speed E36 M3s are at their best when they are well taken-care of, unmodified, and with low miles. Recent prices on low-mileage M cars of any sort might lead you to believe that today's example is yet another overpriced dream machine, but I'm happy to report the contrary. 88k miles and a $10k asking price is one of the best deals I've seen in a while.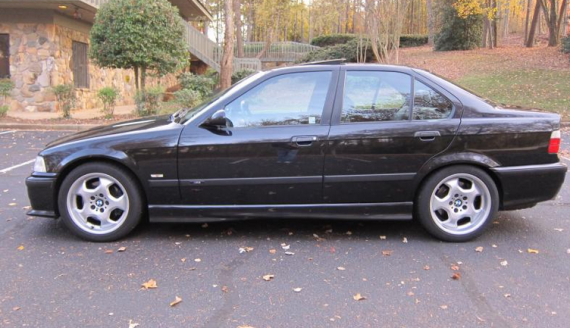 5sp, manual sport seats, non-fold down rear, contours with PS2, ellipsoids, clears, x-brace, new BMW suspension/brakes and more. All records, no smoke, no paint, no winters. Exceptional 88K garaged, CCA owners.
88k miles isn't super low-mileage, but 88 IS my lucky number, and it's a very conservative amount for a 14 year-old car that is as fun to drive as this. We recently listed another clean, black E36 M3 on BMWCCA that was for sale for $18k, albeit with only 39k miles. Even with twice the miles, this car is a STEAL for ten grand. Unless there is a egregious hidden defect, this car should be snapped up immediately.
-NR