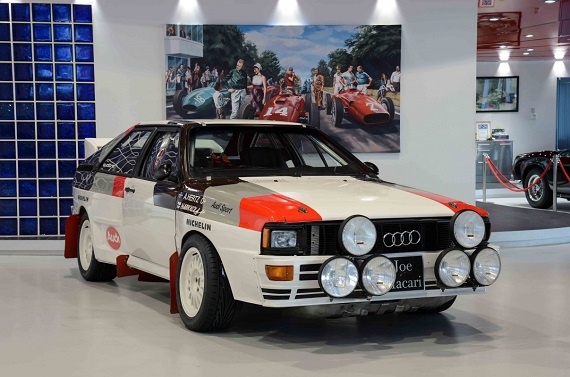 Motorsports seems to undergo a giant leap every decade or so, where rules changes or massive shifts in technological innovation immediately render the existing designs antiquated. I was thinking of this while watching Le Mans a few nights ago; only a decade after the swoopy 917s ruled the tracks of Europe, the ground effects era of the 956/962 would be ushered in. Fast forward another 10 years and they'd be effectively completely gone because of rule changes as prototypes moved towards open cockpit designs once again. Innovation was not limited to prototypes, though; everything from touring cars to Formula 1 goes through similar cycles of design and innovation, and for fans of each series there are favorite periods. For many in Formula 1, there are the evocative memories of the wingless Cosworth-DFV powered V8 missiles sliding around Spa's course – or perhaps the flame-spitting Turbo Era and the birth of the Senna legend. For Touring Car fans, it comes down to preference, but I love watching those early to mid-1990s BTCC races, personally. And in World Rally, for many it's the era that defined the spectacle of the WRC; the roaring Quattro and it's complete revision of the rules of how to go off-road racing. Big budgets, legendary designers and drivers, an unconventional layout and one absolutely roaring 5-cylinder soundtrack was a recipe worthy of the notoriety the Quattro has gained: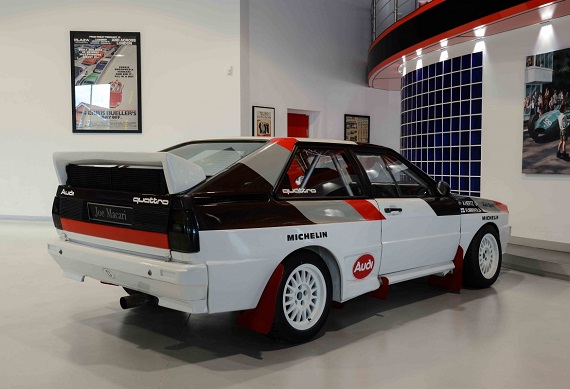 Year: 1982
Model: Quattro
Engine: 2.1 liter turbocharged inline-5
Transmission: 5-speed manual
Mileage: 49,000 mi
Price: $682,746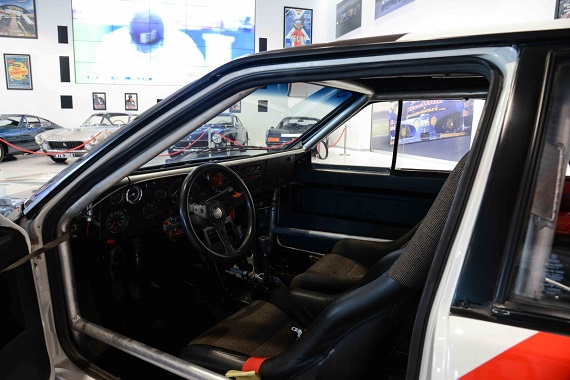 The Audi Quattro is one of the most influential designs in the evolution of the car, introducing four-wheel drive to the motoring mainstream. It was on the rallying stage that Audi was to dominate with the Quattro; the introduction of the revolutionary AWD system saw instant success for the works team in 1982, 1983 and 1984.

It was this success of the Quattro in rallying that saw not only other teams copy suit, but also the implementation of 4WD into production passenger vehicles as well, as can still be seen today in the Audi line-up.

The example we are presenting is one of the most important vehicles in the Audi Rallying story, mainly playing a key role in the career of Hannu Mikkola. 90012 was one of the Group 4 Works' cars that took Mikkola to his first World Drivers Championship in 1983.

In 1983 the car was retained for training and R+D purposes by Audi and would then be converted to Group B specification and sold to a Finnish importer who handed the keys to Antoine Laine. Under his guidance, 90012 would win the Finnish Rally Championship in 1984 and 1985, as well as winning the Arctic Rally in 1984, 1985 and 1986.

Following the banning of Group B, the vehicle competed in Rally Cross in Finland for three years, before being purchased by a well-known Swedish collector in 1991.

Despite being worthy of a place in the finest of museums, there is no reason 90012 cannot be used to compete; currently it sits in Group B specification but it could be returned to group 4 and would qualify for either in historic rallying on account of the fact it competed under both classes in period.

We have recently recommissioned the vehicle and it is also now UK registered, this Audi Quattro is a historic piece from rallying's most seminal era and would make a fantastic addition to the finest of collections.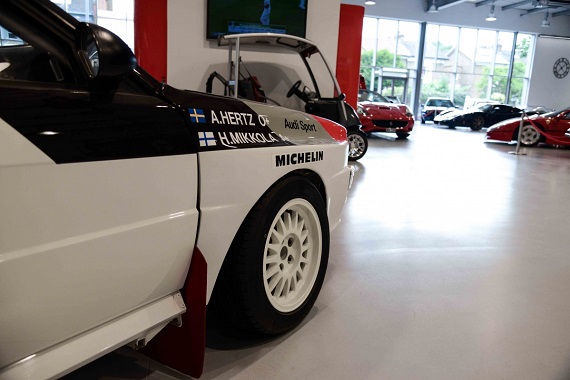 This isn't just any Quattro, though; this car represents the turning point in the World Rally Championship. Built around the Group 4 rule set which had born special production cars from the Ford GT40 to the Lancia Stratos, it effectively was a homologation category where by the late 1970s you had to build 400 examples of a model. A great example of the pinnacle of this category was the short lived Mercedes-Benz 450SLC 5.0; lightened and beefed up, until 1980 that's how you went rally racing. Audi's Quattro changed that rules by introducing both turbocharging and all-wheel drive into a luxury road package. The Group B Era would roll in, replacing Group 4 in 1983. The Quattro would change along with it, upping power from 300 in the early Group 4 cars to 350 in the A1 spec cars for 1983. The results for Audi would be spectacular; wins of the overall championship in 1982 and 1984, along with driver titles for Hannu Mikkola in 1983 and Stig Blomquist in 1984. This particular car is a bridge car; it was the last of the Group 4 cars, driven by Mikkola and updated to Group B spec "A1" configuration for 1983 – the spec it currently sits in. To revert back to Group 4 wouldn't likely be an advantage for anyone since no one really remembers anything outside of Group B anyway, and in the iconic Audi Sport colors with the Mikkola name attached to it, this package couldn't get much more desirable for a 1980s WRC fan. Of course, then there's the price of admission; a staggering asking price of nearly $700,000 sounds along the lines of what some ultra exclusive race Ferraris, Porsches and other exotics traded for not long ago. Does the lowly Quattro deserve to be in that company? For a car that revolutionized both rally and road packages for cars, yes – I think it's a fitting tribute. These Quattros have grown considerably in appreciation over the past few years with prices on racing examples spiking quickly. I'd wager they're likely to level out and I think this car is a bit ahead of the market; then again, it's not a package whose heritage can easily be replicated. This car is not only Group B spec, this car made Group B, being party to both a manufacturer's and driver's championship. Surely that is a priceless bit of motorsports history.
-Carter