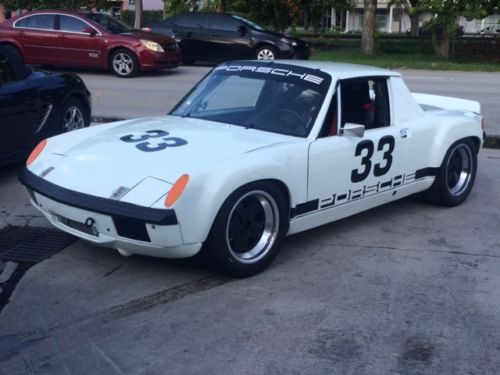 As I looked across the lawn at the Larz Anderson Auto Museum's German Car Day between a Porsche Cayman GT4 and the Porsche 914s that lined the row behind it, I couldn't help but feel that the diminutive design doesn't get enough credit from enthusiasts. Indeed the aura of the 911 is so thoroughly encompassing it overshadows nearly every other Porsche model conceived and constructed, but especially this seems to be true of the 1970s. During that time Porsche launched groundbreaking models like the 924 and 928; generally, both very unappreciated compared to the air-cooled siblings. But the 914 seems nearly forgotten despite its similar engine behind the driver and atmospheric cooling setup. Why? Well, it's not the prettiest Porsche design, it's true – but presented properly it is still quite neat. The neatest of the bunch are probably the original, fat-flared 914-6 GT models. Ready to blow your mind? Fresh off their somewhat surprising and unlikely victory at Le Mans yesterday, I thought it would be nice to take a look at a 914-6 GT replica, because 46 years ago Porsche themselves entered such a car at the 24 hour endurance race. Now, 1970 is probably a lot more memorable for Porsche because it was the famous red Salzburg 917K Attwood/Hermann that took overall victory. You might remember the 1970 race for being the basis of the Steve McQueen movie that was appropriately named, too. But what was perhaps the most amazing thing about that race was who finished 5th overall. Following the 917K and the 917LH along with two Ferrari 512Ss was that Porsche 914-6 GT, some three laps ahead of a 911S. How's that for something to put on your resume?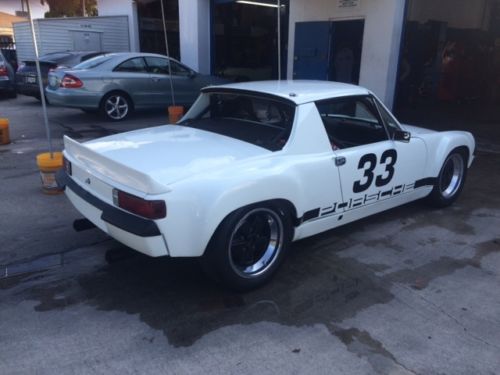 Year: 1973
Model: 914-6
Engine: 2.5 liter flat-6
Transmission: 5-speed manual
Mileage: Not Listed
Price: No Reserve Auction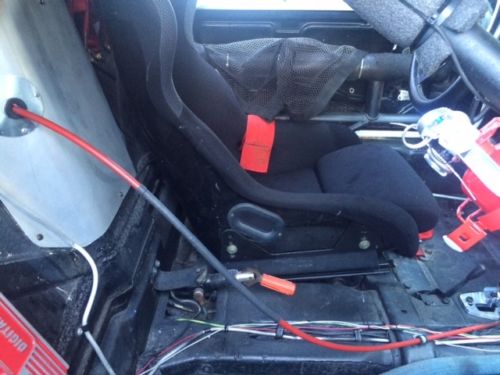 It is very important that you let this ad load fully. We have over 50 photos of this vehicle which show up underneath the text description and if you start to click or move around before they load… you will miss out on all the photos. Please be patient… it is worth the wait.

Remember, you can call Danny at 954-632-0000 with any questions. Please try to call between 9am and 9pm EST.

THE VITALS

This is a 1973 914 and was sold new in Miami, FL. It lived its whole life in FL. The passenger and rear trunk floors are original and very nice. The car was built and maintained by HSR champions 901 Shop of Stuart, FL. Built to 914-6 GT specs, the engine is a period-correct 2.5L long-stroke torque-monster with 906 cams, Mahle pistons, Pauter rods, PMO carbs, trick heads and twin-plug MSD ignition making nearly 300hp. The gearbox is also custom-built. It is a 9/11 transmission from the 1971-only 911s, which uses the 901 shift pattern, but has the big clutch assembly of the 915! It is custom geared and has a Quaif LSD driving 930 turbo axles. The car weighs only 1948lbs wet. The chassis has an expertly-welded, extensive safety cage and is stiffened and reinforced at all the right places. It has a large Halon fire suppression system. The fuel cell is large for endurance races. The front and rear deck lids are fiberglass as well as the flares. The suspension is full RSR coilovers with custom-valved Bilsteins and big brakes. The engine alone was about $50k. It has been corner-balanced, is extremely aerodynamic, and is an absolute blast to drive! There aren't many 911s in the US that will beat this car! It is well-sorted, super clean in, out and under, perfectly balanced, very reliable and extremely fast! I have never had a DNF in this car due to anything mechanical. THIS is the one you want. The VIN shows serial number as 4732920564. Engine runs perfect and transmission shifts perfectly. It starts up on first shot. I have a valid title for this vehicle. This vehicle is located in my climate controlled warehouse in South Florida. I am an avid Porsche collector and I am only selling this one to make room for a new addition. It was sold by the original owner in 1990 to the second owner who sold it to me in 2015. The car was in storage for many years until I purchased it in 2015. I made it ready for the track. I did the following: I replaced the brake master cylinder, rebuilt all the calipers, replaced all the brake hoses, installed new tires, adjusted the valves, installed a new fuel pump, installed new fuel tank foam, installed a new battery, replaced all fluids, and replaced the spark plugs. The car will need a new window net and seatbelts in order to pass tech. It is ready for you to enjoy.

Remember, you can call Danny at 954-632-0000 with any questions. Please try to call between 9am and 9pm EST.

FEEL COMFORTABLE BUYING FROM US !!!

I have taken many photos of this beautiful vehicle. I take so many photos because it allows me to show you how nice the car is and let's you have a true virtual tour of the vehicle. This allows you to feel comfortable buying a vehicle from far away and let's you rest easy knowing that we do not hide anything from you. The vehicle will be exactly as we say it is and that is why we have 100% positive feedback – EVERYONE LOVES DEALING WITH US !!!

Remember, you can call Danny at 954-632-0000 with any questions. Please try to call between 9am and 9pm EST.

You will love this vehicle !!!

Enjoy the Photos !!

Good Luck and Happy Bidding !!

IMPORTANT – TERMS OF SALE !!!

We reserve the right to end this auction early. The vehicle is advertised not just on ebay. People do live local to us and come to see the vehicle and make offers. People call us on the phone and make us offers. Please understand that while this is a no reserve auction and the high bidder at the end will be the winner, most auctions do not make it to the end as we usually get made an acceptable offer prior to that happening… so please call us if you don't want to take that chance. Remember, you can call Danny at 954-632-0000 with any questions or to make an offer. Please try to call between 9am and 9pm EST.

IMPORTANT – TERMS OF SALE !!!

Buyer pays shipping. We can help with some phone numbers for shippers, but will not hire them for you. Buyer must provide at least a $500 deposit via Paypal, bank wire transfer, or bank cashiers check within 24 hours of auction end and balance must be paid by bank wire transfer or bank cashiers check within 5 days thereafter. If Paypal is used for deposit… it will only be considered a holding deposit but not as actual funds. The entire balance must be paid by bank wire or bank cashiers check and the paypal deposit will be refunded. Paypal is just a convenience feature and not considered an actual source of real money to us. If you do not agree with this… do not use them or do not bid. Vehicle will be released to shipper or to you ONLY after funds have cleared or have been verified. Deposit is non-refundable.

Remember, you can call Danny at 954-632-0000 with any questions. Please try to call between 9am and 9pm EST.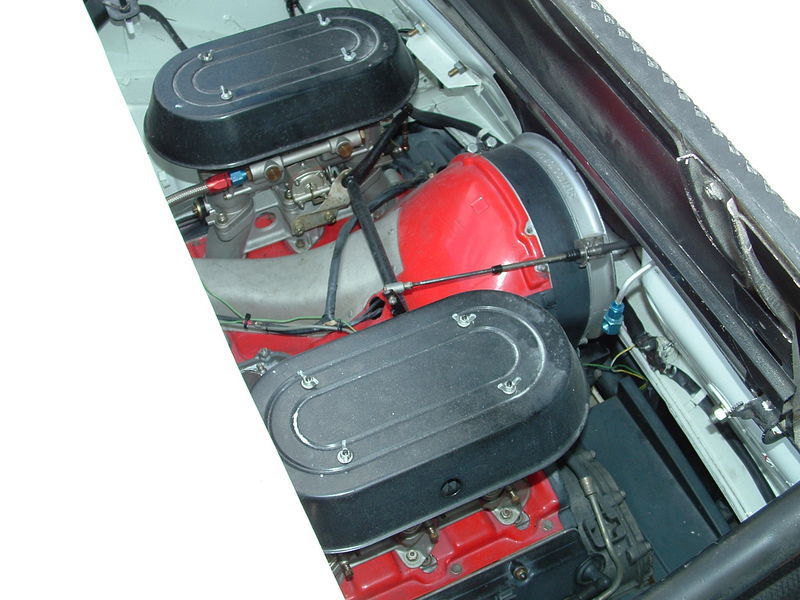 The appearance of this 914 mimics that 1970 racer in many ways with a similar color scheme and great looking Fuchs wheels. The build looks pretty thorough overall and the car shows well despite the general lack of detailed photographs. But the kicker is where bidding lies on the no reserve auction; at time of writing, with about two and a half days remaining, at only $15,600. Whether the auction will be seen through to its conclusion remains to be seen, but you certainly couldn't replicate this package for anywhere close to that amount. If you love classic air-cooled Porsches and have been priced out of the market, the 914 may be your last option – and one that is track ready and upgraded like this one will give you the thrills of Steve McQueen without the chill to your bank account.
-Carter