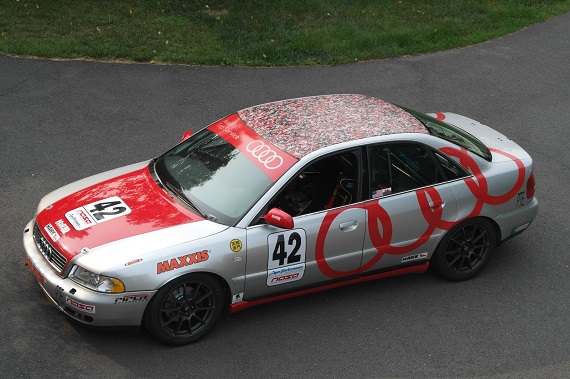 They have a reputation for being a bit heavy, underpowered and prone to understeer – all things that make track enthusiasts cringe. But let's not forget that the B5 Audi A4 carried on a proud tradition of successful touring cars; it was entered into nearly every series and notably won a few championships – the '95 and '96 Italian Superturismo Championship and the '96 British Touring Car Championship, besting the popular favorites BMW and Alfa-Romeo. Such was the continued dominance of the quattro drive system that in every successive championship the Audis were entered in, they were eventually banned from the series. But the resurgence of Audi to the forefront of Touring Cars proved to be a boost for sales of the popular B5 chassis, making it an instant favorite amongst fans who traveled to the track. While Audi changed priorities in the later '90s from the BTCC and ITC, there were nonetheless several teams who ran examples of the A4, notably in the "World Challenge" sanctioned by SCCA. With liveries inspired by the classic A4 Super Touring, the more production-based A4 World Challenge gained mostly safety equipment and competed in the lower "Touring" class against the likes of the Acura Integra and BMW 325i, while after 2001 the S4 was introduced to run with the big boys. While not nearly as fast or special as the STW A4s which carry unique Audi Sport chassis numbers, an example of these lesser A4s captures the look at a fraction of the price: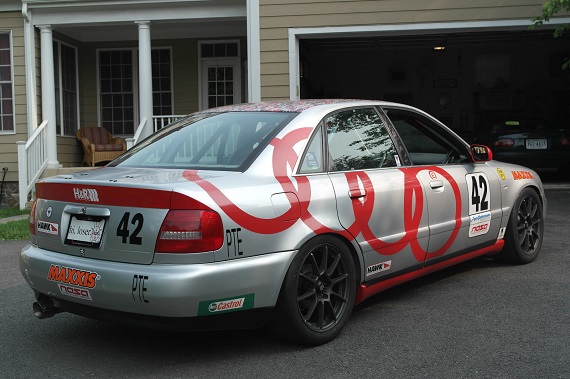 Year: 2000
Model: A4 2.8 quattro
Engine: 2.8 liter V6
Transmission: 5-speed manual
Mileage: 12,000
Price: No Reserve Auction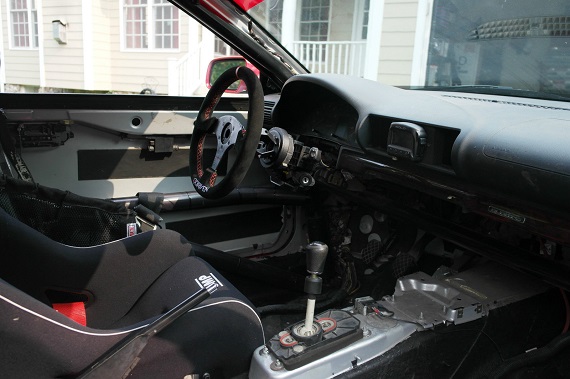 I bought this car early this year with the intent of returning it to its former glory and racing this summer. Due to circumstances beyond my control, I will not be able to race it this year, so have made the decision to sell. I will do my best to describe it in its entirety, but welcome any questions, inspections, etc. Please check my feedback; I have never had a negative response!

The car is an AWD 2000 Audi A4 Quattro. It has the 2.8 V6, 30 valve normally aspirated engine. I purchased it on eBay from Nevada; there is absolutely no rust on the car anywhere. I have had a tough time finding history on the car, as the previous seller never raced it. It did have a NASA US Touring Car Championship windshield banner on it, as well as five NASA "Race Winner" decals. It did not come with a logbook, but having raced for 25+ years, it will have no problem getting one (depending on series you want to race in). I built the car to run in either NASA PTE or GTS1 class, but I'm sure there are other places as well.

The car is in excellent condition, and race ready. I had it on the AWD dyno a few weeks ago, and it has 142 WHP and 182 foot pounds of torque. Remember, all wheel drive loses a bit more HP through drive train. Motor runs VERY strong. Sounded incredible. Dyno sheets will be included with sale. I ran a CarFax on the VIN when I bought it, and it was sold to a race team from new. The odometer shows 12,000+ miles, which are likely original; but I have no way to prove that. The body is excellent, rust-free and straight. There are a few minor dings, which could be removed by a Dent Wizard if so desired. I was quoted $300 to have it completed, but never got around to it. But I am picky. For a race car, it is really clean when compared to most.

Beside what I paid for the car when purchased, including having it trucked from Nevada, here is a list of what I have done. Keep in mind, everything I purchased is BRAND NEW, and has never seen the track. I have noted the new components below with (BN) flags. I am not interest in parting the car, nor am I looking for trades. It will go to the highest bidder. Car is sold on a bill of sale only.

Car

Four (4) Sparco Assetto (OZ) wheels, 17 x7.5 (BN)
Four (4) Maxxis RC-1 tires, 225/45-R17 (BN)
Wheels studs
New rotors on all four corners, drilled slotted in front, solid in rear (BN)
Hawk Blue front pads, Stoptech Street Performance rear pads (BN)
3″straight exhaust
H&R coilovers, 685 pounds springs front, 605 pound springs rear (BN)
Cold air intake
Sparco tow strap (BN)
New windshield (BN)
Motul RBF 600 brake fluid, just flushed (BN)
Castro 0-40W full synthetic motor oil (BN)
Just flushed cooling system and refilled with distilled water and Redline Water Wetter
Four (4) Ronal LZ two piece wheels with old tires

Interior and Safety

Fully welded six point cage, 1.75″ tubing, full diagonal support behind driver. Also has roof bar
Required kill switch
Longacre 14″ wide angle mirror (BN)
All spec 45.1 roll bar padding (BN)
G-Force mesh window net (BN)
OMP RS-PT2 full containment race seat (BN)
OMP fixed seat mount brackets (BN)
Driven 12.9″ suede steering wheel (BN)
OMP steering wheel hub (BN)
LTB quick release unit for steering wheel (BN)
OMB 802HF HANS compatible harness with camlock. Dated through 2020 (BN)
2.5 pound sodium dry powder handheld fire extinguisher

Not Included in Sale

AIM lap timer
Drink bottle and bracket
Transponder

If you do the math, the price of the new components is probably not far off of where I have started the bidding. Not too mention all of the time and effort I have put into the car in the last few months. Wish I could keep it, but not in the cards for me right now. Other than bedding in the new brakes and getting a new logbook, the car is ready to take to the track today. Questions and/or inspections welcomed. You will not be disappointed!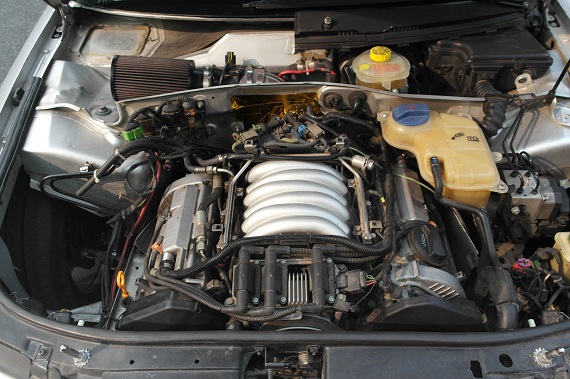 The current seller has undergone many upgrades to bring the car up to date and ready for the track, and he's likely correct that if you add up his investment alone you'd be at the starting price. From that perspective, and if it remained close to it's current bid, it's one heck of a deal. It would take quite a devoted Audi fan to want such a car, though – the V6 is grunty but even stripped out the A4 is still pretty hefty. You could remedy that with a supercharger; PES makes a system and having spent some time on track with a supercharged 90 quattro, it can be an impressive combination. This car looks like a really solid basis for a track-only candidate that would always draw attention even if it wasn't the fastest car on track, and with bidding quite low at $7,000 it's less money than some people spend modifying their road cars to head to the track. Plus, it looks awesome and it's a bit different than the normal track candidate; something I'm always seeking out. If the car stays below $9,000 – which it likely will if it gets many bids – it would be one stellar deal for an Audi track addict.
-Carter