Before the Audi got the A1-8 nomenclature going strong, their non-sequential nomenclatures were a little more confusing, but the cars were no less awesome for their day. The V8 eventually became the A8, but still was a big ol' sedan with a stout 3.6L V8 with 250hp and Quattro all-wheel drive. Not up to today's monster-horsepower standards, but was good for the day. Today's example has 146k miles on the clock and looks clean inside and out. With a no-reserve auction, this could be a cheap way into some big German luxury.
1990 Audi V8 Quattro for sale on eBay with no reserve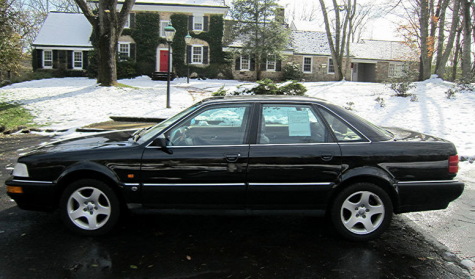 An enthusiastic but straight-forward description from the seller:
Now here is a rare one. Just traded, here is a 1990 Audi V-8 Quattro and this one will amaze you. Right off the get go I'm gonna tell you that you won't find a better running or better looking Audi regardless of the year. Mechanically you can't fault the car for anything whatsoever as the V8 motor is quiet and dry, the automatic shifts perfectly, there are no puddles under the car and this one is as comfortable going down the road as you could want. Tight as a drum, no squeaks or rattles and tracks straight as a die. The odometer reads 146k and the title reads exempt by federal law as the car is over 10 years old. The body doesn't have a dent of any consequence and there isn't a speck of rust anywhere either on it or under it and the original black paint is in excellent shape and this car has not been buffed or waxed and it still looks fantastic. All the buttons work except the drivers side rear window but the window motor is fine as it tries hard but the window is taped in the up position and if that stops you from bidding on this one, shame on you. The interior has never seen a cigarette so there are no bad smells and the genuine leather seats should by all rights be cracked or split but that is not the case here as the leather is in beautiful condition with no rips or tears, a fresh and clean dash, carpets and headliner and a trunk that looks un used. If you were looking for a car that will offer all the luxury of a much later model and you didn't want to pay a ton of money for a luxury sedan, here is a car that will always be worth whatever you pay for it now as long as you maintain it the way the original owner did and this one will be sold with no reserve so thanks for looking and good luck with the auction.
Cleanliness and reasonable miles make this a nice car. A no-reserve auction makes this a potential steal. Sitting just over $1k with 2 bids and 3 days left, someone could be looking good for less than 10% of this car's sticker price. Anything less than $5k and I think the buyer will be very happy.
-NR