I've always found it interesting that certain cars at the top of the BMW chain never get the attention they quite deserve. The BMW M1 is an obscure supercar recognizable only to the more astute car enthusiasts. The Z8 roadster, even though it harkened back to the BMW 507 of the 1950s and starred in a James Bond movie, got a lukewarm reception. And so it goes for the top of the line coupe for the 1990s, the 8 series. Developed as a replacement for the beloved E24 6 series coupe, the 8 series never quite caught on, even though it was the first road car to offer a V12 engine mated to a 6 speed manual.
Midway through the model's lifetime, BMW offered a more sporting version, the 850CSi. They stopped short of calling it the M8, however, one special M8 prototype was produced. Still, the CSi's engine was breathed on by BMW Motorsport and cranked out 375 horsepower. Even though the 8 series lasted into 1999, CSi production spanned four years, from 1992 until 1996, when the modified S70 V12 was phased out due to ever tightening emissions regulations.
Here is a unique example of one of the few CSi models to make it to the US.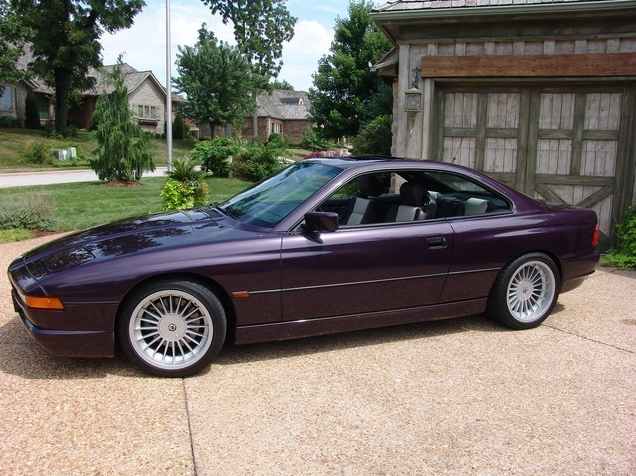 Special Ordered Daytona Violet with Custom Fitted Lotus White/Violet Leather! Makes This Car Perhaps "One of One" out of only 225 CSi's Imported! Very Well Equipped with:

Alpina Custom 18″ Wheels
5.6 Liter V-12 Engine with 375 HP
ABS Braking System w/Vented Front Discs
6-Speed Manual Transmission
Limited Slip Differential
Driver & Passenger Side Air Bags
Motor Sport Calibrated Suspension
Power Sunroof
AM/FM Cassette with 6 Disc Changer
Heated Steering Wheel

All Books, Records, Window Sticker and Receipts. Passed 100 Point Inspection & Service! Own The Only One! What a Machine!!!

VIN: WBSEG9321SCD00162
This is certainly a vehicle for the serious collector, or for the all things BMW enthusiast. While few CSi models saw US soil, it's hard to get an accurate read on what the values are, as few are regularly sold. The last one I saw wound up selling in the mid $40k range, and this is priced well above that. It is a one of one, but that said, some may find this particular color a little on the vulgar side. I kind of have a love/hate thing going on with this color combination. I want to like it, but something just tells me "no." That said, it's a wonderful example of a truly underappreciated BMW.
-Paul