The deal has been arranged, and I will be picking up my E28 M5 in less than 3 weeks. I can hardly contain myself. The fun part is that now, as opposed to longingly comparing the pros and cons of different examples out there across the interwebs, I get to compare them against my example!
Today's eBay auction is for a clean example with just 120k miles. Most notably, it has Fittipaldi 5-spokes that are somehow almost too 80s for this car, and a full black-interior conversion from the usual Natur. Allegedly running smoothly and functioning across the board, this no-reserve auction is a great chance to get in on an M5 for cheap. Bidding has been accordingly hot, with 20 bids so far. The price is still at just over $5k though, at least $4k less than what this car could potentially get. With a day and a half left and no threshold to cross, this M5 could be a certifiable bargain.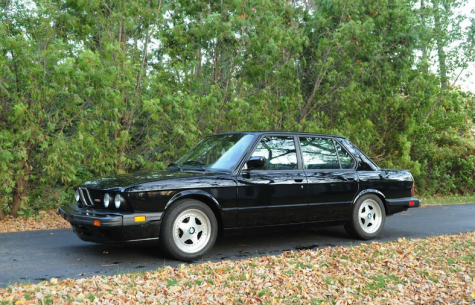 From the seller:
This particularly example has become available as the current owner will be taking a delivery of a new BMW 1-Series M. Below is a detailed description of this M5's different aspects:

Exterior: The paint on this M5 shines beautiful and the exterior is in very nice condition overall. The front previously received some prior body work that involved replacement of the driver's side front fender and hood. There was no frame or structural damage and previous owner had the work done professionally to a good standard. The exterior is fitted with expensive and period-correct lightweight 3-piece Fittipaldi wheels that have newer Pirelli PZero Nero tires mounted on them, which give the car an aggressive and stunning appearance.

Interior: A previous owner did a full interior color conversion of the seats, door panels, and console from Natur (tan) to Schwarz (black), which gives the car a very sporting appearance. The dash has been covered with a dash cap that has an aesthetically pleasing appearance. All interior switches and electrical items are functional.

Engine: The engine idles smoothly and provides the thrilling pull the S38 B35 inline 6-cylinder engine is known for. The engine runs very cleaned as evidenced by its ability to pass CA smog in May of 2011 perfectly. This M5 had a stainless steel cat-back performance exhaust system installed by a previous owner, which produces an enthusiastic exhaust note. The a/c belt was removed by the previous owner as he considered a/c to be unnecessary in California's coastal temperate climate. Fortunately, the remainder of the a/c system is fully intact and has never been converted to the less effective R134a refrigerant. The engine oil and filter has recently been changed.

Transmission: The transmission shifts tightly and is quiet. A new clutch master cylinder was installed less than 2 months ago.

Brakes, Steering and Suspension: This M5 has Bilstein suspension and upgraded brakes from a 7 series BMW. The front brakes were recently replaced and no known repairs are needed at this time.

Summary: This 1988 BMW M5 will be incredible value for a BMW enthusiast who understands that it is prudent to purchase a vintage M5 that has been owned and cared-for by BMW enthusiasts instead of a neglected and tired project car. This M5 should easily pass any rational pre-purchase inspection with flying colors. Please note that only the following items will be included with the car:

· Trunk tool kit
· Owner's manual set albeit with service manual missing
· Two sets of keys
Getting a 1M isn't the worst reason I've heard for selling an 80s classic, but I'd still take the M5. Someone jump on this and hopefully get a great deal!
-NR