It takes something special to draw attention to a Mk1 Rabbit Diesel. Known for utility and Prius-shaming mileage more than outright desirability, they are usually overlooked in favor of the legendary GTI. Today's example though caught my eye immediately with its SoCal look, clean tan exterior, roof-rack, and awesome 16-inch steelies. In addition to the If you're looking for an awesome and efficient cruiser that would be a great fit at VW show, this could be a great opportunity to take advantage of a no-reserve auction.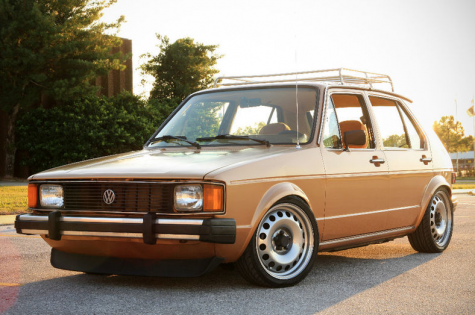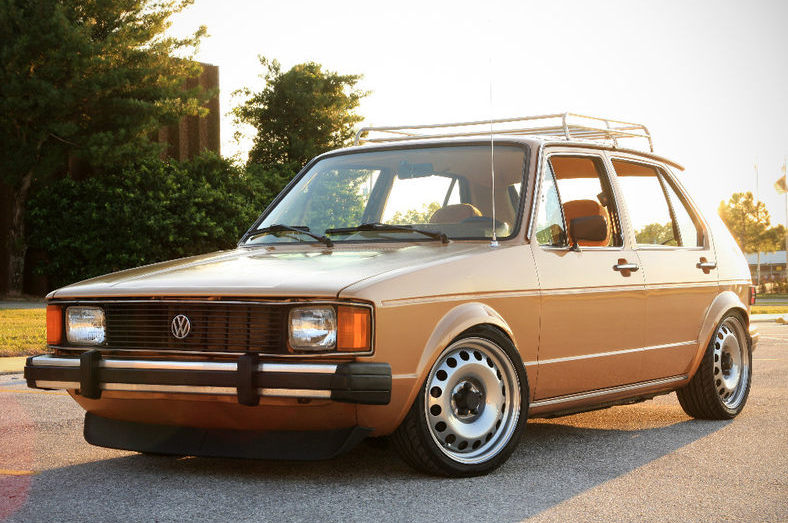 Seller's summary and extensive list:
Up for auction is my 1982 Volkswagen Rabbit LS Diesel. 4 door, 4 speed, 82k miles. Non-A/C, non-sunroof. I purchased the car about a year ago as a project. The car was running and being driven on a daily basis by the previous owner. Shortly after buying the car I began replacing nearly everything in order to make it safe. Please keep in mind that if you're in the market for an early watercooled Volkswagen, expect to replace most or all of the braking and suspension components is common.

I know little on the history of that car other than it has a clear Florida title. I believe it may have lived in Wisconsin at some point in its life because there's still a Milwaukee Police sticker in the back window. The car is 99% rust free, with the only exception being a small spot on the passenger side front fender. The car originally had fender flares and it appears as though the elements made their way behind one. Other than that the car is completely solid with no perforations. The interior is original and in excellent condition considering its age (probably an 8/10). It was detailed about two months ago, but the carpet could use another shampooing. I'm not exactly sure what the toggle switch is for on the passenger side dash panel, but I assume it's related to the "vintage" 80's alarm system the car had.

The only potential negative is that the car may have been in a low-speed fender bender at some point. There is some light wrinkling on the passenger fender and core support. Good news is this is the same fender with the small rust spot … easy replacement. Frame horns have been measured and are true. The hood was also replaced and the re-spray on it was a cheapo job. I high speed polished it, but it's luster is not equal to the rest of the car. With the exception of the hood, the rest of the paint is 100% original! It has recently been clay-barred, high-speed polished, and sealed. Other than that the car is electrically sound and 100% ready for the road.

This project has been a labor of love for the last year. It's an absolute blast to drive, but it's time to move on … other projects wait. I've always been an early Watercooled Volkswagen enthusiast and have owned several of these cars. The new owner will not be disappointed! Other than a few cosmetics, this car is done. Complete if you desire, or start taking it to VW shows and enjoy.

The following is a list of the work I've performed on the car in the last 500 miles:

Basic Maintenance
– Timing Belt
– Water Pump
– Head Gasket (block was inspected for cracks, head checked for trueness)
– Early Scirocco radiator
– New G12 coolant
– Oil change (Shell Rotella T6 5W-40)
– Remanufactured Bosch Alternator
– Rebuilt Vacuum Pump
– Front brake Pads & Rotors
– Rear brake Drums & Shoes
– Rear brake cylinders
– New ATE Super Blue brake fluid
– Front & rear wheel bearings
– All new rubber brake lines
– Majority of hard lines are new as well
– Clutch cable
– Mk2 Inner Tie Rods
– Mk2 Tie Rod ends
– Control Arms
– New drivers side seat bottom foam
– OEM drivers side passive restraint seat belt
– New rear hatch seal
– New rear tray upholstery
– 3 New Bosch Icon wiper blades
– 2 New FLAG mirrors
– Suspension alignment

Aftermarket/Performance items
– Early Scirocco steering wheel
– Techtonics 2¼ exhaust
– New Rokkor height adjustable Coilovers (3-year warranty)
– Front & Rear hubs/rotors/drums have been re-drilled to accept both 4×100 & 5×100
– Mk3 front knuckles, calipers, & 10.1" vented rotors
– OEM GTI Front & Rear sway bars
– Full Prothane Urethane bushing kit
– 16×6.5 New Beetle Steel Wheels (new silver-chrome powdercoat)
– 4 New Yokohama S-Drive Tires (195/40/16)
– New early dust cap and lug covers
– Tucked Front & Rear bumpers
– European GTI deep duckbill front spoiler
He's not kidding when he says this has been a labor of love. Other than a few blemishes, the car looks truly great. The no-reserve auction is already moving with 10 bids pushing the price over $2k. With that kind of interest, I wouldn't be surprised to see this oil-burner move into the high-single-digit thousands. It's unique look is not subtle, but it's not outrageous either. A lot of hard work has been put into making this Rabbit jump, and from a practical side, it has literally hundreds of thousands of miles left on the engine!
-NR