Patience is a virtue, and I'm finally meeting the M5 (and owner) I found a few months ago. At this point, I've read the entirety of the boards at mye28.com, watched any M5-related youtube video, and planned for every possible scenario upon seeing the car. So, while I try to contain my excitement, I can't help but check out the rest of the E28 M5 market. Today's example is for sale for roughly twice what my prospect is, but it's about as clean as they come.
The seller is the 2nd owner, but only bought it a few months ago as yet another toy and has decided it's so nice that it probably belongs with someone who will appreciate it more. He's priced it just under $24k which is about as high as I've seen an E28, so if anyone goes for that price, they're certainly going to appreciate it.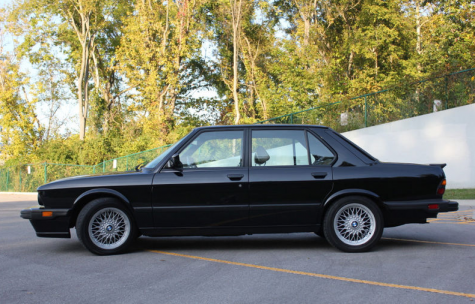 From the seller:
I bought this M5 from the original owner just a few months ago. I bought it on a whim, and regretfully it's has spent most of the past few months in my garage. It is my 4th car, and it's so clean, with such low miles I almost feel bad driving it. On the other hand, when I do drive it….I don't want to stop!

This is one of the cleanest, nicest, and best documented ORIGINAL Un-Restored E28 M5s out there! It drives like an absolute DREAM! No noises, no squeaks, no rattles, everything works perfectly with the exception of the electric headrests. That is literally the only thing that does not work. It is 100% bone stock! I have a list of some of the highlights that can be hard to find on an E28 M5…

Original Crack Free dash with VIN plate
Original Factory Radio with 6CD changer and ALL books including radio code card
Original Window sticker with ALL books and receipts
Original Car Cover that was purchased at the dealership when new
All original interior, which is in VERY nice condition
All original glass including windshield
All original paint with the exception of some paint done to the rear 15years ago

This E28 M5 is truly a survivor and drives just like it did the day it was new. It is so smooth, quiet, tight, and strong…it's really amazing. There is not a spot of rust on the car anywhere! Always garage kept. Always dealer maintained. Literally stock in everyway. Still has the rear leveling suspension, which works exactly as it should. All gauges, lights, buttons, and levers work perfectly. The AC blows VERY cold. It was, however, converted to R134a some time ago.

This M5 is every bit as clean in person as it appears in the pictures. If you've ever driven one of these…this one drives better! The brakes, tires, plugs, and air filter were all replaced within the last year. This M5 is ready to go with no needs at all!!!

There are only a few blemishes and items that I would like to point out. There are a few paint blemishes here and there, with the largest one shown in a picture below. It is on the driver's side front fender. It has been touched up, and with a fresh coat of wax on it, it really doesn't look too bad. There are blemishes are a few paint chips here and there, but NOTHING like a 23yr old car would typically have. The paint is VERY glossy, not faded at all, no clear coat issues, ect. I would rate the paint a 9.5 out of 10. The front air dam was just recently repainted only because it was showing it age much more than the rest of the car with a few small scrapes. Now it looks perfect.

The interior is a solid 9 out of 10. It is all original with the exception of the shift knob and boot, but I DO have the original, which will go with the car. The only major wear is on the driver's seat. The interior has always had Lexol used on it. Very, very nice. Soft leather, not stiff or crunchy in any way.

As I stated before, mechanically it is a 10 out of 10. The only issue that I can think of is that one of the trunk hinges in un-hinged so the spring assist to open the trunk is not what it should be. The trunk still stays open by itself when lifted all the way up, as it should. Not a real issue, but I am a very fair an honest person so I am listing everything that I can think of.
The myE28.com crew raised a few questions about it, including the scratches and cracked front bumper, but the resident BMW historian/VIN-investigator says it's a great example with a rare stereo option. It does appear to be close to the cream of the crop inside and out, but I wouldn't give it a 10 out of 10 anywhere, mechanical notwithstanding. As such, even with that much originality and appealingly low mileage, I think $24k is a bit high, with $18-20k being my non-professional appraisal.
-NR