Warning!
This post is in our archives. Links in this post may have been updated to point to similar cars available to bid on eBay.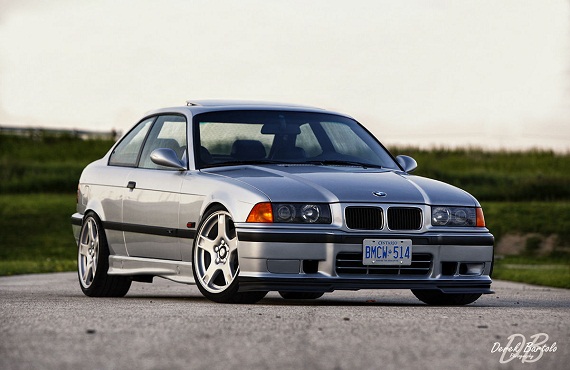 The E30 before it, the E36 chassis BMW quickly became a fan-favorite for affordable, practical, and sporting German motoring. From nearly its inception I can recall tuned and tweaked models showing up at the track. Relatively easy engine swaps, a plethora of aftermarket tuner and support and with a ton of them produced, it's easy to see why the E36 is a popular choice for enthusiasts. That said, we've seen just about every conceivable swap completed and nearly every permutation of E36 cross these pages; but once in a while, one really stands out. Or, in this case, two: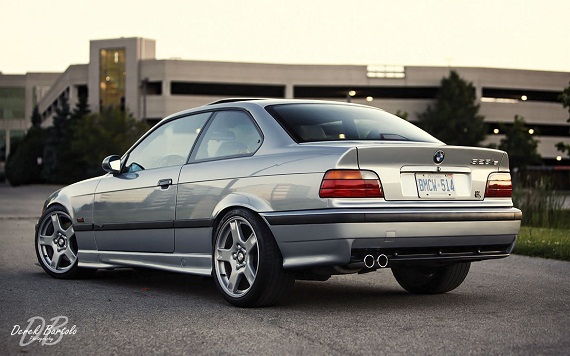 Year: 1996
Model: 328is
Engine: 3.2 liter inline-6
Transmission: 6-speed manual
Mileage: "300,000" mi
Price: $30,000 Buy It Now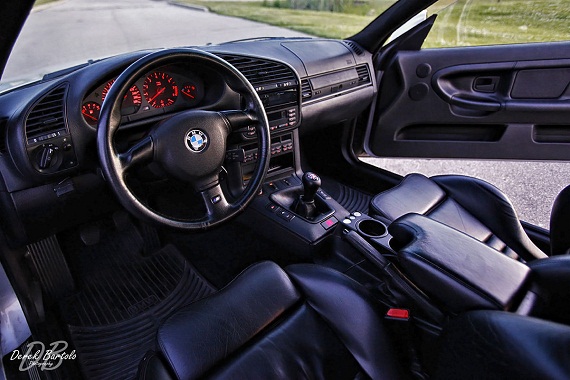 For sale is my extremely unique and customized, one of a kind E36. You are basically looking at an E36 version of the illustrious M3 CSL as if BMW made this car from the factory to be the ultimate driver's car.

This car needs absolutely nothing. It's a car that's been built over the last four years with the utmost attention to detail and only the highest quality parts. I don't believe in cutting corners. I do things once and do them right. This car is a testament to that.

Every body panel on the car still has original paint, NO rust or damage of any kind whatsoever. The front/rear bumpers have been refinished for cosmetic reasons. it was also replaced couple years ago when i ran over a road debris in PA. Damage Pictures Available. I have driven this car from Toronto to California and it never skipped a beat. It is both ridiculous quick and comfortable. Both the body and mechanical aspects of this car are absolutely pristine.

You will NOT find another E36 of this caliber or quality, I can assure you.

The S54 engine has about 100,000 KM / 60000 Miles. Rod bearings were replaced less than 5,000km ago. The car made 357R WHP on the dyno and feels visceral and primal when driven spiritedly, it is truly an exceptional driving experience.

Below is a list of the extensive upgrades:

Engine/Drivetrain

Retrofitted S54B32 (E46 M3 engine)
MS54HP CSL Clone ECU
E46+E36 Engine harness FULLY integrated as if it was OEM from BMW. No piggybacks/splicing.
ECU tuned by Frank Smith (one of the premier BMW tuners in the country)
LS3 Map Sensor
Fabricated Rail for Map Sensor
10lbs Lightweight Aluminum Flywheel
Heavy Duty Stage 2 Clutch
TMS Race Pulleys
Motorsport 55°c Thermostat
Fan Delete with 80°c Switch
Supersprint EURO Race mid section
Supersprint Catback
Custom Headers
Karbonis CSL airbox
Schrick 288/280 Cams
DLC Coated Cam followers
8″—>6″ Aluminum Reducer
Fog Duct to feed lower intake hole
Euro Coolant Reservoir Relocation
E46 M3 6-Speed Gearbox
Medium Case 3.91 Limited Slip Differential
Walbro 255 Fuel Pump

Suspension
M3 Rear Subframe With Reinforcement Plates
AKG Diff/Subframe (Polyurethane 95A)
Bilstien PSS9 coilovers
25.5mm Front Sway Bar.
Reinforced RTAB pockets
RTAB limiters with OE bushings
19MM rear sway Bar
OEM X-Brace

Brakes/Wheels
Corvette C5 18×9.5 Square (19.8lbs each, very light and strong)
F 245/35/18 Federal RSR
R 255/35/18 Michelin Pilot Supersports
Full E36 M3 Brakes
E36 M3 Master Cylinder

Body /Wheels
Original Paint.
Original Body Panels. All body panels have the VIN stickers on them.
Full OEM M-Technik Kit. No replica parts.
Reiger Front Lip
New ZKW Headlights
Retrofitted Euro Headlight Vertical Aim Control
Original AC Schnitzer Sport mirrors

Interior/Audio
EURO M3 Cluster in Metric Units
M-Technik Sport Steering Wheel
Full Black Leather Interior
Alcantara headliner/Carpet conversion
MINT M3 Black Vader seats with EXTENDED Leather Door Cards (rare option)
Pioneer DEH-80PRS (Full Active)
Focal 5 1/4 Utopia
Focal TNB tweeters
JL Audio 10″ Stealth Boxes with Peerless 830667 subwoofers
Alpine PDX 4.150 Amplifier
Retrofitted Auto dim rearview mirrors with Functional alarm LED

I am NOT interested in any trades. Thank you for viewing.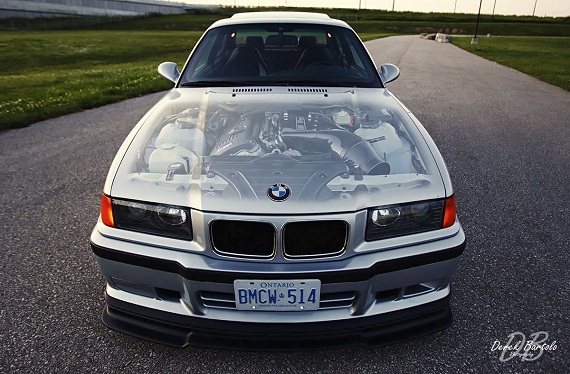 A popular wheel of choice in the Volkswagen world, I have to say that this is the first time I've seen Corvette wheels adorn an E36. And while normally my reaction to those wheels on VWs is "Gah!", I have to say that they don't look horrible in this application. It definitely helps the car stand apart from what otherwise would appear to be an E36 M3 coupe – except, it isn't. It's a 328is at its heart, but with just about every conceivable M3 part attached. It does make you wonder – if only a bit – why they didn't just start with a M3. Regardless, under the hood is where this car really sets itself fully apart, with a tuned version of the S54 where a M50 would normally hide. That's good for a reported 357 rear wheel horsepower; a healthy increase over the stock motor – though I think I'd like to see the dyno sheet. That equates to roughly 430 crank horsepower – about 100 more than a stock S54. That seems improbable with just an engine remap considering the S54 was already at the edge of what it could produce and still be streetable. Mated to that S54 is the E36 6-speed, and the rest of the upgrades are both tasteful and well executed from the look. But the package will cost you; at $30,000 "Buy It Now", this has to be the most expensive 328 for sale outside of a brand new one. Still, it's a unique package that appears sorted and well done – assemble all the parts yourself and you're not likely to beat that price.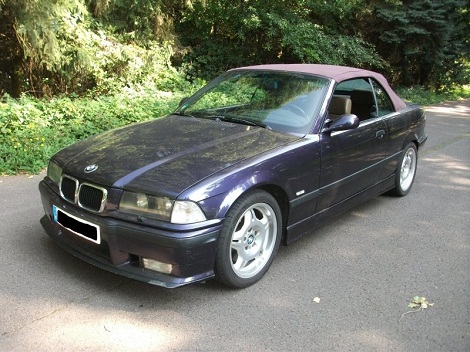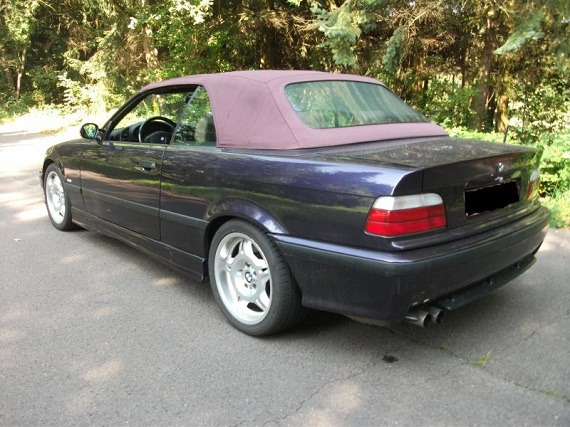 Year: 1997
Model: M3 Convertible
Engine: 3.2 liter inline-6
Transmission: 6-speed SMG semi-automatic
Mileage: 132,000 mi
Price: $24,000 Buy It Now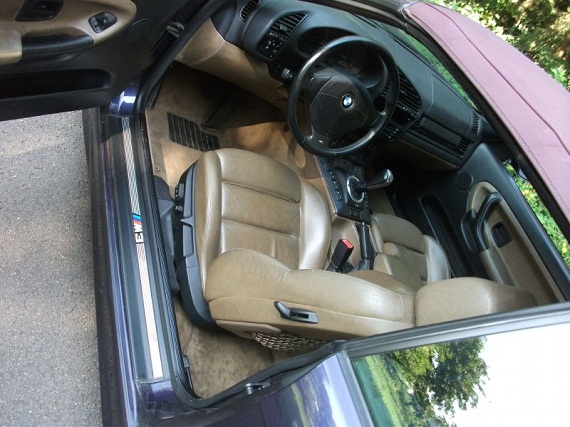 Kostenlose XXL Bilder bei TRIXUM.DE
For sale is a real Euro BMW E36 M3 SMG Convertible in 3.2 liters of genuine original condition with genuine 210000 KM ( miles 132000 ) and checkbook to end.
The car is described as full service history which is very rarely the case.
No maintenance jam, nothing On the Beat and absolutely rust free.
The car can be driven easily without first still have lots of money to invest.
He has almost full facilities and a beautiful individual interior with full leather door panels, center console; Glove box, center armrest. The technology is in a perfect condition and the engine and the SMG transmission work perfectly.
The car is in Germany and can be sent at a cost of §1500 to USA

To the standard equipment:

S209A differential lock 25%
S246A Manually adjust. steering column
S314A Door mirror / driver's lock, heated
S411A Window lifts, electric, front / rear
S440A non-smoker package
S481A Sports seat
S520A Fog lights
S542A Check Control
S548A kilometer-calibrated speedometer
S710a M leather steering wheel
S783A BMW light alloy double-spoke M wheel

Optional Equipment:

S243A Airbag for front passenger
S302A alarm system
S320A Deleted, model lettering
S354A Green windscreen, green shade ribbon
S380A Hardtop-preparation
S395A rollover protection system
S399A soft top, electromech. all-autom.
S423A Floor mats, velours
S428A Warning triangle and first aid kit
S458A Electr. front seat adjustment
S464A Ski bag
S473A Armrest front
S494A Seat heating driver / passenger
S498A Head rest, rear, Mechanically adjustable
S502A Headlight cleaning system
S510A Headlight aim control
S534A Automatic air conditioning
S540A Cruise control
S554A On-board computer V with remote control
S669A Radio BMW Business RDS ( not included )
S690A Cassette holder
S793 * sequential M-Transmission
S798A top magenta (Individual)
L801A National version Germany
S863A Retailer Directory Europe
S879A On-board vehicle literature German
S982A Hardtop ( not included )

For questions please send an email to: ac-m3-carparts@gmx.de !!!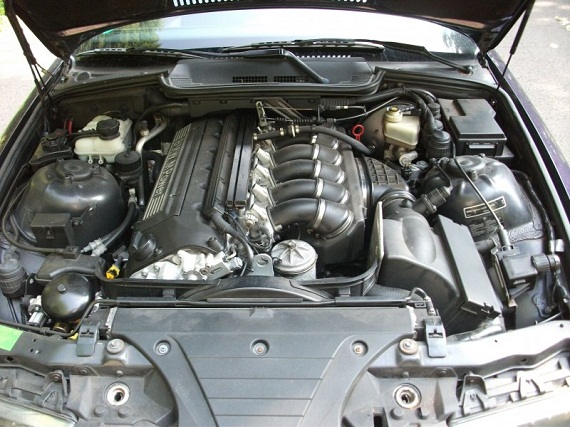 This is a pretty interesting car; the first release of the sequential SMG gearbox was available on European 3.2 M3s. There were around 1,700 left-hand drive convertibles produced, and around 1,300 of those were equipped with the SMG gearbox. Additionally, the European-spec S50B32 got quite a bit more punch than the U.S. engine thanks to 11.3:1 compression and double Vanos valve timing; it now produced 321 horsepower – very close to the S54 output. This car was additionally equipped with an individual magenta top and forged alloys seen on the M3 Lightweight. In Techno Violet, the convertible is particularly fetching and looks great with the tan interior – but I'm surprised for the serious asking price that the seller couldn't wash the car. You'll also be stuck trying to figure out how to import it legally 8 years before it can be, but for U.S. fans it's neat to dream of this package even if it's not ideal.
Were it my money, I think I'd probably take an E46 M3 and have enough left over for an Audi S8 – but if you don't want the norm, these two are pretty interesting E36 oddities.
-Carter