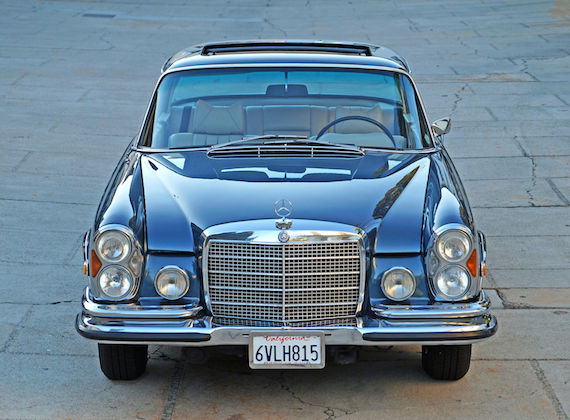 I was sitting at my local pub yesterday, watching football while winding down my weekend, when suddenly a glint of chrome across the block caught my eye. It was a W111 Mercedes-Benz Coupe. Sitting in the passengers seat, a dog stuck his head out the window as the car passed through the intersection, looking pleased with life. Wouldn't you be cruising around in such a classic? Besides a vintage British roadster, I can't think of anything better to enjoy these crisp fall days here on the East Coast than with a pillarless Mercedes-Benz coupe. This 280SE for sale in California was repainted about a decade ago, but wears a mostly original patina.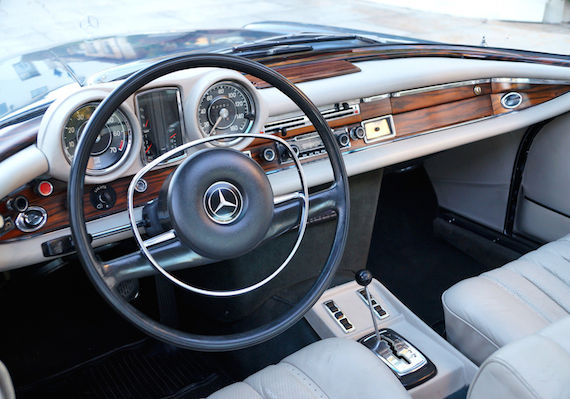 Year: 1971
Model: 280SE 3.5 Coupe
Engine: 3.5 liter V8
Transmission: 4-speed automatic
Mileage: 84,028 mi
Price: Reserve auction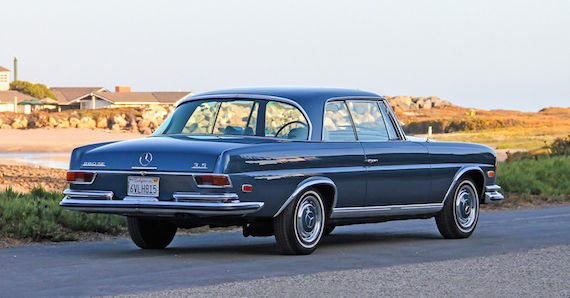 Offered for sale is a beautiful, rare and well-documented 1971 Mercedes 280SE 3.5 Coupe desirably optioned with a sunroof and floor shift transmission and finished in gorgeous, factory correct Blue Metallic (Color Code DB 387) over its original Parchment leather interior. Originally ordered and delivered new to the car's original owner in Germany, the car would followed him and his family when they emigrated to the Seattle area in 1975. In 1978 the car was sold to a Seattle based attorney and his wife, under whose care it would remain for the ensuing 34 years, until it was sold in 2012 to its current owner, a designer and businessman with homes in Beverly Hills, Palm Spring and Montecito. Throughout its 43 years of service and three owners, the car was always well looked after and enjoyed, resulting in the beautiful, largely original weekend driver offered here today.

Perpetually elegant while remaining undeniably masculine, the W111 "Heckflosse" (fintail) coupes are certainly one of the most beautiful and well-balanced cars Mercedes ever produced, epitomizing the mixture of graceful design lines and over-engineered, hand-built solidity for which the marque is renowned. Cloaked in rare and beautiful Blue Metallic, the car's body is free of any evidence of accidents or bondo and is entirely straight, with excellent, consistent panel fits and gaps. The second owner had the car repainted in its original color roughly 10 years ago and the finish remains clean and consistent, marred only by minor imperfections too insignificant to appear in any of the photographs. The glass, chrome and rubber are all in excellent original condition and the original color matched hub-capped wheels are wrapped in white-wall tires with plenty of remaining tread.

The car's interior is equally clean and very original, with the exception of the dash wood that runs across the bottom of the windshield, which has been refinished. The leather seats show a requisite amount of patina, the carpets are in fantastic original condition, the headliner and interior panels are excellent and the rest of the original wood trim is in great original condition. The car's power sunroof and all four windows function and the dash is fitted with a Becker Europa radio. The car is also fitted with a modern radio/CD/auxiliary unit in the console below the dash.

Mechanically the car is representative of Mercedes' legendary reputation for longevity and thorough engineering. The matching numbers engine starts easily, idles smoothly and pulls cleanly and strongly through each of the gears. The car shifts easily, brakes smoothly and feels solid on the road, none of which should come as any surprise as it has always been maintained. To back this, the car comes with an impressively thick stack of service receipts, largely representative of the 1980's, 1990's and 2000's, but also including a number of receipts from 1975 and its first years in U.S.

Considering their rarity and the astronomical prices that their cabriolet siblings are fetching, 3.5 Coupes have long been undervalued in most classic car enthusiasts' minds. But that's been changing over the last 18 months, and it's our opinion that they have and will continue to represent excellent investment upside while providing a wonderfully drivable ownership experience. If you're in the market for an honest, original, 3.5 Sunroof Coupe with a floor shift transmission and an excellent factory livery, this beautiful example certainly deserves your consideration.

We want this car to go to great home and would be happy to further discuss it and answer any questions, so please feel free to email us or call us at 805-202-4557. You can also visit us online at GoodmanReed.
The 280SE 3.5 Coupes and Cabriolets are some of the last truly hand-built Mercedes and their ever increasing values reflect this fact. The color on this one is fairly desirable, the floor shifter tends to be the configuration most preferred by collectors and the car's history is sure to make a strong case for this one. This one would probably fall somewhere around a Condition 2 vehicle, which should put this car somewhere in the high $60,000 to low $70,000 territory. I know the two vehicles appeal to completely different demographics, but given that a new S-Class Coupe costs just shy of $120,000, I think I'd be eyeing the classic Benz, leaving a good amount left over for proper maintenance over the next few years.
-Paul