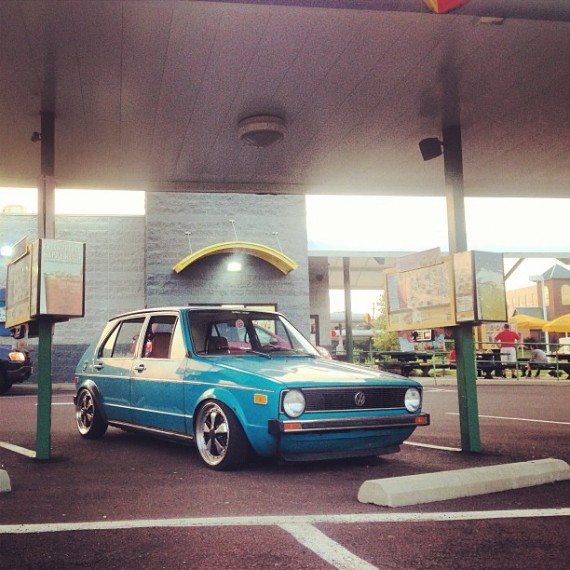 As far as powerplants go, VW has been experimenting throughout the years looking for the perfect mix of economy, and power, and in many cases has been successful. However in some cases, they mostly succeeded in creating an oddity…enter the VR5. The VR5 had a pretty healthy run in the Passat, Bora, and some Skoda models outside of the US market as an alternative the staple 1.8T.  But what is it really? Well, because of the very narrow angle of the "V" it can't be considered a true V5 engine, as all cylinders share the same bank. The V5 is more closely aligned with Volkswagen's legendary VR6, minus one cylinder, so technically is's staggered 5, and has more in common with the inline-5s used in the Passat and Audi Quattros of the '80s.
No matter how you classify it, it's a pretty stout powerplant that sounds like a cross between an audi quattro, and a Corrado SLC. Producing 170 bhp this 20v version of the V5 engine would make a big heavy Passat, or MK4 Bora jump off the line,  swap it in to a light MK1 chassis, and now you have something a bit ridiculous. That is exactly what the seller of this Oceanic Blue Swallowtail Rabbit did, employing the age old hot rodders recipe (big engine in little car) creating something the world has never seen before, and likely won't for a long time.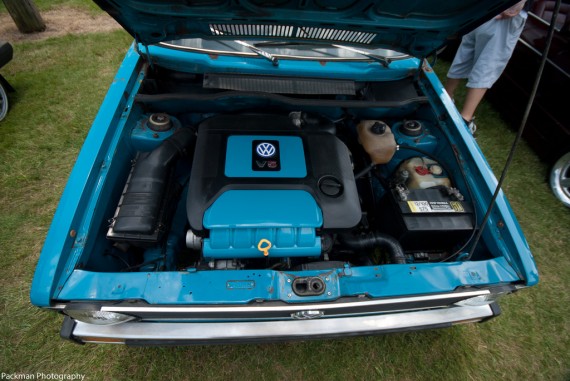 Year: 1976
Model: Rabbit
Engine: 2.3 VR5
Transmission: 5-speed manual
Mileage: 132,800 mi
Price: $8,000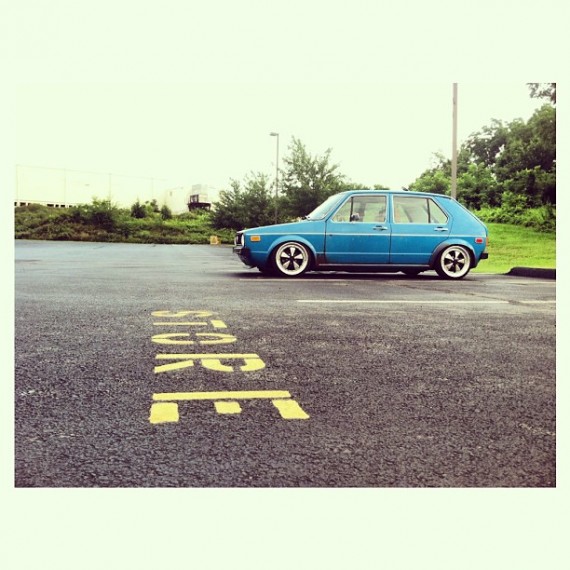 I have an addiction to locating and building classic custom cars and trucks and it always seems I have about 30 potential project cars in mind at a time… but space and money aren't there unfortunately.. I'd like to start the process of sourcing my next big project and I need the cash from this to invest in the base vehicle. I am NOT in the need to sell this in a fire sale fashion and I will ONLY sell it to a buyer that I feel will appreciate the car for what it is and take care of it.

For anyone that is unsure. The FULL build thread from start to finish can be seen here: http://forums.vwvortex.com/showthrea…n-blue-swallow.

Here's a quick rundown of everything done to it. I'll keep adding to the list as I think of things.. I forget half the work I put into these cars and it takes me driving them and thinking about it to remember.

1976 Ocean Bleu Swallowtail 4 door.
Hi option model with kneebar, all chrome exterior trim and passive restraint belts
Original Paint with some minor rust in exterior panels only (this is only visual stuff that isn't structural)

Mechanical :

Worlds only running AND driving (one car just was started with one a couple weeks ago) V5 Mk1 and the only 20V V5 engine in the US (at least in a car)
Running the OEM Mk4 V5 wiring/injection with a sport tune by C2 Motorsports
Mk4 OEM Drive By Wire Throttle integrated into the OEM pedal cluster
VR6 Transmission rebuilt with a shorter 4 cylinder R&P
Clutch Cable Conversion using a mix of OEM parts and a custom cable mount on the transmission
BFI motor mounts in modified Eurowise VR6 engine mounts with a delrin rear trans mount and Eurowise axles
A/C, P/S, SAI, and all emissions stuff deleted
custom V5 header made from an OEM V5 manifold to a custom straight through2.25 exhaust system with a borla SS muffler.
custom 3″ core aluminum dual pass radiator
Custom aluminum intake tube with flipped C2 Motorsports aluminum MAF tube running into an OEM Mk1 Turbo Diesel intake box with K&N filter with drilled airbox
Original swallowtail diagnostic box has been converted to allow you to plug a flying lead in and scan the vehicle with VAG-COM
All new fuel lines, fuel tank, fuel pump, etc
new V5 specific parts: intake manifold and valve cover gaskets, crack pipe, thermo housing, water pump, exhaust manifold gasket, etc.

Exterior/Body:
All original clear glass with NEW front windshield seal, and new chrome trim all around.
New thin chrome side trim
OEM Australian "Euro" small chrome bumpers
OEM early Post Golf Taillights
Chrome OEM Wiper arms
OEM front small duckbill
NEW full Klokkerholm floor pans and support rails welded in
Passenger frame rail notched and blended for OEM appearance
Early Chrome trim US spec Sidemarkers on all 4 corners

Suspension/Brakes:
ALL NEW Copper/Nickel Brake lines (will outlast the life of the car)
new master cylinder
Converted to 9.4 vented GTI front brakes (new calipers and hoses)
new rear drums, shows, wheel cylinders and flex lines
new control arms with poly bushings
new rear beam bushings
new wheel bearings on all 4 corners
new ball joints and tie rods and tie rod boots (converted to later 19mm ball joints)
Early rebuildable front strut mounts with Audi 90 rubber mounts inside
Cheap-o front coilovers with UVAIR sleeve bags
custom rear airlift air struts
paddle valve air setup with controls in kneebar
new Viaiar Compresor and 3 gallon tank hidden in spare tire well
Air hose attachment for filling tires and running air tools attached to tank
Custom 2-piece 16″ OEM Porsche Fuchs 16×6 made to fit BBS Motorsport outer lips for customization with 20mm Raceland adapters
eurospec 165/40/16 Tires with one summer of driving on them

Interior:
Rare Orange-Brown Interior with very nice diagonal stripe swallowtail door cards
Really nice original interior I sourced 2.5 full interiors to make this one nice one
NEW stockinteriors.com carpet in matching orange/brown color
golf ball shift knob
early eurospec super base model bakelite style swallowtail steering wheel (hard plastic real thin grip)
very nice (dare i say mint?) headliner
NOS base model swallowtail rear hatch prop rod (non hydraulic)
dash has some minor cracking but is in decent shape for its age
OEM silver gauge bezel with original (WORKING!) radio and dash speaker
Floor pans have been undercoated, seam sealed, and thermocoustic sound deadener pads put down under the carpet.
Heat and blower motor still work mint in the car!

Negatives/Things to mention:

The car was stored a good part of its life indoors when abandoned.. but it does have some rust in panels around the car. I have fixed ALL structural damage or rot on the car. Overall it is really solid since it was a car that was treated with a Rusty Jones type treatment for some of its life.

The drivers fender and A-Pillar have some small holes in them in the usual spot. I cleaned and rust proofed the windshield frame when I had the windshield to replace the seal a month ago the bottom of the drivers fender has a bit of rust.

The passenger fender at the bottom has rust where it bolts to the core support
Car is a true survivor and has dings and scrapes and minor dents around the car. View all pics in my build thread you can see every inch of it there.
I never got around to sourcing a Passat/Corrado g60 speedo cable to make the speedo work.. i just use my gps in my phone…
Recently I realized that the fuel level sender has cracked and isn't sealing fumes from the tank out properly. A definite gas smell when you first drive the car.. I can fix before selling.. I drive the car A LOT so I may do it out of annoyance any day now…
rear window seal is original and cracked/split. It leaks into the trunk on heavy rains, but i keep it under a car cover most times.. just haven't gotten around to it.. again I may do that soon if I get time..

I'm sure there are a lot more things I'll add over the next days.. but I need to jog my memory (or just read the build thread). This car is VERY SPECIAL to me and it hurts me to think of selling it..

I'll start the pricing as it sits with all mods and rare parts at: $8,000 OBO
If you begin to add up the basics of this car.. you'll see that this price is definitely worth it.. figure a decent stock running/driving swallowtail with all the rare bits is worth 4-6K, the rare engine swap just to buy it and get it into the country would cost $2-4k
The wheels/tires- $2k+, all of the rare parts and new replacement parts, etc- $2k.. you get the idea. I'll accept reasonable offers and I'll consider working with someone by removing certain parts to get the price where they need.. but I won't go crazy.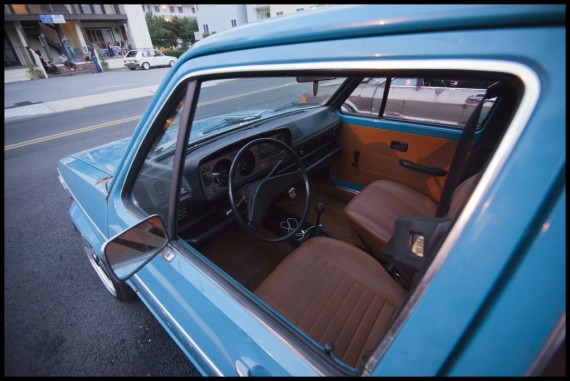 Having followed this build from the start, I can say that I'm sad to see the car go. I know the heart and soul it takes to build a car like this, from conception, to sourcing the parts, and all of the nights and weekends spent making it a reality, this is something you don't do for the money. With all of those things considered, I'm surprised at the asking price. A swallowtail MK1 alone is a pretty rare and sought after car, throw in the rare parts and mods, and this car could fetch $8,000 with the stock engine. Now we're adding in an uncommon engine and all of the engineering time and money to make it work, that bumps up the value significantly. All in, I'd consider this to be a $10,000 car all day long, making this a virtual bargain for the MK1 enthusiast that wants something no one else has.
-Brian