The monotone black 500E we featured last month is back up for sale on eBay for the same $22,900 Buy it Now price. This is the third time we're aware of this car being listed. Will this time around be a charm, then?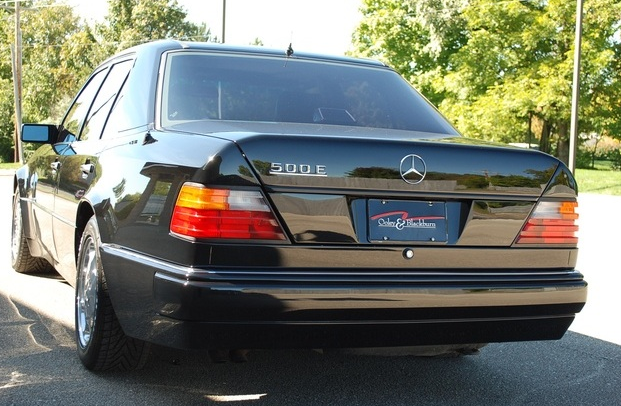 The below post originally appeared on our site November 16, 2012:
It can be hard to think back very far in Mercedes history over the deafening roar of the AMG engines made over the past few years. Those in the know realize that one special Benz from the early 90s demands respect and deference. The ultimate fist-in-a-velvet-glove, the 500E came from a time when Porsche was farming out their expertise, helping other German companies take their cars to a whole new level. The fact that the 500E was produced alongside the Audi RS2 is enough street-cred that I should shut up and let this car speak for itself.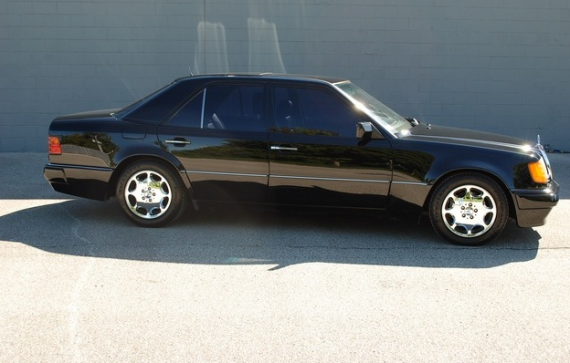 This beautiful 1992 Mercedes 500E sedan is a rare find indeed. It was purchased by it's only owner here in Indianapolis and has remained in his private car collection until we recently obtained it from him. The car is custom finished in standard 040 black exterior. While most USA cars were finished in pearl black or silver exteriors. The owner had the black metallic finish stripped and professionally refinished in traditional 040 black when the car was only a few weeks old because he only collected solid black cars. It is a beautiful example of a very rare car. Only about 500 cars were sold in the USA per year in the first few years of production. These interesting cars were a collaberative effort between Mercedes and Porsche to build the ultimate sport sedan. Developed in conjunction with Porsche, the Mercedes 500E was based on the popular 300E model which had been released in 1986. Each 500E was transported back and forth between the Mercedes plant and Porsche's Rossle-Bau plant in Zuffenhausen during assembly and hand built, taking a full 18 days to complete each model.

The 500E had a naturally aspirated 5.0L V8 engine derived from the 500SL roadster. Sports car braking performance also came from SL components: front SL500 300 mm disks with 4-piston calipers came installed on the 1992 and early 1993 cars. Rear brakes on all years were 278 mm brakes from the 500SL. In the USA, the 500E came fully loaded, with the only options available to the buyer being a dealer-installed CD changer and an integrated cellular telephone. The 500E was only with four seats in left hand drive, with the four leather seats supplied by Recaro (the fronts heated). Called the "Wolf in Sheep's Clothing" by the press,[3][4] performance tests of the day yielded impressive results: 0–100 km/h (0–62 mph) times of 5.5 to 6.0 seconds and acceleration through the quarter-mile (0.4 km) in 14.1 seconds at 163 km/h (101 mph). The top speed was redline limited at 6,000 rpm to 260 km/h (~160 mph). It was rated at 16.8 L/100 km (14 mpg) in the city and 13.8 L/100 km (17 mpg) on the highway. With its aggressive stance: 1.5 inches wider track, 0.9 inch lower profile, subtle wider flared fenders, side skirts, front air-dam and wide tires, the 500E is easily distinguished from its lesser brethren. Because of its look, limited numbers, hand-built construction, and unique pedigree, the 500E is already considered a "classic", even within Mercedes-Benz circles. We have just fully serviced and detailed this one so it is ready to be enjoyed by it's next owner.
After holding steady for quite a while, 500E prices have gone through the roof in the past year, with perfect examples going for close to $30k. With just under 70k miles and looking very clean inside and out, the Buy-It-Now of $22,900 seems like a very fair price, especially in light of possible appreciation. My one gripe is that I hate chrome wheels and think any beastly Mercedes should be rolling on AMG Monoblocks, but that's a personal (and easily fixed) gripe. This is a great example of a car that's not only significant historically, but would still be blast to drive.
-NR