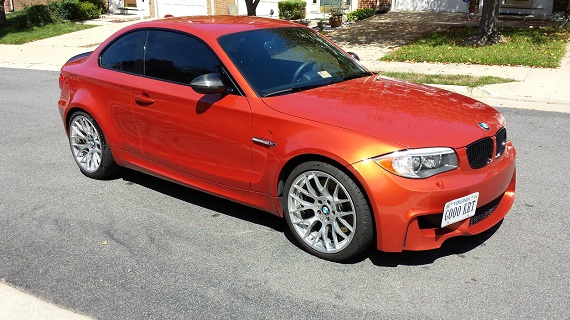 BMW followed the age old recipe for the 1M and enthusiasts responded. Put a big engine in a small car, flare the arches a bit and slip on some wide rubber but keep the price in the range of mere mortals. What's not to like about the 1M then? Well, they didn't make many – 740 were imported, making it more rare than the previously rare E28 and E24 M models. That created an artificial demand right out of the box, and unfortunately these cars hit the market at the same point that the European collector car market really started taking off. That means that these cars have suffered effectively zero depreciation since new – rare for any car, but especially for the small sport sedan market. In fact, not only have they not depreciated, you could have bought one of these cars new in 2011, drove it moderately for the past 3 years, and you could have sold it for a profit today. The 1M, in all of its 335 horsepower twin-turbocharged goodness, hit the market at around $47,000 in 2011 – add a few options in and you were around $50,000 for most. Available in only three colors, these limited production cars have a cornered market and are piggybacking on the value increase of the 1980s M-cars – the spiritual predecessors of this car. Today, there are no less than 7 1Ms on Ebay, mostly in the $57,000 range. It seems almost like price fixing – we often see a wide spread of values even on very similar cars, but these 1Ms are all around the same price regardless of color, miles or number of owners. Which is the one you'd want?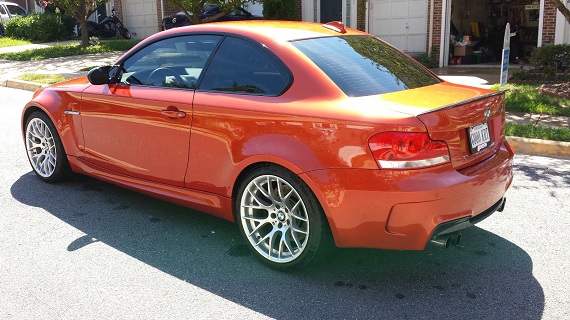 Year: 2011
Model: 1M
Engine: 3.0 liter twin-turbocharged inline-6
Transmission: 6-speed manual
Mileage: 33,500 mi
Price: $57,000 Buy It Now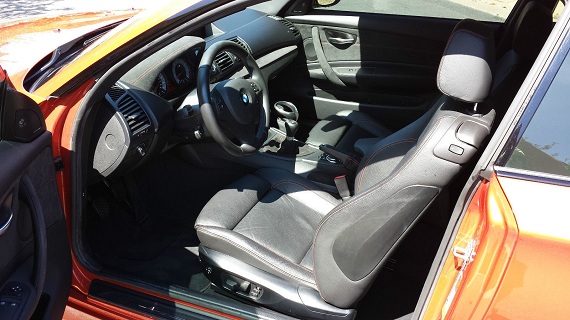 Car is in excellent condition. All services up to date. Comes with every option except Sat Radio. Has BMW carbon fiber mirror caps and deck lid spoiler. Also has 3M protective film on front bumper, part of hood, parts of front and rear fenders. Comes with Berk Technology mid-pipe and OEM mid-pipe.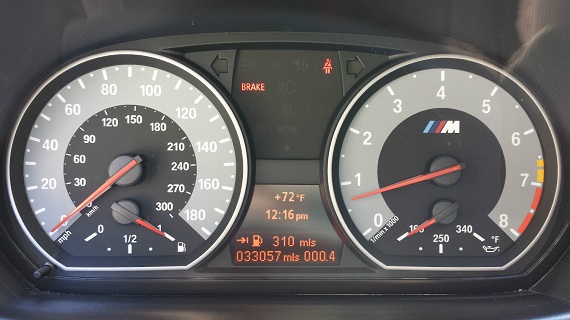 Valencia Orange is certainly the signature color for this model and looks great on it. What's surprising about this model is that in the 3 years since it was new it's had 3 different owners. Perhaps it's people trying to get in and out of the ownership experience without taking a depreciation hit, but at 33,500 miles this car has the most in this roundup. Service is claimed up to date but honestly on such a new car there shouldn't have had to be much done. I do like that this hit the exposed areas with 3M protective wrap – a good security blanket for the next owner to be able to add to the miles while maintaining the value of that signature paint.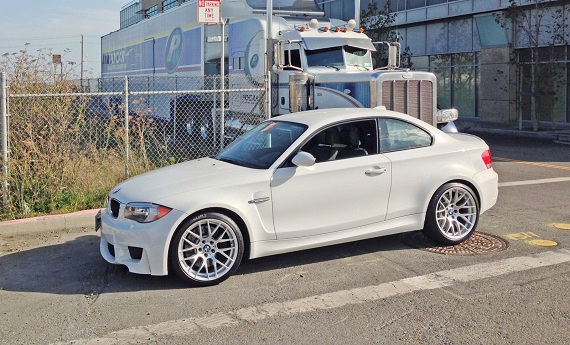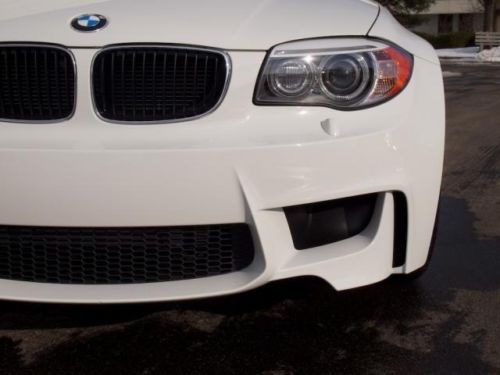 Year: 2011
Model: 1M
Engine: 3.0 liter twin-turbocharged inline-6
Transmission: 6-speed manual
Mileage: 7,000 mi
Price: $57,000 Buy It Now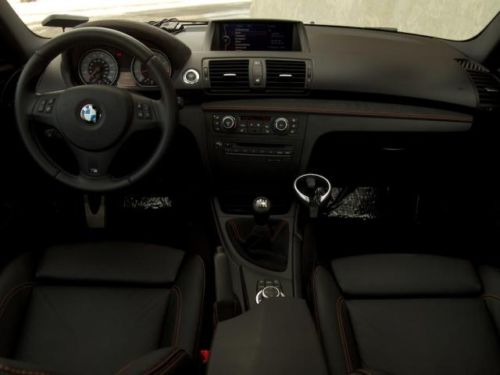 Excellent, like-new condition 1M recently imported to California from IL.

Clean title, been kept in a tempered garage and seriously cared for. One of only ~740 "1M"s produced for the US.

A couple of subjective things I like about this car:

• It's like a bulldog with more power than you'd expect — tremendous torque.
• Fantastic smooth transmission shifter with a short throw and satisfying mechanical "clicks."
• Surprisingly roomy — easily fits four people with plenty of legroom.
• Keyless entry makes things convenient — just keep the key in your pocket and use the touch-sensitive door handles to open, unlock and lock the car, including the trunk.
• Compact size, similar to the original M3, makes it a very agile driving experience with great visibility.

Available for inspection and test drives in San Francisco, CA by appointment.

Full service performed by authorized BMW service shop (BMW San Francisco) on July 9 — no remarks, replaced microfilters, new brake fluid, coolant, etc.

Non smoker
Clean CA title
Good tires
No modifications (according to recent BMW service)
Any questions? Don't hesitate to ask! I'll gladly answer.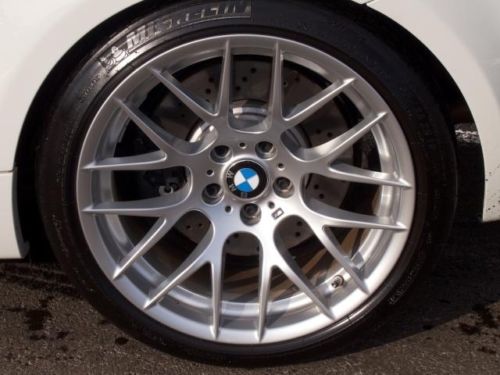 Here's another example of multiple owners, but this time the mileage is much lower. Alpine White looks good and classic for a M car, and the condition is certainly impressive and original. It's nice that the car has been to the dealer, but again not much was needed on this basically new car. The price? Identical at $57,000 to the Valencia Orange example above. I like the orange, but this one looks like the better car at that price.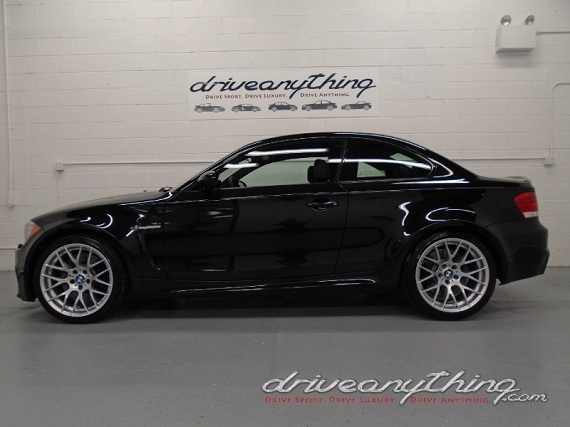 Year: 2011
Model: 1M
Engine: 3.0 liter twin-turbocharged inline-6
Transmission: 6-speed manual
Mileage: 19,531 mi
Price: $57,950 Buy It Now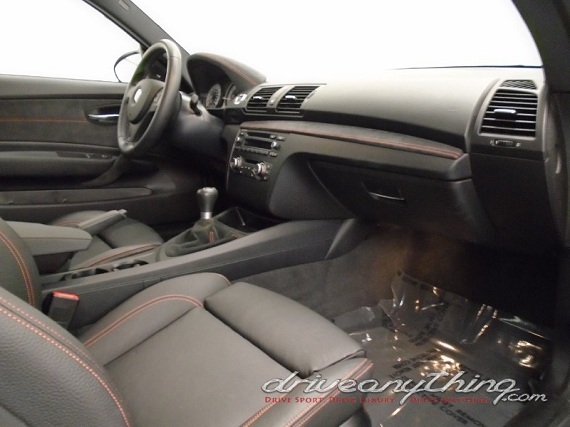 2011 BMW 1 Series M Coupe

1 SERIES M CPE! 19K MI! 1 OF 983 PREMPCKG HKSND HTDSTS 1OWNR BLK/BLK

Absolutely gorgeous & incredibly rare 1 Owner 2011 BMW 1 Series M Coupe with just 19531 miles. Black Sapphire Metallic (1 of 222) on Black Boston Leather with Contrasting Orange Stitching & Alcantara on the Instrument & Door Panels, it is the rarest of the exteriors colors available. The paint is in excellent condition and it is apparent that this car was garaged and meticulously-maintained.

The interior of this vehicle is virtually flawless. This vehicle is well equipped including Premium Package, Harman Kardon Surround Sound, Heated Seats, Ipod Adaptor, Bluetooth, Power Seats w/3-Position Memory & Lumbar, Universal Garage Door Opener, Power Folding Mirrors, Auto Dimming Mirrors Bi-Xenon Headlights, 6 Speed Manual Transmission as well as extensive additional equipment.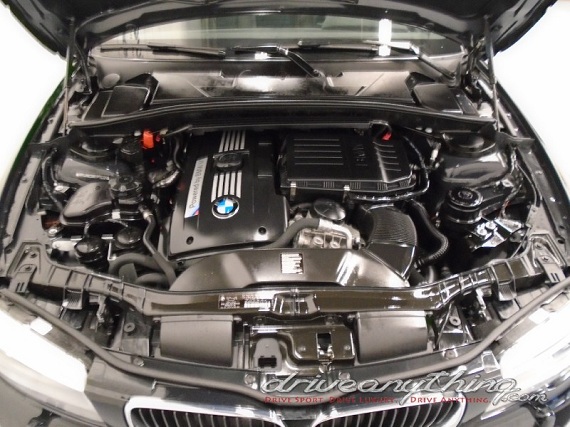 Finally, the third color was Sapphire Black Metallic that is shown on this example. While it's claimed to be the rarest, it's only just if 222 examples were made out of 740…that's effectively nearly exactly 1/3 of the total production. It looks great and the miles fall in the middle of the other two models. This example, equipped with the premium package, again falls nearly exactly at the same price point of $57K.
Which is the car to buy? In this case, I'd probably stick with the lowest miles since that will likely be the key to retaining their value in the future; however, it's sad that these cars aren't being driven and instead are being treated like investments. So, the reality is that with some aftermarket tuning you can get a 135i to perform like these 1Ms for half the price but equal condition. Here's a pretty good example (click here to take you to the auction):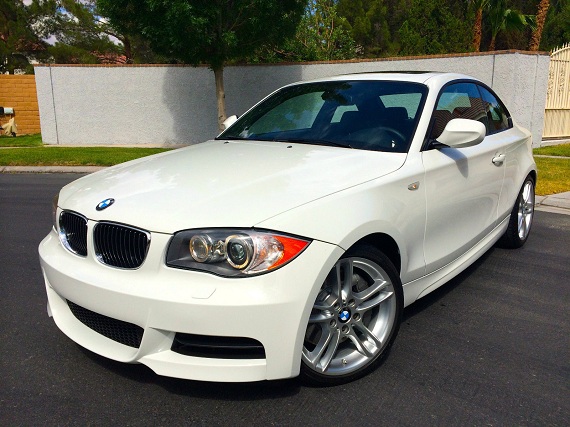 If you're a driver, that's where to look if you'd like the experience of the 1M without the sticker shock.
-Carter