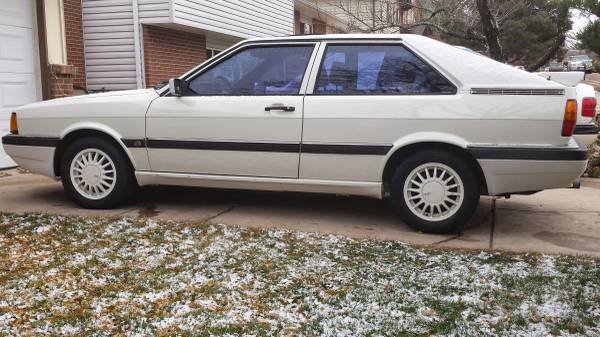 I'm not sure who is funnier – enthusiasts or marketing specialists. Let's start with marketing specialists; for Audi, the introduction of a new "Fox" design brought with it a specific name for North America – the Audi 4000. There were various trim levels available, but by 1985 the trim specifications were limited to "S" specs. Now, at one point, the "S" actually stood for a slightly different Sport trim specification, but in 1985 you couldn't get a non "S". That changed slightly in 1986; if you wanted a quattro, your only option was the 4000CS quattro. Presumably, that stood for Commemorative Sport – but while in 1986 the CS versus S meant the difference of a turbocharger in the 5000 model range, in the 4000 there was no option. In part this can be viewed as the problem with the cars directed towards the United States; in Europe, there were two different trim specs with different motors, too – the 80/90 and 100/200. But to throw even more confusion into the lot, there was then a series called the "Commemorative Design" which was launched in 1986, too. Those Commemorative Design editions were available in Coupe GT, 4000CS (front drive), 4000CS quattro and 5000CS models and were a celebration of 100 years of the automobile. Convoluting things even more, there was now a 4000S and 4000CS front drive, but no 4000S quattro. Make sense? It seemed uniquely un-Germanic, but also signified that Audi did things differently than the rest of their compatriots. What did the Commemorative Design get you? Well, that's interesting, too – because it varied by model. In the GT and 4000CS quattro, it was color-matched trim in your choice of white or graphite metallic with a special red leather. The GT was slightly different, with a digital dashboard making its appearance in that model – but not only in the Commemorative Design, as a slew of normal 1986 models also came with the digital dash for some reason that no one completely understands. The red leather was not carried over to the 4000CS front drive interestingly – it instead got Audi 5000-spec wheels, Coupe GT brakes and split leather and Alcantara seats. The 5000CS Commemorative was only available in front drive spec and similar to the 4000CS front drive, making the front drive 5000CS more luxurious than the 5000S quattro – which was more expensive. Of course, these cars weren't called the "CD" models – because there actually was a 5000CD in Canada which was spec'd more like the 5000CS. Still with me? To quote Adam Sandler from a memorable Saturday Night Live skit, "Who are the ad wizards who came up with this one?"
Now to complicate matters even more, in 1987 Audi launched a revised Coupe GT which it then promptly discontinued. The car was substantially changed – a new engine bumped up to 2.3 liters (the NG/NF that would see duty in the later 80,90 and 100 models), along with new to the GT 4-wheel disc brakes and – like the Commemorative Design, color matched trim. There was also a slightly different gearbox and different dashboard – still digital – just to confuse things even more. There were only a few hundred of each of these models that were imported to the U.S., making this whole exercise a bit strange in the grand scheme of things. But what's undeniable is that B2 enthusiasts generally love these cars the most, creating their own names for them – the "Special Build" GT and "Commemorative Edition" 1986 models: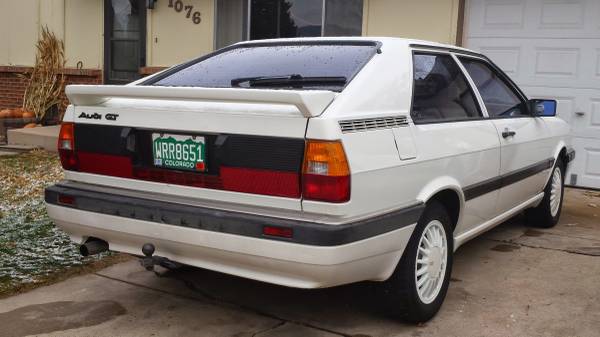 Year: 1987.5
Model: Coupe GT
Engine: 2.3 liter inline-5
Transmission: 5-speed manual
Mileage: 142,982 mi
Price: $4,500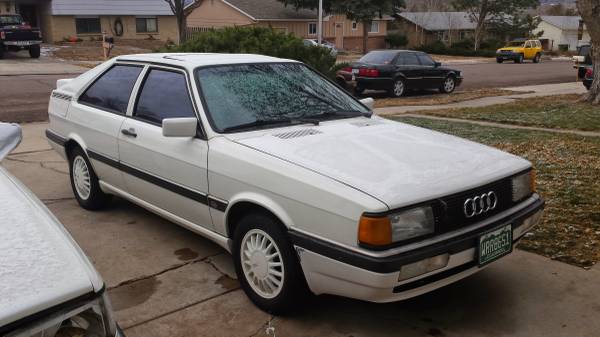 1987 Audi Coupe GT Special Edition
2.3 litre NG engine
5 speed manual trans
front wheel drive
Alpine white with white leather interior and white wheels
Second owner since 1991
142982 miles as of today
recent timing belt, water pump, thermostat, etc.

Audi Coupe GTs are rare these days and this was the rarest of the rare with the triple white Special Edition including the bigger 2.3 engine & rear disc brakes.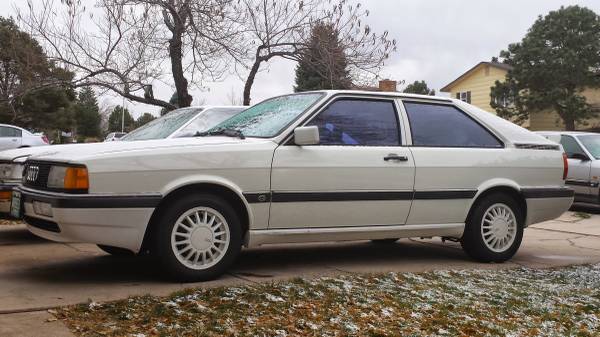 Ah, the GT – one of my favorite unsung heros. But even amongst GTs, the '87.5 model is truly special. While the 86 Commemorative Design model was really just a special trim, the upgrades to the motor and brakes in the '87.5 made it a solid performer and hidden gem. Visually, it's difficult to tell the 87.5 and 86 CD models apart, especially in white – they received the popular "dipped" look with white mirror caps, trim surrounds and spoiler, along with white Ronal R8 alloys. Now, this one is claimed to have white leather which we don't see – super rare amongst even the already rare last run GTs. Condition overall appears to be fairly good from what we see with some mechanical work outlined – but not a tremendous amount of detail is provided. These GTs are rare all around, but as the seller correctly identifies, when you dip into this particular sub-model and then color combination, you're looking at a seriously rare bit of kit. For the right person, that may translate into the asking price at $4,500 – but I think it's a bit optimistic without further information or better detailed photos. Not much, mind you – I'd probably say that if it's rust free and in reasonable mechanical condition, this looks to be a $4,000 car to me – perhaps, if that interior is spotless, I'd be willing to pay the full asking price.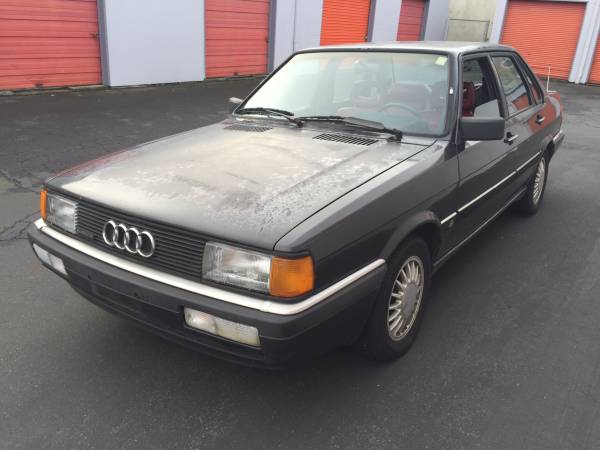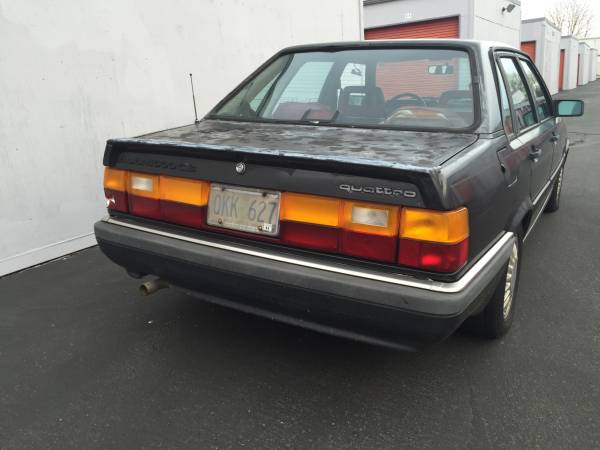 Year: 1986
Model: 4000CS quattro Commemorative Edition
Engine: 2.2 liter inline-5
Transmission: 5-speed manual
Mileage: Not Listed
Price: $1,695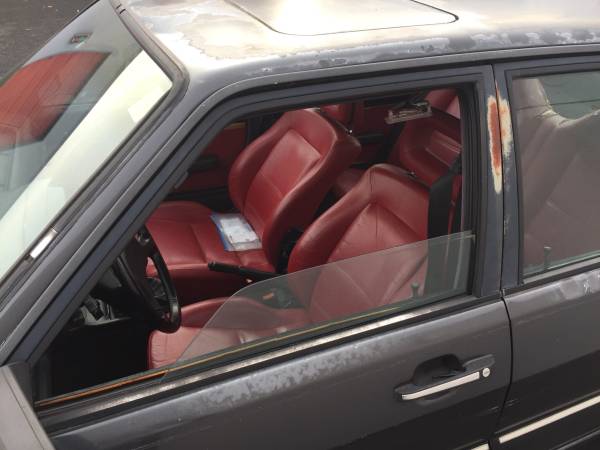 for sale: Black 1986 Audi 4000cs Quattro
Decent shape, heat works, runs very good! drives and stops fine… needs tires!
Easy project, i dont have the time or money to invest right now!!! Email me if interested.
$1695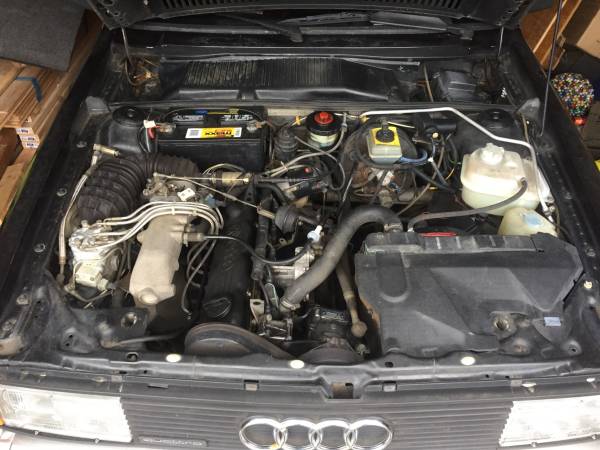 Now, off the bat I'll agree that this isn't the best condition 4000 quattro out there; but these models have proven their desirability and staying power, and for a non-rusty one that appears to be complete the asking price for this model is certainly attractive. Sub-$2,000 isn't going to get you a pristine model, but even though the "Commemorative Edition" was not much more than a different colored leather on the quattro, it is none-the-less one of the models that enthusiasts love. Couple that with the more rare Graphite color and somewhere there's someone drooling right now – bad paint and all. Notably, this car appears more complete than the average 4000 these days – all the front grills and reflectors are there, for example – any B2 fan will tell you that alone is rare. It also looks pretty tidy under the hood and remarkably straight. This is certainly a case of this car being worth the full asking price without much question; even with some needs, it's nearly worth the asking price in parts alone. You'd also have one of the longest names on any Audi offered – the "1986 Audi 4000 Commemorative Sport quattro Commemorative Design".
Which would I choose? That's hard. For me, I have always had a soft spot for the white Coupe GTs, and despite the higher asking price that's the one I'd probably be after. But the supply of both is short and both are certainly worthy candidates for saving – limited editions of what were effectively already limited edition cars here in North America.
-Carter