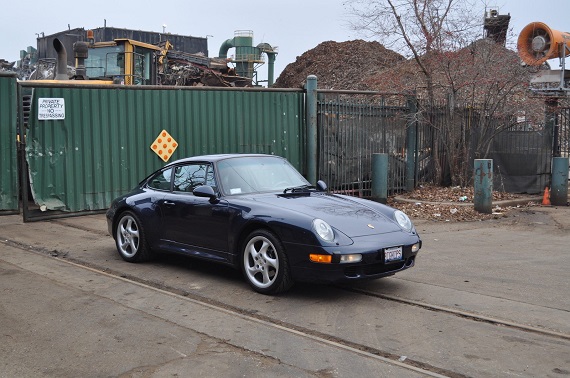 Most any wide-bodied Carrera is going to be immensely popular among Porsche enthusiasts and it only takes a few brief looks to see exactly why. Whether it is the full-blown RSR or simply an aesthetic difference like the car we see here, the enhanced shape of the stretched wider rear gets the heart racing. And of course it is the racing utility of that wider rear that makes these so desirable. For the last of the air-cooled 911s there were two naturally-aspirated Carreras, along with the 993 Turbo, to choose from for those who sought that wider rear body: the Carrera S and the Carrera 4S. The basic difference between the two models obviously lies in the number of drive wheels doing the work for each. For my money, the Carrera S is the one to have. Lighter and more faithful to the rear-drive design that lay at the heart of the 911 experience they are the ultimate expression of the air-cooled design. The example here is an Ocean Blue Metallic, 1997 Porsche 911 Carrera S Coupe, located in Chicago, with 39,790 miles on it.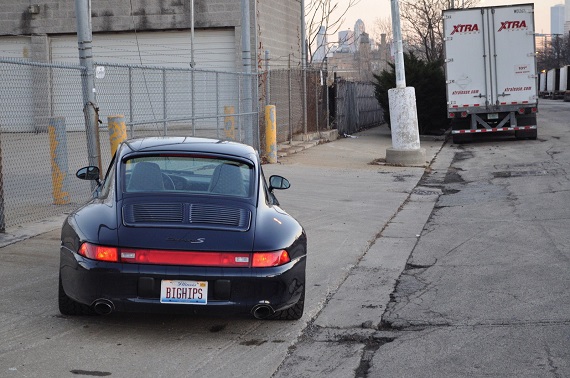 Year: 1997
Model: 911 Carrera S
Engine: 3.6 liter flat-6
Transmission: 6-speed manual
Mileage: 39,790 mi
Price: Auction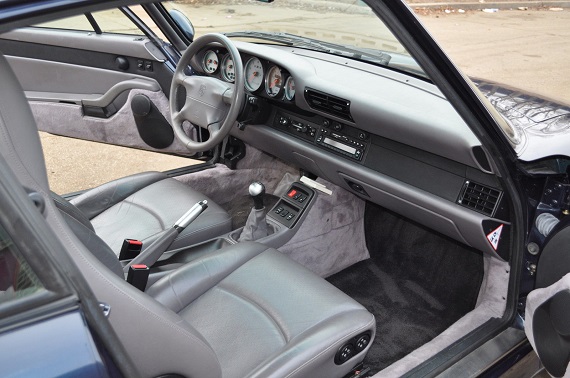 The last of the air cooled. If you're searching for a 993 C2S, well then…you already know. You are looking at a great example of a 993. I have owned this car for 2.5 years. I am the 3rd owner. I bought it locally (Libertyville, IL) from a pharmacist who owned it from (I believe) 2001 until 2012. It was owned from new by someone else before that. It was the previous owner's third car, and as such, rarely driven. He occasionally used it for Driver's Ed (DE) events via the local Porsche Club of America (PCA). However, he did not do any performance modifications to it at all. When I was looking for a car, I was looking for an unmolested example that had not been modified. In turn, I have not modified this car in anyway. The only "after market" item on the car is the detachable cupholder I bought for it. It was garaged by the previous owner. I garage it as well. The paint is original. Anything I have had done to it has been with OEM parts. It has The AC is ice cold. The heat is piping hot. All the gauges work. The engine sounds great and it shifts well. I have no qualms about driving this car anywhere and have taken it on multi-state journeys on multiple occasions. It is a great car. I do not race the car. I never track it. I do not do DE events with it. It only gets road miles. It has a clean Carfax. So why am I selling? Well I have had my fun with it and I own 2 cars and live in downtown Chicago. I really do not even need 1 car, so 2 is excessive. Also, as this car has gotten rarer and rarer, and more and more collectible, I feel bad having it in the city. I am kinda paranoid to park it anywhere and don't get enough opportunities to really open it up and enjoy it.

There are a couple of minor concerns I want to share about the car, most of which are cosmetic which I have been too lazy to take care of or I frankly just didn't really care about:
I was checking the battery a few months ago and had to remove the 6-disc changer. I lost one of the screws that keeps the disc changer in place, so I need to order a new one of those.
The driver's side power window switch is kinda messed up. It needs to be replaced. I read on some of the forums that this is a common issue and a cheap part. The window still works so it just didn't really bother me since I don't even drive the car that much.
The weatherstripping on the driver's side door is a very small chunk missing near the running board. Other than that, weatherstripping is good. Car stays bone dry.
Some of the plastic on the backs of the front chairs shows some small cracks in it. If you wanted the car to be a concours car, a couple of those plastic pieces would need to be replaced.
The driver's chair has a bit of scratching on the left (closest to the driver's side door) bolster. Pretty standard on these leather seats.
The power seat mechanism in the passenger's seat works spottily. I am almost certain that there is a problem with the contacts in the electronics after having read about this pretty extensively on Rennlist. I have no need to move that seat around, so it has not been a priority for me.
I have kept all the paperwork for all the maintenance I have had done to the car. The previous owner did not unfortunately. Major work I have had done includes: new clutch, new starter. All work performed at Midwest Performance Cars on Lake Street in Chicago.

The only major thing that I foresee needing to get done is having a brake job. I was in the shop this summer and they said it would probably need to be done in the near future. I imagine that is the only thing that would show up in a PPI.

Here is the build code for the car:
Color: L3AZ
159 – Motor Sound Package
220 – Locking differential 40%
224 – Automatic Limited Slip Differential
235 – N2 Tires
329 – Cassette radio Blaupunkt CR-210
408 – 18″ Technology Wheels (lightweight hollow spoke)
437 – 8 way electric seats, left
438 – 8 way electric seats, right
454 – Cruise control
490 – Sound system
650 – Moonroof
692 – 6 disc changer

C02
X47 – Carbon gear lever knob
X54 – Stainless steel tailpipes, oval
X58 – Carbon handbrake lever
X70 – Stainless steel door entry guards with logo (Carrera S script)
X71 – Aluminum look instrument dials with brushed rings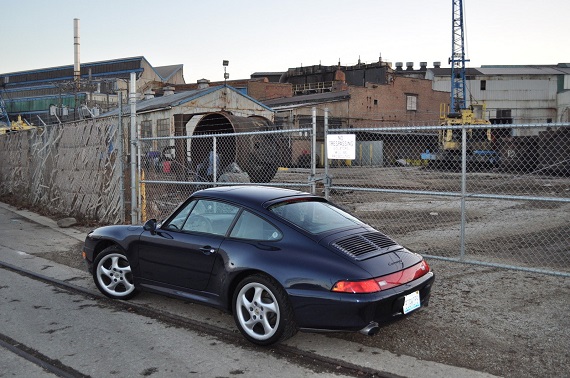 From everything we see here this appears to be a very clean, straight, low-mileage C2S that sits unmodified and in excellent condition. While still less than 20 years old excellent examples of the 993 are becoming more and more difficult to come by, especially of the various S models. So I was surprised to see this car on auction with no reserve, but I won't complain! There is of course a price for all of those excellent attributes and bidding on this particular C2S currently sits at $78,300. That's a decent bit of change, but given the mileage is about where I'd expect one of these to be priced, but we'll have to keep an eye on it to see how much higher bidding might climb.
-Rob