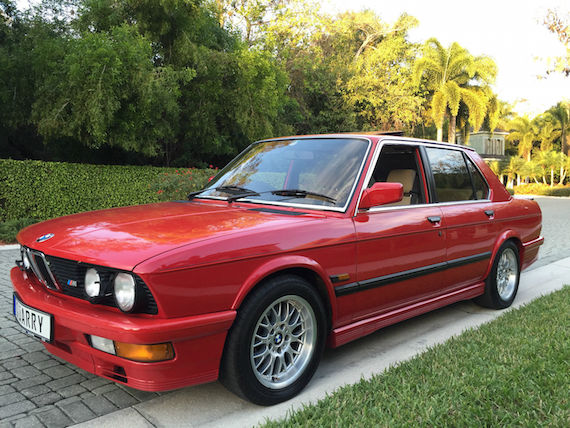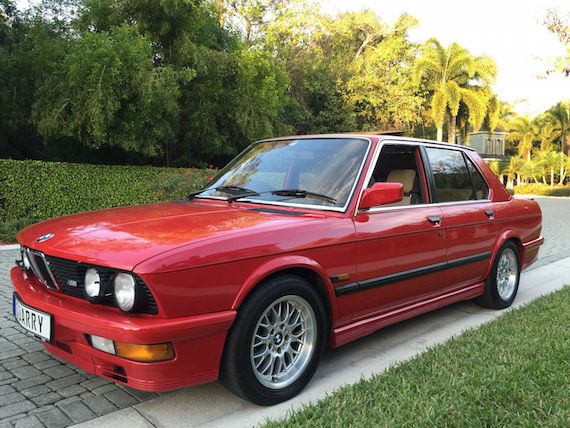 RHD cars seem most cool when they are Land Rovers or JDM classics – beyond that it just seems like an inconvenience. Frustration aside, the M535i is hard to come by in the US, so I guess we'll take them as they come. Today's is looking clean in Zinnobar Red and just over 100k miles, and while the availability of cloth seats on nice Bimmers in Europe intrigues me, it appears the bolsters are still prone to wear and tear. The biggest upset here is the automatic transmission, which comes with some sort of switching mechanism but still detracts from driving enjoyment. I guess the M535i is more about looks anyways, and small-bumper fetishists can get their rocks off here.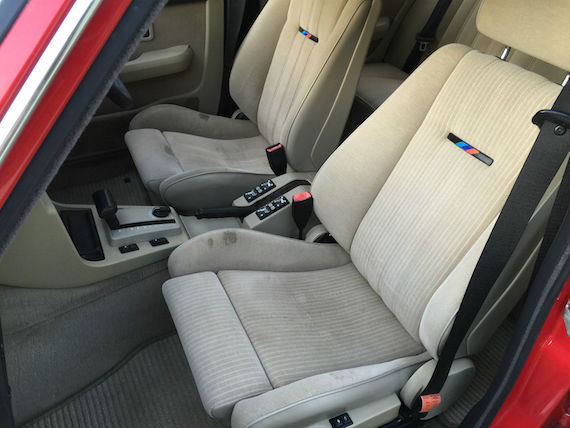 Year: 1987
Model: M535i
Engine: 3.5 liter inline-6
Transmission: 4-speed automatic
Mileage: 102,538 mi
Price: Reserve auction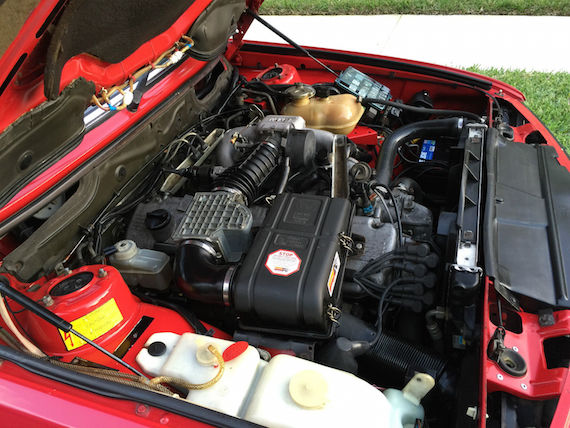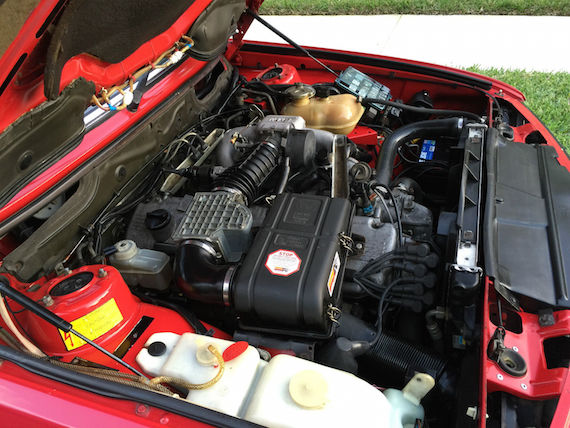 Here is a Very Nice BMW E28 535i, this is a factory model that was never sold here in the USA, its finished in Zinnorber Red, fitted with Switchable Automatic transmission, Has a great Spec with electric sun roof, 4x Electric Windows, Electric Sport seats with Rear window Blind, finished off with a set of 16″ alloy wheel rims, Bilstein Shocks, LSD (Limited slip diff) OEM M Tech Body kit and M Tech Leather steering wheel with Tri color stitching.

I bought this 1987 BMW E28 M535i in England last year from a BMW UK Car club member and imported it over to Florida, It has a clear Florida title, It would be the same to title this car in your own state as it would with any Florida Titled car, However being from Europe it is not fitted with a catalytic convertor or airbags, So you may need to check rules for smog test in your own state before bidding.

The car is has only covered 102,538 miles with a lot of paper work & service history showing work & miles done over the years, also a repair manual, various books & all 4 key's!, I have owned and seen many BMW e28 models and this is one of the best i have come across in years , It has recently been fitted with New rotors, New brake pads , Parking brake shoes & Sensors, New rear Bilstein Shock absorbers, K&N air filter, the car has also just been serviced replacing oil and filters, the car runs great, and its fitted with factory M30 3.5 (218BHP) Engine mated to a rare switchable Automatic transmission, Car is not fitted with air con which is due to the European mild climate.

Inside the car is in excellent condition for 28 years old, dashboard is great shape, headliner in mint, Electric Sport Seats are very nice with just a small amount of wear, See pictures, rear seat is excellent with fold down armrest & rear retractable sun blind, Carpets are in great order with no rips or tears, Fitted with OEM over mats M Tech 1 sport leather steering wheel (none airbag) with Tri color stitching, on board computer in good working order, all switch gear is working and in good condition, Electric front & rear windows & Electric sun roof, and period radio cassette, Trunk is very clean with tool kit & factory TRX spare Wheel.

Outside the Zinnober red paint looks excellent, nice and flat with a deep shine, Front fenders have been painted at some point and color match could be better, rear wheel arches, strut towers, windshield scuttle, floors doors (except rear right door inner lower corner could do with attention) are all solid without any sign of rot, Front head lights are fitted with city lights and Head light wash wipe system, Head lights and fog lights are crack free, The car is sat on a set of 16″ alloy wheel rims in good condition with a set of 4 matching 225/50/16 Continental Tires, i also have the factory Metric TRX alloy wheel rims wich are as new condition and with the OEM factory fitted M tech Body kit & Trunk spoiler this E28 M535i looks very sharp.

On the road the Car runs Excellent, engine runs smooth and performs very well, pulling strong with no untoward noise or fuss, Gear change is smooth, and the brakes stop the car nicely with great pedal feel, the suspension is smooth and composed, with no knocks or rattles, This car drives faultless and you will not be disappointed.

It is easy to see why the E28 is becoming such a sought after car and has become a great classic every day driver, Its a simple and dependable car that's great fun to drive without all the fuss and gadgets that some modern cars including newer BMW's sometimes detract from the pleasure of actually driving a fun car.

Don't miss your chance to buy this excellent example of a very rare E28 M535i.

Its now almost a 30 years old Car that runs Great and looks Superb, Its not new or a show car, So don't expect a faultless vehicle, just a great classic everyday driver, As with all old cars you are strongly advised to view or inspect before purchase.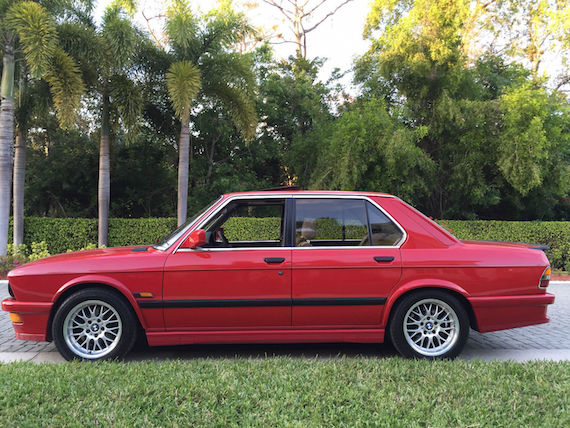 On this side of the pond, it's a nice piece of rare, but there are better places to look if you want a fun-driving and good-looking E28. There are plenty of people bidding here, but if it goes above $12k, you might as well go find a great 535is or project M5. I'm guessing the seller is expecting much more and it is a very clean E28, but unless you are missing your left leg I really think the automatic keeps this from being a worthwhile buy.
-NR