The E36 M3 is the first M car that I can remember obsessing over. Ever since I got a die cast model of an E36 coupe race car in 6th grade, I've dreamt of flying around a track in one of these legendary machines, S52 wailing away at the top of the rev range. While it may be a bit longer before I can fully realize that dream, it seems fate decided to throw me a bone because I finally got some seat time in an E36 and it just so happens to be this very car. That's right, the M3 which you see before you hath been driven by yours truly. The current custodian of this vehicle lives about 5 minutes away from me so naturally I had to lay eyes and hands on this vehicle if I was to write about it.
Honestly I was a little worried that the car wouldn't live up to my lofty expectations. I have done my best to quiet the inner child in me that sees these vehicles as something extraordinary and instead look at them as the elevated daily driver that they are. After all if you think about the lineage of the M3, it's kinda crazy that BMW decided to build a 4-door version. Then again, this was the 1990s, a glorious time for sport sedans, when crossovers were but a tickle in a designers finger and car design was, restrained.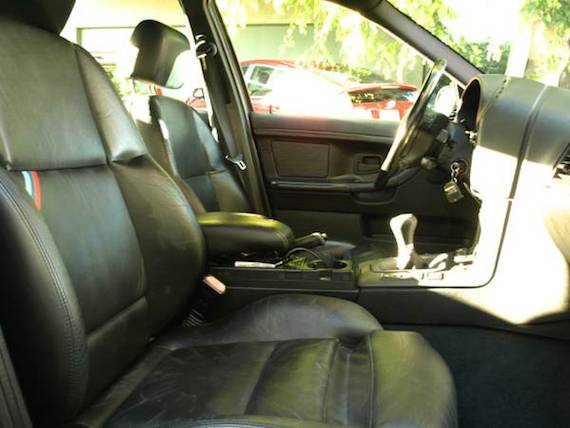 Year: 1998
Model: M3 Sedan
Engine: 3.2 liter inline-6
Transmission: 5-speed manual
Mileage: 150,300 mi
Price: $10,000 OBO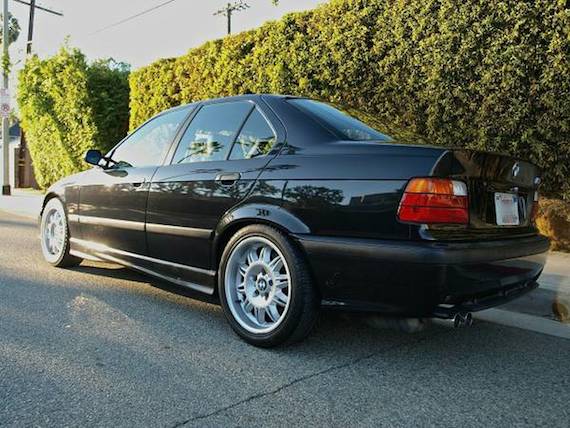 Cosmos black with black leather interior
5sp manual
Clean title, clean Carfax (can provide)
150,300 miles
$10k or best offer

This is a rust-free, accident-free, never-tracked-to-my-knowledge, (almost) completely stock, lifelong Southern California car.

The motor is strong (170-178 PSI compression in each cylinder). It handles the way it should (new OE suspension, see below). The cooling system is also new and done right (see below). The VIN numbers match on every body panel, and the paint is all original and decent for the mileage. Some blemishes and wear. Same for the interior.

The first owner kept it 15 years before she sold it to a mechanic, who flipped it to me after just a few weeks. I've owned it two years, but have put on very few miles since buying an e39 M5 last year (the reason I'm selling).

I'd love for this to go to someone who will continue to maintain it properly and generally treat it right. Just smogged with no issues.

Recent Maintenance
All work done by Elite Automotive in Venice, using new OE parts (stamped BMW, as opposed to Bosch or similar). Exceptions are noted. An important note: I had a few big, expensive items done and Elite always went out of their way to replace the random bushings, nuts and other small wear items they noted as other work was done. This preventative, thorough approach was used throughout my ownership, and Elite has been amazing in this regard.

2/26/2013
144,213 miles
New OE Suspension including:
• F/R struts
• F/R strut mounts
• Front sway bar link
• Rear Shocks
• Rear trailing arm bushings
• All bushings, bolts and pads

Additional:
• X brace
• Brake flush

8/16/2013
146,433 miles
Inspection II service

Full Cooling system overhaul including:
• Stewart water pump
• OE radiator
• Therm. housing
• Coolant exp. tank
• Hoses, drive belts and pulleys

12/24/2013
148,753 miles
• OE Starter Motor
• Driver window motor and regulator

Additional Newer items
• New OEM floor mats (144,000 miles-ish)
• Camshaft position sensor (147,011 mi)
• Windshield washer pump (147,011 mi)
• Front Engine mounts (149,927 mi)
• OE Battery (149,927 mi)

Non-Stock Parts:
• X Brace
• ZHP shift knob (so good)
• Stereo–Sony bluetooth/hands-free deck, Kenwood amp, Focal speakers, single Alumapro
sub mounted in rear deck. I still have the stock, crappy stereo if you want it.

Not Perfect stuff
• Paint is decent, but has some scratches/scuffs/marks as you might expect.
• The rear bumper could use a re-spray.
• Interior condition is decent, but leather is a bit hard. There's a small tear on the driver's seat.
• Headliner was redone by previous owner and is fine, but not how I would've done it.
• Some rubber and plastic exterior bits have faded, hardened or cracked in the sun.
• Clutch is on the stiff side (squeaks a bit too)
• The gear shift doesn't stay centered (common issue, never bothered me much)
• Tires have some tread but I never loved them.
• I only have records for the past two years. Though I did have a lot done in those two years.
Perhaps I'm so fond of these cars because they don't look particularly fast and in comparison to new cars. In fact, they aren't. The S52 inline-6 makes 240hp at 6000RPM and 236 lb-ft of torque at 3,800RPM; not exactly the kind of numbers that impress people these days. However the specs don't tell the full story here and it is in the handling department where the E36 begins to shine. This particular car feels very good given that it just has a full OEM BMW suspension installed about 8,000 miles ago. I didn't get to get the thing anywhere close to its limit on the surface streets of Venice but I did get to drive it on a little route of mine that features a couple smile inducing corners.
I was very impressed with the smooth clutch and easy to row 5 speed manual gearbox as they work together in such a way that makes a city dweller like myself comfortable with the idea of using such a vehicle as a daily driver. The interior isn't a bad place to be either on a regular basis, so long as you have no illusions as to what you're getting into. For a car 17 year old car with 150,000+ miles on it I thought the front seats were in more than acceptable condition and the rear seats are top notch. We're having a bit of a mid winter heat wave here in LA so I cranked up the A/C and was happy to find it blew ice cold, no musty smells emanating from that big 'ol center mounted vent. The seats are all manual which I happen to like because you can dial in just the right seating position, something oh so important in these cars. It really feels like you're sitting in the vehicle vs. on the vehicle, something I've found to be an issue with many a newer "enthusaist focused" car.
Then there are the little design quirks that I love, like the center console change holder that in the 1990's was all the rage but these days would probably confuse the hell out of kids. "Dad, what are these coins you speak of?" is a question I'm sure more and more fathers around my age are asked. "Little pieces of metal that used to fall between the seats only to later be collected by kids like yourselves, that is until the Germans installed these handy multi-denomination units to hold said pieces of metal until they were used in a parking meter or at a toll booth." Of course the kids would have tuned out after the first part of the sentence but one day a friend will introduce them to the game of "Kings Cup" and they'll remember where to find change, out in the center console of dad's vintage BMW.
Thanks again to Jesse for taking the time to meet up with me and let me drive the car. If it doesn't find a good home by the time I'm ready to take on another vehicle, there's a very strong possibility that this little rig will end up in my care and eventually on the track. If you're a Southern California resident in the market for an E36 M3 sedan, I strongly suggest you go check this out.
-Andrew